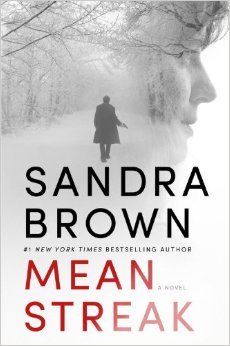 I have read many Sandra Brown books and have loved them all. Mean Streak is no exception. The characters are well developed, the plot is well thought out and the suspense is through the roof.
Emery Charbonneau is a pediatric doctor, she is a marathon runner and she is a wife. Her practice is flourishing, she is in training for a charity marathon that she organized and her marriage is having problems. Before she leaves to train in mountainous terrain for her marathon, she and her husband, Jeff, have a big fight. He does not want her to go away for the weekend to train and she cannot understand why he would care. So when she leaves, they are not on good terms.
Emory sets off on the running trail and the next thing she know, she is waking up in a strange room with a strange man. He tells her he found her unconscious along the trail and brought her back to his cabin to recuperate. He says that the fog is too thick to attempt making it to a hospital. He will not tell her his name, where they are or how close the nearest neighbor is. At first she is alarmed and scared, but the more time she spends with the stranger the less afraid of him she is. She does not know what he is hiding from her or how he found her but he does not seem to be a psychopathic killer. She sure hopes she right about that.
Jeff does not report Emory missing until the end of the weekend. He is sure she is just punishing him for their argument and that is why she has not called. Besides, he is too busy spending time with his mistress. When he does finally report Emory missing, he is a person of interest. After all, the spouse is always the first to be suspected in a missing person case. Is this one of the times that the suspicions are correct?
I am not going to give away any more of the plot because it is too good a plot to ruin with spoilers. There are so many twists and turns that it is nearly impossible to figure everything out. Did someone hurt Emory on purpose or is it just an accident on the running trail? Who is the mysterious man that came to Emory's rescue? Is he a good guy or a bad guy? Why is a FBI agent been pursuing him for four years? These are just some of the things that the reader has to try and figure out. I must admit, there were times when I was torn between swiping to the next page or not. I wanted to see what was going to happen next but I did not want to know what was going to happen next because I was afraid it was going to be something bad. It is a great dilemma to be in. I think what made this book stand out so much was all the action, suspense and twists and turns that continued throughout the whole book.
If you have read Sandra Brown books before, you already know how well developed the characters are. You also know that the story flows smoothly and that her books are real page-turners. If you have not read any other books by Sandra Brown, I would suggest you start reading them soon. I would recommend this book to anyone who enjoys a good suspense with so many twists and turns it leaves your head spinning. If I could I would give this book more than five stars, that's how good I think it is.
I received a free copy of Mean Streak from NetGalley in exchange for a honest review. The opinions of this book are my own and in no way influenced by the free copy. I honestly thought this book was fantastic. I would like to thank NetGalley and Grand Central Publishing for the opportunity to read this book.