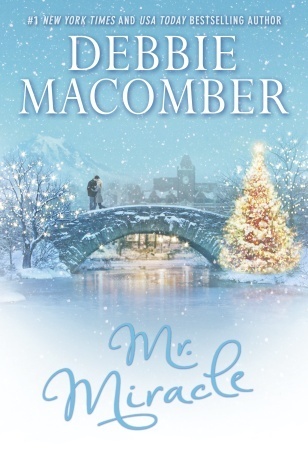 Mr. Miracle by Debbie Macomber is a warmhearted Christmas book that introduces Harry Mills, an angel sent back to earth to help Addie Folsom to straighten out her life. Harry is sure that he will have no trouble completing his mission and he does not feel like he needs advice from anyone. Boy, is Harry wrong.
Addie Folsom has returned home and is planning on getting her high school diploma. She only has to take a literature class to meet the graduation requirements. This is the first Christmas that her and her mother will be without Addie's dad, who has passed away. Her mother and her mother's neighbor have planned a cruise to help her mother deal with the holiday, so Addie will be alone. That's not exactly what happens though, because her neighbor and her nemesis from her childhood, Erich, has been in a car wreck and needs someone to take care of him. Addie agrees to help Erich out so that her mother and Erich's mother can go on the cruise. It will not be an easy task, because her and Erich do not get along at all. But somehow they will survive the two weeks they are thrown together.
Harry Mills is Addie's literature teacher and he tries to subtly help her with her feelings for Erich and her deceased father. Harry is also trying to learn the rules of being an angel in a human body. He is dealing with the French teacher who has set her sights on him. And he also has to try to deal with the mean spirited college president, who has taken an instant dislike to Harry. Harry had no idea that being a guardian angel would be so hard.
The writing style flows smoothly and the book is an easy quick read. The writing is descriptive and I could feel the preparations of Christmas and the cold weather like I was right there. The characters are well rounded but I feel that they could have been developed a little more.
In my opinion, what makes Debbie Macomber's books so good is the heartwarming story that they tell. Her stories are about family, forgiveness and love. She writes about life, the good and the bad, things that many people have experienced first hand. Her books are feel-good books and who doesn't need that at times.
I would recommend Mr. Miracle to anyone who enjoys a heartwarming whimsical story. I have read many other books by Debbie Macomber and I can honestly say I have enjoyed them all. My favorite angel series is the Angels Everywhere Series with Shirley, Goodness and Mercy but I really did like this book and look forward to reading more with Harry Mills.
I received a free copy of this book from NetGalley in exchange for a honest review. I would like to thank NetGalley and Random House Publishing Group-Ballantine for the opportunity to read and review this book.