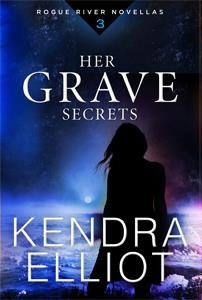 Her Grave Secrets by Kendra Elliot is the third novella in the Rogue River series and it is a great addition. This book is as good as the other two and I have liked them all.
Stevie Taylor and Zane Duncan are continuing their search for the distributor of a new street drug that is killing citizens of Solitude, Oregon. It has become even more personal when it is determined that Stevie's father may have been a victim of the deadly drug. And it also appears that the death of a close friend of Stevie and her family can be traced back to the drug. But identifying the distributor is an almost impossible task and they do not have many clues to go on. Will they be able to solve this case before others lose their lives? And will it be someone in Solitude that they would never suspect?
The characters continue to grow and develop and are likable. I want to watch their personal relationship grow and see where it leads. The family dynamics are still an important aspect of this book and now it appears as though Zane and his father are going to reunite. Hopefully that will happen in book four.
The writing style flows smoothly and the novella is a quick easy read. Kendra Elliot is very good at suspenseful writing and this book is no exception. It is well plotted and well written. It feels as though the buildup of finding the distributor will explode in book four. I sure hope that is what happens.
I would recommend this novella, as well as the first two, to anyone who enjoys mystery/suspense books. I am looking forward to reading the final book in the series when it is available. Treat yourself to this series, you will not be disappointed.
I received a free copy of this novella from NetGalley in exchange for a honest review. My honest review is that I loved all the books I have read in the series. I would like to thank NetGalley and Montlake Romance for the opportunity to read and review this book.