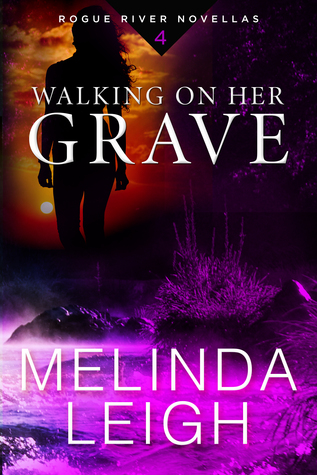 Walking On Her Grave by Melinda Leigh is the fourth and final book in the the Rogue River Novella series. All four of these novellas are a great read and I enjoyed them all.
Carly Taylor, a social worker, and Seth Harding, an investigator, are both working to rid the town of Solitude, Oregon, of the drug problem that has cropped up. There have been many deaths related to a new drug, known as Bacon, and they need to find the manufacturing plant soon, before other lose their lives. One of the problems they encounter is the fact that the area is heavily forested and there are many places to hide the manufacturing and distribution site. Another problem is that the citizens of Solitude are close-knit and it seems impossible that one of their own is responsible for the new drug.
Carly and Seth have another problem to deal with, the failure of their marriage. Although they both still love the other, they do not get along. Seth is too overprotective of Carly and she cannot deal with it anymore. Seth is worried about Carly and wants to protect her, but Carly knows she can take care of herself. After a couple of close calls concerning Seth, Carly is getting a new understanding of Seth's concern. Will they be able to understand each others worries and restore their marriage, or is it too late for that?
The writing style flows smoothly and this is a quick, easy read. Melinda Leigh is very good at writing suspense that keeps you turning (or swiping) the pages. There are a lot of twists and turns that had me changing my mind as to who the guilty party was. I must admit that I did not figure this out and was surprised when it was revealed.
The writing style is very descriptive and the characters are well developed. The characters continued to grow in this fourth novella, and I feel that, for the most part, there is adequate closure of the questions I had while reading the first three. The tight family dynamics continued in this novella and I really enjoyed that.
I would recommend this novella to all readers who enjoy a well crafted, well plotted romantic suspense. They should be read in order for maximum enjoyment and they should definitely all be read.
I received a free copy of this book from NetGalley in exchange for a honest review. I would like to thank NetGalley and Montlake Romance for the opportunity to read and review this great novella series.