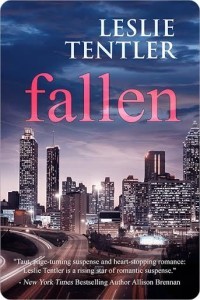 Fallen by Leslie Tentler is a really good romantic suspense read.  I have read all of this author's books and I have really liked them all.  I loved this book.
Lydia Costa is an emergency room doctor who is working when she hears that a Atlanta policeman has been shot and is being brought in.  She knows that there is a good chance that it will be someone she knows and prays it is not her ex-husband, who is a detective for the police force.  Although they are divorced, she still has feelings for her husband and cares what happens to him.
Ryan Winter is given the lead on the search for a cop-killer and soon realizes that this is not the first attack against the police.  He prays that it is the last but has a pretty good idea that it is not.  He is determined to find the killer before the another officer is targeted. But there are few clues to go on and no connection between the two victims that Ryan can find.
Besides dealing with the investigation, Ryan is also dealing with seeing Lydia again.  Although they would occasionally see each other since the divorce, he now finds himself spending more time with her.  He still loves her but knows that it is over between the two of them.  They have a tragic past that neither can forget or get over.  But as they spend more time together each realize how much they have given up with their divorce and they both wonder if they have a chance together.
From the very first chapter I felt an instant connection to both the characters and the action.  The characters seem so realistic to me and are people that you can easily care about.  I could not stop reading because I wanted to see what would happen with Lydia and Ryan.  And I also needed to know who the killer was and what would happen next.
The author is very good at building suspense and keeping the reader guessing what was going to happen.  She seems very knowledgeable about both the medical world and law enforcement.  You could really believe that you were in the emergency room with Lydia or following up on leads with Ryan.  Nothing seemed far fetched or unbelievable, which I really like.
The writing style flows smoothly and the book is an easy read.  I kept finding myself thinking "just one more chapter" and then that would turn into three or four more chapters.  Between the suspense and the romance I just could not read the book fast enough.  Sometimes a book just clicks with the reader and that is what happened when I read this book.
I would recommend this book to anyone who enjoys a well crafted romantic suspense.  I would give this book more than five stars if I could.  I suggest that you pick up all of Leslie Tentler's books, I do not think that you will be disappointed.