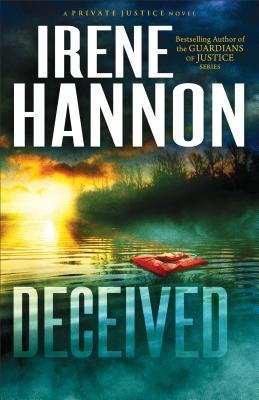 Deceived by Irene Hannon is a great romantic suspense that I thoroughly enjoyed.  It is the third book in the Private Justice series.  This book involves Connor, who is a former Secret Service agent.  He left that job to join his two college roommates in the detective agency they operate.
Kate Marshall's whole world change the day that the police arrive at her door to tell her there has been an accident involving her husband.  He has been in a boating accident and has died.  When Kate asks the officer about her four year old son, she is told that no child has been found.  It is believed that her son, Kevin, has also died, although his body is never found.
Eventually Kate gets her life back together and moves to St. Louis, where she is a counselor for battered women and women who need to repair their lives.  While she is the mall one day she hears a young child say the word "poppysicle" and when she turns to look for the child, she sees someone that could be an older Kevin.  She knows that this is not possible, that her son is dead, but she has never heard that word used by anyone other than her son.  Not being able to let the incident go, she goes to see a private investigator and meets Conner.   Although Connor is skeptical, he agrees to look into the occurrence and see what he can learn. He does not make any promises but he is willing to pursue it as far as he can.
The characters in this book are well developed, well-rounded and three dimensional.  Connor is a stand-up guy that is trustworthy and determined.  Kate is a mother who is devastated by the loss of her son but is strong enough to survive the tragedy.  Even the bad guy, Greg, seems like a good dad and a decent guy and had my sympathy for much of the book.  I know that does not seem right but when you read the book I think you will agree.  He had some horrible things happen to him and his family and, although what he did is despicable, it is almost understandable. By the end of the book, he did not seem like such a nice guy, though and I think his true colors began to show. The other characters add a lot to the story and I really enjoyed the banter between Nikki, the agency office manager, and the three private detectives.
The book is very suspenseful and I was drawn in from the first few pages and got pulled through the book until the very end.  As I was reading I kept thinking to myself that this was not going to end well.  At times the tension felt palpable and although I wanted to keep reading, I was afraid to because I did not know what was going to happen.  Although you learn the identity of the kidnapper early on in the book, you do not know the how or why.  And you do not know the outcome of the whole situation.  Those questions were enough to keep me reading and worrying and wanting to know the outcome.  The book is written from Kate's perspective and from Greg's perspective and I like the way the story flowed.
I would consider this book a christian romantic suspense but it is no way a preachy book.  The romance is clean but you can feel the attraction between Connor and Kate.  How that attraction would play out was another puzzle that needed to be solved and I enjoyed the romantic ride.
I would recommend this book to anyone who enjoys a well crafted romantic suspense.  I think you could read this series in any order and not get confused.  I still have one of the books in this series to read and I plan on doing that soon.  I also plan on reading the other books that Irene Hannon have written, I think she is an awesome writer.  If I could give this book more than five stars I would, I enjoyed it that much.
I received a free copy of this book from NetGalley in exchange for a honest review.  I would like to thank NetGalley and Revell for the opportunity to read and review this book.