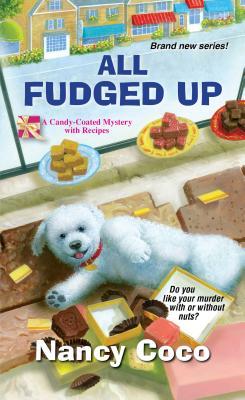 Allie McMurphy has returned to Mackinac Island, after receiving her culinary degree, to help her grandfather run the Historic McMurphy Hotel and Fudge Shop.  She was supposed to learn the business from her Papa but before that happened, he passed away.  Now she has to figure out how to make improvements to the hotel and keep it busy enough to turn a profit.  Since the island is a tourist destination, there is plenty of competition from other hotels and bread and breakfast establishments. And the real cut throat competition is the fudge making business.  Almost everyone on the island has their own secret recipe for making the best fudge and will stop at nothing to be the best.  Allie has a lot to deal with, upgrading the hotel and honing her candy making skills.  She really does not have time to deal with the dead body that she finds in a closet.  But that is exactly what happens.
The body that she found is a long time rival and friend of her grandfather's.  She is a person of interest because she is the one who found him.  And since she has not lived on the island her entire life, she is considered an outsider.  The town is divided in two camps, the one supporting Allie and the one that is supporting the deceased grandson, Trent.  They have even gone so far as to sell ribbons to indicate which side one is supporting.  Allie has two monumental jobs ahead of her, winning over the townspeople and proving that she is innocent.  Lucky for her she does have some friends in her corner helping her.  But even with their help, will Allie be able to figure out the murderer before they strike again?
The characters are well developed, well rounded and three dimensional.  I really enjoyed reading about the interactions between them and they are people I want to learn more about.   There are two possible love interests for Allie and I am interested to see which one she decides she likes better.  And her little dog, Mal, is adorable and fun to read about.
The writing style flows smoothly and the book is an easy read.  The author is descriptive with her writing and I felt like I was right there on the Island watching all the action going on.  The mystery is well plotted and not easy to solve.  I thought I had it figured out but I was wrong.  There are a lot of twists and turns to keep the reader guessing.
I would recommend this book to anyone who enjoys a well crafted cozy.  This is the first book in the series and I have already picked up the second book because I enjoyed this one so much.  Do yourself a favor and read All Fudged Up, I do not think you will be disappointed.