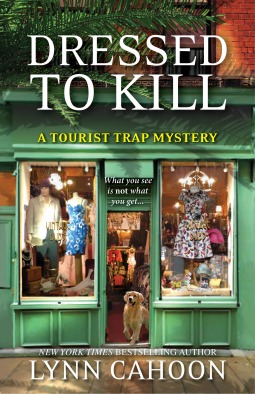 Jill Gardner is the owner of Coffee, Books and More.  She is no stranger to finding dead bodies and solving mysteries, but this time she things they will be fictitious.  She is involved in the Dinner Theatre Murder Mystery production and knows that this time she will be involved in presenting the mystery, not solving it.  But when a real dead body turns up at the dress rehearsal, she will  once again have to put on her sleuthing shoes.  The deceased is the boyfriend of Sherry, who is the ex-wife of Jill's boyfriend, Greg.  Jill really dislikes Sherry, who is a primary suspect. Although Jill would like nothing better than to see her put away for life,  she has her doubts about Sherry's guilt.  The more Jill learns about the deceased, she realizes he was a cheater and a conniver and there are many people who would like to see him killed.  With all the suspects, it will be extra challenging for Jill to find the killer.  With the help of her friends, and to the dismay of her police boyfriend, she once again finds herself looking for a  murderer.
The writing style flows smoothly and this book was an easy read.  The writing was descriptive and I felt like I was right there watching the action instead of just reading about it.   Whether I was reading about the small town, or the bookstore or the relationships, I felt like they were realistic and detailed.
The mystery is carried on throughout the entire book.  There are many twists and turns and a lot of possible suspects to consider.  Just when I thought I had things figured out, another twist would occur and I had to rethink my choice.
The characters are well developed and well-rounded.  I enjoyed the fact that Jill was trying to replace jealous Jill with a more trusting person and giving Greg the benefit of the doubt.  It was not easy for her to do but she really tried hard.
I would recommend this book  to anyone who enjoys a well crafted cozy.  This is the fourth book in the series and I have enjoyed reading them all.  I think for the most enjoyment, you should read the books in order.  I am looking forward to the next book in the series, which I believe will be released in August.
I received a free copy of this book from NetGalley in exchange for a honest review.  I would like to thank NetGalley and Kensington Books for the opportunity to read and review this book.