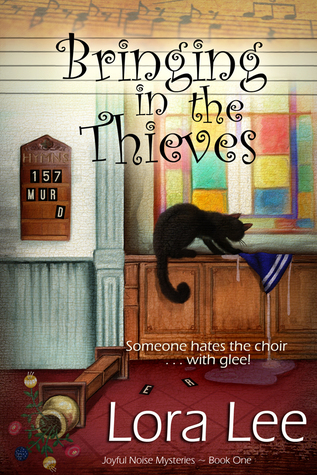 Frankie Lou McMasters has returned to Ruby Springs, Texas, her hometown, with her daughter Betsy.  When Frankie Lou left town eleven years ago, it was amid a scandal with her leaving to marry the town's trouble-maker.  Now that she is back, she wants to repair her reputation and stop all the gossipers.  Her plan is to form a church choir of troubled teens (she has some experience as being one of them) to give them some direction in their lives.  Her arch enemy Poppy  Fremont adamantly opposes the idea, Frankie Lou does not know how to change her mind.  But that no longer is a problem when Frankie Lou finds Poppy dead in the baptismal pool.  Now the problem is that she is the number one suspect in the murder.  She found the body and she has a bad history with the victim.  She definitely has her work cut out for her to prove her innocence.  The town already thinks the worse of her so she is not sure what to do to change their minds and prove she is no murderer.  A good place to start would be to find the real killer, so that is what she sets out to do.
The characters are well developed and well-rounded.  Many of them are a little quirky and crazy but that just added to the charm of the book.  Many of the antics and thoughts of the characters were funny.  The setting was a typical small town with the gossips and everyone knowing every body's business.  The writing is descriptive and made me want to visit Ruby Springs.  I thought the mystery could have been a little better developed and more time spent on the conclusion,   but for a debut book and the first in the series, I thought it was good.
I would recommend this book to anyone who enjoys a humorous well crafted cozy.  I am looking forward to reading the next book in the series.
I received a free copy of this book from NetGalley in exchange for a honest review.  I would like to thank NetGalley and BellBooks for the opportunity to read and review this book.