Synopsis:
"Do you know what stories Sarah could tell you about the things that happened in these little cabins? They'd curl that pretty red hair of yours."
Outside of Charleston, South Carolina, beyond hanging curtains of Spanish moss, at the end of a shaded tunnel of overarching oaks, stands the antebellum mansion of Peppernell Manor in all its faded grandeur. At the request of her friend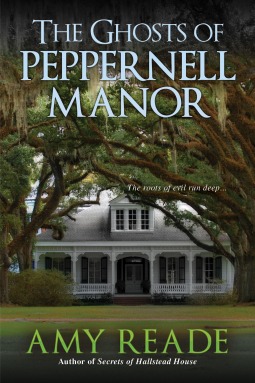 Evie Peppernell, recently divorced Carleigh Warner and her young daughter Lucy have come to the plantation house to refurbish the interior. But the tall white columns and black shutters hide a dark history of slavery, violence, and greed. The ghost of a former slave is said to haunt the home, and Carleigh is told she disapproves of her restoration efforts. And beneath the polite hospitality of the Peppernell family lie simmering resentments and poisonous secrets that culminate in murder—and place Carleigh and her child in grave danger… (Goodreads)
Review:
With the title The Ghost of Peppernell Manor I was expecting a ghost story.  The fact that it was taking place in an old manor had me thinking it would be an eerie ghost story.  But unfortunately for me, I was mistaken.  We hear people talk about the ghost a few times throughout the story, but we never get to meet her and spend any amount of time with her.  This was rather disappointing to me.
This book was much more a story of a woman trying to make a better life for herself, with a little mystery and romance mixed in.  The author is talented and uses her words to write vivid descriptions and details.  When it came to the house restoration, I felt there was a little too much description and detail.  I found myself skimming pages when this was the topic, it just did not hold my interest all that much. I did enjoy reading the book but there were some aspects that I did not enjoy as much.  But that may just be me, another reader may love everything about the book.
I would recommend this book to anyone who enjoys a well told story of one woman's struggle with self improvement.  If you enjoy women's contemporary, you will like this book.  If you are interested in home restoration, you will like this book.  If you are looking for a great ghost story, you may be a bit disappointed.
I received a free copy of this book from NetGalley in exchange for a honest review.  i would like to thank NetGalley and Kensington for the opportunity to read this book.