Synopsis:
To solve her father's murder and save the family-owned glass shop, Savannah Webb must shatter a killer's carefully constructed façade. . .
After Savannah's father dies unexpectedly of a heart attack, she drops everything to return home to St. Petersburg, Florida,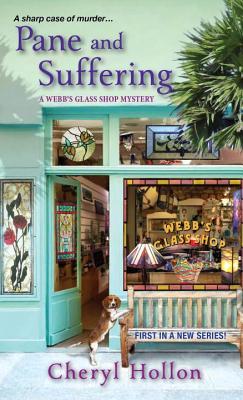 to settle his affairs–including the fate of the beloved, family-owned glass shop. Savannah intends to hand over ownership to her father's trusted assistant and fellow glass expert, Hugh Trevor, but soon discovers the master craftsman also dead of an apparent heart attack.
As if the coincidence of the two deaths wasn't suspicious enough, Savannah discovers a note her father left for her in his shop, warning her that she is in danger. With the local police unconvinced, it's up to Savannah to piece together the encoded clues left behind by her father. And when her father's apprentice is accused of the murders, Savannah is more desperate than ever to crack the case before the killer seizes a window of opportunity to cut her out of the picture.  (Goodreads)
Review:
Savannah is not having a good month.  Her father dies suddenly, from an apparent heart attack.  While she is trying to take care of her father's affairs, including his glass shop, she finds a dead body.  The deceased is her father's old friend and the person she planned to have take over the family business. She does not know what to do with the shop, if she should sell it or become the new owner.  After she receives a warning from her father that her life could be in danger, she is even more confused.  Her dad has left her clues that she must decipher and decode.  With the help of of a few friends that she has made since her return, she sets out to prove her father and his friend were murdered.
The characters are well developed and well rounded and I enjoyed getting to know them.  My favorite two character are Jacob, an intern that has Asperger's and his service dog, Suzy.  I thought the author gave an accurate portrayal of someone with this syndrome and I thought it added another layer to the characters, which I enjoyed very much.
The writing style slowly smoothly and the book is an easy read.  The author is very descriptive in her writing and for the most part I liked that.  I did feel that there is too much detail given about the glass cutting and the classes.  I know that the story revolves around this concept, but I just found so much information overwhelming.  I found myself skipping pages that dealt with just these things.  I would rather have been reading more about the characters and their relationships.  I feel that it would have been better to put this information either after a chapter or at the end of the book, where there is a glossary. That is only my opinion and others may not feel the same way, but I would have liked the information displayed in another way.  
I would recommend this book to anyone who enjoys hobby cozies, and if you enjoy glass working, then you should definitely read this book.  I think this is a good first book in the series, and I plan on reading more when they are published.        
I received a free copy of this book from NetGalley in exchange for a honest review.  I would like to thank NetGalley and Kensington Books for the opportunity to read and review this book.