Synopsis:
When out of work graphic designer Verity Long accidentally traps a ghost on her property, she's saddled with more than a supernatural sidekick—she gains the ability see spirits. It leads to an offer she can't refuse from the town's bad boy, the brother of her ex and the last man she should ever partner with.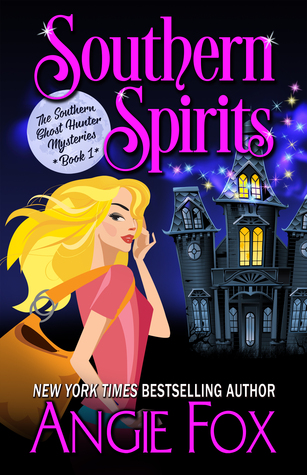 Ellis Wyatt is in possession of a stunning historic property haunted by some of Sugarland Tennessee's finest former citizens. Only some of them are growing restless—and destructive. He hires Verity put an end to the disturbances. But soon Verity learns there's more to the mysterious estate than floating specters, secret passageways, and hidden rooms.
There's a modern day mystery afoot, one that hinges on a decades-old murder. Verity isn't above questioning the living, or the dead. But can she discover the truth before the killer finds her? (Goodreads)
Review:
All Verity Long wants to do is save her grandmother's house and not have it sold right under her nose.  But she really has no idea where to find the amount of money she needs to do that.  She thinks this is the most important problem she has to deal with.  But when she inadvertently traps a ghost on her property, she realizes she is wrong.  Seeing ghosts and talking with them is an even bigger problem.
This book is such a fun read and I really loved it.  The characters are well developed and well rounded.  Verity and Frankie have a very interesting relationship.  They are both learning how to deal with the ghost/human interactions and both of them make mistakes along the way.  The bickering and bantering between the two is very funny and had me laughing out loud at times.  
Paranormal ghost cozies are one of my favorite genres to read and this one is as good as any that I have read.  I like the fact that not all of the ghosts that Verity encounter are friendly ghosts, some are quite mean.  This made the ghostly encounters seem more realistic to me.
I would recommend this series to anyone who enjoys a well crafted cozy.  If you enjoy paranormal ghost cozies, then this book is a must read.  I am looking forward to spending more time with Verity and Frankie.  I enjoyed the second book in the series as much as I did this one.