Synopsis:
Kate Adams had no idea she was carrying counterfeit money, and she can't believe that it came from her sweet neighbor. Or that it lands her in the middle of another one of Detective Tom Parker's investigations. Determined to prove her neighbor's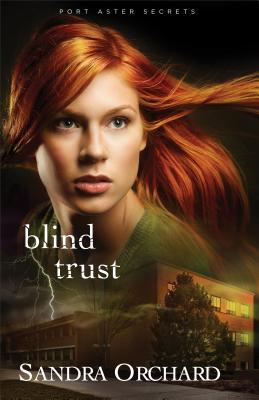 innocence, Kate stumbles into a pit of intrigue that is far deeper than a two-bit counterfeit operation–and strikes too close to home for comfort. As family secrets come to light, her world–and her budding romance with Tom–begin to crumble. To Kate, it's clear that she won't be safe until she uncovers all of Port Aster's secrets. But is it too late for her and Tom?
Award-winning author Sandra Orchard draws readers into a world of rogues, red herrings, and romance as she unfolds the continuing story of amateur sleuth Kate Adams. (Goodreads)
Review:
Blind Trust is a good romantic suspense that I enjoyed reading.  There are many things I enjoyed about the book, and one thing that I did not like.  First I will address the part that I was not very fond of and get that out of the way…the way the book ended.  Cliff hangers are not my favorite and if I have know idea that the book ends in one, I am even less happy.   So be forewarned, this book ends in a cliffhanger.
Now on to the parts that I did enjoy, which were many.  I thought the mystery was carried on well throughout the entire book. There was enough suspense to keep me swiping pages as fast as I could. And there are enough twists and turns to keep the reader guessing until the very end.
I thought the characters were well developed and well rounded.  I like them both individually but I like them even better as a couple.  I like that the romance is slow to develop, which made it seem more realistic to me.
The writing style flows smoothly and the book is an easy read.  I think the author is very talented in her descriptive writing and her suspense-building writing, she does a great job with both.
I would recommend this book to anyone who enjoys a well crafted mystery suspense with a touch of humor and romance.  I have not read the first book in the series but I plan to.
I received a free copy of this book from NetGalley in exchange for a honest review.  I would like to thank NetGalley and Revell for the opportunity to read and review this book.