Each day, between now and Thanksgiving, I will feature two Thanksgiving themed books that you might want to check out. Hope you find some that you will enjoy, happy reading.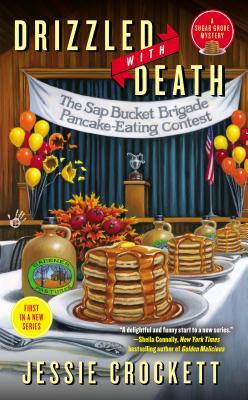 Meet Dani Greene—a fourth-generation maple syrup maker dealing with a first-class troublemaker…
The annual pre-Thanksgiving pancake-eating contest is a big event in Sugar Grove, New Hampshire. It's sponsored by the Sap Bucket Brigade, aka the firefighters auxiliary, and the Greene family farm provides the syrup. But when obnoxious outsider Alanza Speedwell flops face first into a stack of flapjacks during the contest, Greener Pastures' syrup falls under suspicion.
Dani knows the police—including her ex-boyfriend—are barking up the wrong tree, and she's determined to pull her loved ones out of a very sticky situation. The odds may be stacked against her, but she's got to tap the real killer before some poor sap in her own family ends up trading the sugar house for the Big House… (Goodreads)
http://www.amazon.com/Drizzled-Death-Sugar-Grove-Mystery-ebook/dp/B00BDQ3AGQ/ref=sr_1_3?s=digital-text&ie=UTF8&qid=1446916781&sr=1-3&keywords=jessie+crockett
A CELEBRATION OF ABUNDANCE BECOMES A DAY OF LOSS.

More than a year ago Natalie Gordon went to buy a balloon at the Thanksgiving Day Parade and dissolved into thin air. The police and a private investigator still have no leads. So when Natalie's despairing husband pleads with ex-nun Christine Bennett to help, she can't say no.
Not only are Natalie's present whereabouts a mystery, but so is her past. Someone has stripped her personnel file in her old office. Even her husband knows strangely little about her.
Starting with a cardboard box of Natalie's belongings–a few books, keys, some cosmetics–Chris searches for a life someone has tried very hard to erase and finds a cast of characters so chilling that murder seems not only inevitable but likely to happen again. . . . (Goodreads)
http://www.amazon.com/Thanksgiving-Murder-Christine-Bennett-Mysteries-ebook/dp/B01501NYGA/ref=sr_1_5?s=digital-text&ie=UTF8&qid=1446917009&sr=1-5&keywords=lee+harris+christine+bennett+mysteries