Each day, between now and Christmas, I will feature three Christmas themed books that you might want to check out. Hope you find some that are new to you and some that you enjoy.  Enjoy your reading.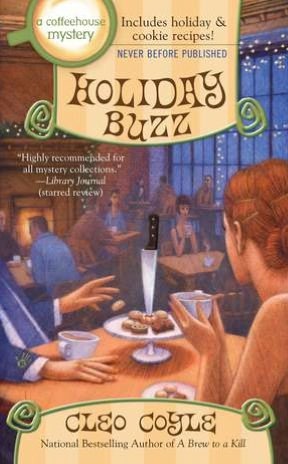 Holiday time is party time in New York City, but after a sparkling winter bash ends with a murder, Village Blend coffeehouse manager Clare Cosi vows to put the killer on ice…
At the Great New York Cookie Swap, pastry chefs bake up their very best for charity. Clare is in charge of the beverage service, and her famous Fa-la-la-la Lattes make the gathering even merrier. But her high spirits come crashing down to earth, when she discovers the battered body of a hard-working baker's assistant.
Police suspect a serial attacker whose escalating crimes have become known as "The Christmas Stalkings." Clare's boyfriend, NYPD detective Mike Quinn, finds reason to believe even more sinister forces are involved. Clare isn't so sure—and when she finds a second bludgeoned baker, she becomes a target. Now Clare is spending the holiday season pouring over clues, and she's not going to rest until justice is served. (Goodreads)
http://www.amazon.com/Holiday-Buzz-Coffeehouse-Mystery-Book-ebook/dp/B008EXO2CC/ref=sr_1_1?s=books&ie=UTF8&qid=1450036719&sr=1-1&keywords=holiday+buzz
Christmas is coming to the small town of Cherico, Mississippi, and there's no better way to prepare than with the Cherry Cola Book Club's feast of good food, good books—and good people… Cherico's newlywed librarian Maura Beth Mayhew is back from her honeymoon and she and Jeremy McShay are settling into married life. Maura Beth's father has even given them the down payment on a charming cottage. But as the holidays approach, Cherico's economy is struggling. Beloved local shops have closed, jobs have been lost, and there's even a mysterious crime spree afoot. Amid the gloom, Maura Beth decides what the community needs is a healthy dose of Christmas cheer—which means a special meeting of the Cherry Cola Book Club…
Along with the delicious potluck offerings everyone has come to expect, Maura Beth has invited members and the public to share their most uplifting stories—and share they do. From poignant stories of grief and renewal to joyful stories of love and new life, Cherico's residents infuse the gathering with so much hope and courage they just might inspire a culprit's confession, and conjure a holiday miracle that could save the town—and Christmas…
"A Cherry Cola Christmas is filled with the quirky, funny and charming characters we've grown to love and whose poignant tales become the true blessings of Christmas. This book belongs under every tree this season."–Christa Allan
"An intrepid librarian, a book club feast, and a cozy, heart-warming Mississippi mystery–what's not to love?"–Jamie Ford, New York Timesbestselling author of Hotel on the Corner of Bitter and Sweet  (Goodreads)
http://www.amazon.com/Cherry-Cola-Christmas-Book-Novel-ebook/dp/B00RRT305Y/ref=sr_1_1?s=books&ie=UTF8&qid=1450036953&sr=1-1&keywords=a+cherry+cola+christmas
It's Christmas in Ashton Falls and the entire Zimmerman household is gearing up for their first Christmas as a newly formed family unit. While Zak is busy decking the halls, Zoe is busy tracking down a killer while still taking the time to make certain a little girls Christmas wish comes true. It's funny, it's family, it's a Zak and Zoe Christmas.
http://www.amazon.com/Santa-Sleuth-Donovan-Mystery-Book-ebook/dp/B015EXE6I4/ref=sr_1_1?s=books&ie=UTF8&qid=1450037072&sr=1-1&keywords=kathi+daley