Each day, between now and Christmas, I will feature three Christmas themed books that you might want to check out. Hope you find some that are new to you and some that you enjoy.  Enjoy your reading.
`Tis the season for trimming the tree, caroling, baking cookies, and curling up by the Yuletide waiting for Santa to drop down the chimney. But in this festive collection of holiday whodunits, murder is also paying a visit…
"Candy Cane Murder" by Joanne Fluke
Bakery owner Hannah Swensen feels a little stuffed in her elf costume–but it's too late to count calories. Lake Eden's annual Christmas gala is upon her and eager children are waiting. Wayne Bergstrom, owner of Bergstrom's Department Store, happily ho-ho-hos his way through the festivities in his Santa suit. But when a trail of candy canes leads to his corpse in a snow bank, Hannah must find Kris Kringle's killer.
"The Dangers of Candy Canes" by Laura Levine
When a wealthy suburbanite takes a lethal tumble off his roof while installing a giant candy cane, the roofing contractor being held responsible for murder asks freelance writer Jaine Austen to investigate. But solving this untimely holiday death means delving into the cutthroat Christmas decorating wars among scheming neighbors with dirty secrets in their stocking. It takes a fruitcake hiding a weapon and a stunning confrontation to expose the mastermind of this holiday murder.
"Candy Canes of Christmas Past" by Leslie Meier
Twenty-some years ago, Lucy Stone arrived in Tinker Cove, Maine, and discovered her knack for solving mysteries when she met Miss Tilly, the town librarian, whose mother took a fatal fall down the basement stairs one Christmas Eve. The "accident" left a cloud of suspicion on Miss Tilly's father and a slew of other suspects. The only clue was a glass candy cane found smashed to bits by the victim's body. Now Lucy must learn the mystery of the glass candy cane as she unlocks the doors of Christmas past, exposing secrets, scandal, and a killer who got away with murder.
Whether a gift for yourself or that special someone on your list, there's no better way to spend the holidays than with these tantalizing mysteries of murder…
Includes over 15 scrumptious holiday recipes!
Santa gets bludgeoned, neighbors knock neighbors off their light-festooned roofs and householders nearly blow themselves into next year cooking Yule dinner in this triple-decker helping of holiday cheer.
Fluke gives her regular sleuth the starring role in the saga of Santa's sad demise. Hannah Swenson finds skinflint department-store magnate Wayne Bergstrom with his neck broken after playing St. Nick at the Lake Eden Inn's gala. Even her boyfriend, Detective Mike Kingston, knows Hannah's going to investigate, although he tells her for the record to leave it to the professionals. Levine's Jaine Austen, a freelance writer who can resist anything but temptation, is in a holiday tizzy trying to clear Seymour Fiedler, proud proprietor of "Fiedler on the Roof Roofers," of the charge that he doctored the roofing tiles that led to irascible Garth Janken's untimely demise. And Meier takes Lucy Stone back in time, as Christmas with her grandson Patrick reminds her of her first Christmas in Tinker's Cove. Their house on Red Top Road was a mess, she was pregnant with her second child and her husband Bill tried to fix the pilot light on their cantankerous stove, causing an explosion that burned his arms. When librarian Julia Tilley comes to her rescue, Lucy in return tackles the mysterious death of Miss Tilley's mother. (Amazon)
http://www.amazon.com/Candy-Cane-Murder-Hannah-Swensen-ebook/dp/B001F2T9CM/ref=sr_1_1?s=books&ie=UTF8&qid=1450039655&sr=1-1&keywords=candy+cane+murder+by+joanne+fluke
In the latest from the national bestselling author of Trick or Deadly Treat, Phyllis Newsom returns with a festive Christmas recipe that's to die for…
'Tis the season in Weatherford, Texas, and everyone in town is gearing up for the annual holiday parade and tree-lighting ceremony in the town square, where Phyllis Newsom will be serving her much-anticipated candy cane cupcakes. Local rancher Barney McCrory manages to charm one away from her before the ceremony begins. But unfortunately, when the minty confection is finished, so is he.
This isn't the first time someone has dropped dead after eating one of Phyllis's treats. But when the paramedics determine the rancher was shot, suspicion swiftly falls on McCrory's daughter and her husband—who both stand to reap some sweet rewards from his death. Though Phyllis doesn't want to get mixed up in another murder investigation, something about this case doesn't sit right with her. With a little help from a tabloid TV news crew, Phyllis must unwrap the truth and restore good cheer to Weatherford before it's too late…
Includes recipes!  (Goodreads)
http://www.amazon.com/Candy-Cane-Cupcake-Killer-Fresh-Baked-ebook/dp/B00SI028H2/ref=sr_1_13?s=books&ie=UTF8&qid=1450039890&sr=1-13&keywords=candy+cane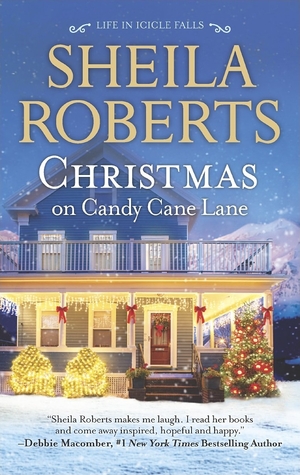 Icicle Falls is the place to be at Christmas…
Everyone's getting ready for Christmas in Icicle Falls, especially on Candy Cane Lane, where holiday decorating is taken very seriously. Tilda Morrison, town cop, is looking forward to celebrating Christmas in her first house… until she discovers that she's expected to "keep up" with the neighbors, including Maddy Donaldson, the inspiration behind the whole extravaganza. But this year, someone's destroying Maddie's precious candy canes! Thank goodness for the cop in their neighborhood.
Tilda already has her hands full trying to sort out her love life and fix up her fixer-upper. Oh, and won't it be fun to have the family over for Christmas dinner? Not really… Then there's her neighbor, Ivy Bohn. As a newly single mom, Ivy can sum up the holiday in two words: Bah, humbug. But she's determined to give her kids a perfect Christmas.
Despite family disasters, irritating ex-husbands and kitchen catastrophes, these three women are going to find out that Christmas really is the most wonderful time of the year! (Goodreads)
http://www.amazon.com/Christmas-Candy-Cane-Icicle-Falls-ebook/dp/B00TXBAUHA/ref=sr_1_1?s=books&ie=UTF8&qid=1450040078&sr=1-1&keywords=christmas+on+candy+cane+lane+by+sheila+roberts