Each day during the month of March I will feature three Easter, Spring or St Patrick's Day themed books. Hope you find some that are new to you and some that you enjoy.  Enjoy your reading.
It's springtime in California! The flowers are in bloom, the fashion week runways are fierce, and fans of America's favorite pastime are filling the baseball stadiums to root for their favorite team. But when the girlfriend of the L.A. Stars rookie MVP winds up dead at a chic Beverly Hills salon, it's suddenly up to fashion designer Maddie Springer to track down the "Tanning Salon Killer." Armed with the help of her wacky cast of friends and family, Maddie finds herself with a list of suspects that includes the cast of the reality TV show Baseball Wives, a desperate blackmail victim, and an entire baseball team! If Maddie can brave the hot dogs and cat fights, she just might be able to catch a killer…before he strikes again! (Goodreads)
http://www.amazon.com/Homicide-High-Heels-Mysteries-book-ebook/dp/B00K4FJRQ4/ref=sr_1_1?s=digital-text&ie=UTF8&qid=1457206273&sr=1-1&keywords=homicide+in+high+heels
Not many people in Tinker's Cove, Maine, knew Old Dan Malone. The grizzled barkeep's social circle was limited to the rough-hewn lobstermen and other assorted toughs that frequented his bar, a derelict main street dive called, appropriately, the Bilge. But when his body is found bobbing in the town's icy harbor, Lucy Stone, ace reporter for the Pennysaver newspaper, makes getting to know more about Old Dan a priority. And apparently, there's lots to learn.
Like the fact that local musician Dave Reilly insists Old Dan conned a winning lottery ticket worth five grand from him. And that handyman Brian Donohue claims that Old Dan stiffed him for repair work he'd done at the bar. There are even whispers about some connection to the Irish Republican Army. The confusion surrounding the death is only compounded by the arrival of actor Dylan Malone, Old Dan's brother and a prominent, if fading, attraction of the Dublin stage. Dylan has come to direct the production of "Finian's Rainbow," the featured event at Our Lady of Hope's annual St. Patrick's Day extravaganza. He's also come to help his brother renovate the Bilge, turning the dingy tavern into an authentic–if decidedly upscale–Irish pub.
Was Old Dan killed by someone he'd cheated, someone he'd loved, or someone who just couldn't stand the idea of losing their favorite watering hole? While Lucy can't be sure, one thing is abundantly clear–the stage is set for a murder mystery with a killer ending! (Goodreads)
http://www.amazon.com/Patricks-Murder-Lucy-Stone-Mystery-ebook/dp/B0026CKYNI/ref=sr_1_2?s=digital-text&ie=UTF8&qid=1457206579&sr=1-2&keywords=st.+patrick%27s+day+murder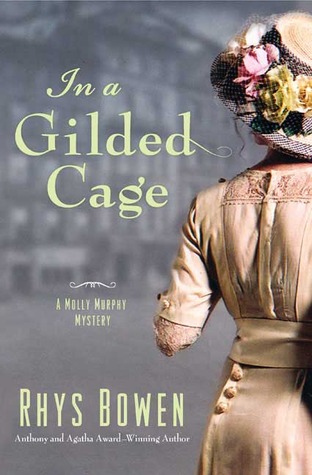 Irish immigrant Molly Murphy and her New York City P.I. business are in the midst of a sweeping influenza epidemic and a fight for women's suffrage that lands her in jail. Her betrothed, Police Captain Daniel Sullivan, finds her, but he hardly has time to bail her out, what with Chinese gangs battling for control of a thriving opium trade. The only consolation Molly can take from her vexing afternoon in the clink is that it made her some new friends among the Vassar suffragists—and brought her a pair of new cases.
For the first, Emily Boswell is convinced her miserly uncle stole her inheritance and wants Molly to uncover the truth behind her parents' lives and deaths. Second, Emily's college roommate Fanny Poindexter wants Molly to find proof of her husband's philandering so that she can leave him without one red cent. But when Fanny dies and her husband claims she's a victim of the epidemic, it's more than Molly's conscience can take.
Rhys Bowen's Agatha and Anthony Award–winning historical series continues to breathe life into the past with its wit and charm and its complete sense of early-twentieth-century New York, which makes In a Gilded Cage her most accomplished mystery yet. (Goodreads)
http://www.amazon.com/Gilded-Cage-Molly-Murphy-Mysteries-ebook/dp/B00FO81XWC/ref=sr_1_1?s=digital-text&ie=UTF8&qid=1457206764&sr=1-1&keywords=in+a+gilded+cage