Each day during the month of March I will feature three Easter, Spring or St Patrick's Day themed books. Hope you find some that are new to you and some that you enjoy.  Enjoy your reading.
Ex-cop Callahan Garrity was more than happy to leave the Atlanta P.D. behind her to start her own business — the House Mouse cleaning service — and to indulge in a bit of freelance private investigation on the side. However, she owes too much to her former partner, Bucky Deavers, to refuse his request that she accompany him to the department's annual St. Patrick's Day bash. But the celebrating ends abruptly — and badly — when Bucky is shot during an apparent liquor store robbery while they're on the way home.
Callahan is devastated — and the talk that perhaps Bucky was "dirty" only intensifies her pain. Now, with the help of her feisty "Mice," she's determined to find the culprit and clear her friend's name, even if it means piercing the veil of secrecy surrounding an Irish fraternal police organization that might be brewing up something far more lethally potent than green beer. (Goodreads)
http://www.amazon.com/Irish-Eyes-Callahan-Garrity-Mystery/dp/0709068859/ref=sr_1_3?s=digital-text&ie=UTF8&qid=1457207700&sr=8-3&keywords=irish+eyes+kathy+hogan+trocheck
When a spring storm rolls through Freedom, Ohio, landscape designer Nina Quinn expects to get her hands dirty with the mess left behind.
But after high winds uproot a tree, revealing the corpse of a man inside its rotted hollow, Nina quickly realizes that cleaning up after Mother Nature's fury is the least of her worries.
It soon becomes clear that there is no lack of suspects in the man's untimely death. As a shady contractor and philanderer, he'd angered a lot of people before he disappeared, including some of Nina's closest friends.
With the help of her police detective ex-husband, a mysterious coroner's investigator, her formerly-felonious employees and her zany neighbors, Nina sets out to uncover a killer…before another victim ends up planted six feet under. (Goodreads)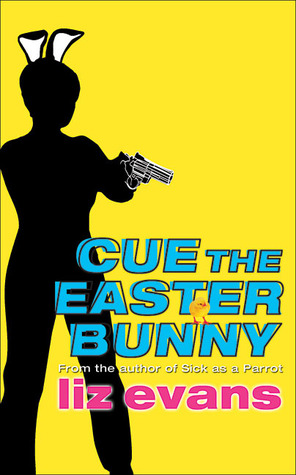 "Things get hopping for PI Grace Smith when she dons a bunny outfit to earn a little extra money handing out promotional items. While she's on the job, one of Grace's business cards falls into the hands of Della, a woman whose son, actor Jonathon Black, has been receiving threatening letters. Jonathon is married to television soap star Clemency Courtney, and Grace gets her foot in their door by telling the couple that Della has hired her to be a gardener for their estate. Grace, of course, knows nothing about plants (except how to cut them down), and the closer she gets to catching the villain, the worse the landscaping looks. A witty, wisecracking heroine who manages to bungle her way to solving the case; colorful characters; hilarious situations; and snappy dialogue all add up to a very fun read. This is the fifth title in the series for a writer called the British Janet Evanovich. Highly recommended."  —Library Journal (Starred Review)
 (Goodreads)