Each day during the month of March I will feature three Easter, Spring or St Patrick's Day themed books. Hope you find some that are new to you and some that you enjoy.  Enjoy your reading.
Restaurant owner and aspiring novelist Olivia Limoges is busy planning a delicious menu for Oyster Bay's biggest soiree of the spring. But she'll need to serve some justice as well after one resident gets eighty-sixed…
Everyone's got their hands full in Oyster Bay, North Carolina. Aside from two upcoming weddings, there's also the historical society's annual fund-raiser: the Secret Garden Party and Candlelit Ball. Adding to the excitement, Olivia witnesses the discovery of a time capsule in the foundation of a local church. The historical society president hopes to display its contents at their party, but when the items are finally revealed to the public, Olivia notices one of them has vanished.
After a frightening find beneath the pier—the body of Ruthie Holcomb—Olivia is certain there's a connection between the young woman's death and the missing piece from the time capsule. With the help of her fellow Bayside Book Writers, Olivia sets out to uncover some clues and ensure a killer has no reason to celebrate… (Goodreads)
http://www.amazon.com/Lethal-Letters-Books-Bay-Mystery/dp/0425270831/ref=sr_1_1?ie=UTF8&qid=1457808084&sr=8-1&keywords=lethal+letters+by+ellery+adams
Officially divorced, antiques picker and private investigator Jane Wheel finally faces the reality that she needs to sell her house, which means clearing out her extensive—and beloved—antique collection. While it's a daunting task, the preemptive move proves worthwhile when her house sells in one day. Finding herself suddenly homeless, Jane heads to her hometown, Kankakee, Illinois, to find that it, too, has been turned upside down.
Lucky Miller, a little-known comedian, is staging what he calls a comeback. It's all part of his plan to break into showbiz by making it seem like he's always been a big name. Suspicious of what Lucky's trying to prove and why he's chosen to prove it in Kankakee, Jane's mother, Nellie, hires Jane to investigate. But why does Nellie care? Lucky would sure like to know, so he, too, calls on Jane to find out. Still, Nellie may be the least of his problems when a driver on his crew turns up dead hours after claiming that Lucky tried to kill him.
With the charming and dogged Jane Wheel at the center of another clever puzzle, Lucky Stuff is an outstanding addition to Sharon Fiffer's popular series. (Goodreads)
http://www.amazon.com/Lucky-Stuff-Jane-Wheel-Mysteries-ebook/dp/B007XSN9DM/ref=sr_1_1?s=books&ie=UTF8&qid=1457808408&sr=1-1&keywords=lucky+stuff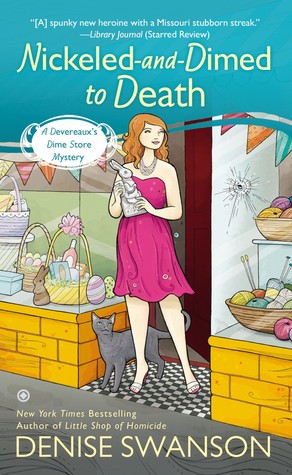 In New York Times bestselling author Denise Swanson's "slightly zany"* new mystery series, Devereaux Sinclair loves running her old-fashioned store in her small Missouri hometown. If only murder didn't keep landing on her doorstep…
Dev's five-and-dime may be doing well, but her love life is in turmoil. She's torn between Deputy U.S. Marshal Jake Del Vecchio, who is on an undercover assignment, and her ex-beau Noah Underwood, the local doctor from a high-society family. So she welcomes the distraction when Elise Whitmore offers her a great deal on antique chocolate molds that would be perfect for her Easter gift baskets. But do the molds actually belong to Elise's soon-to-be ex-husband? In buying them, has Dev committed a felony?
When Elise is found shot to death, the mystery deepens—and Dev's good friend Boone, who discovered the body, is taken into custody. With the help of her best buds, Dev must clear Boone's name and find the real killer. Good thing that when it comes to amateur sleuths, they broke the mold with Dev Sinclair. (Goodreads)
http://www.amazon.com/Nickeled—Dimed-Death-Devereauxs-Mystery/dp/0451239423/ref=sr_1_2?ie=UTF8&qid=1457808551&sr=8-2&keywords=nickel+and+dimed+to+death