Silenced In The Surf
A Pacific Northwest Mystery, Book 3
Kate Dyer-Seeley
5 stars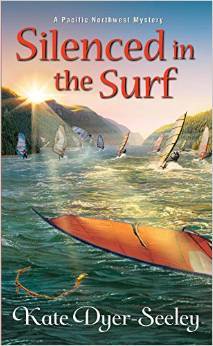 Synopsis:
Covering a windsurfing competition should have been a breeze for reporter Meg Reed, but with a killer in the curl, she's headed for rough waters…
Hood River in the Columbia River Gorge is the windsurfing capital of the world, and Meg is stoked to cover the King of the Hook event for Portland's Northwest Extreme magazine. Before the competition gets under way, Meg has a chance to try some windsurfing on her own. But when the current sweeps her downriver, she spots a body snagged on the rocks. The dead man is Justin Cruise, aka Cruise Control, a celebrity windsurfer and not exactly a nice guy. It's soon clear his death was no accident, and Cruise had no shortage of enemies. As Meg dives right in to discover who wiped out the windsurfer, she'll need to keep her balance—or she too may get blown away.
PRAISE FOR SCENE OF THE CLIMB
"A splendid overview of the greater Portland and Columbia River Gorge region, perfect for travel buffs. Her protagonist shows promise with her determined attitude and moxie."
—Library Journal
"A fun, terrific adventure."—Suspense Magazine
INCLUDES ADVENTURE GUIDES! (Goodreads)
Review:
Meg's newest assignment is covering a windsurfing competition at Hood River for the magazine she works for, Northwest Extreme.  While trying out the sport during a demonstration for the press, she gets carried out in the waves and far from the shore. While struggling to save herself and get back to shore, she spots someone who is beyond saving.  She finds one of the windsurfers snagged on some rocks and she is sure that foul play is behind his demise.  So while she is gathering information for her story for the magazine, she is also busy gathering clues and checking out suspects.  
The characters are well developed, well rounded and three dimensional.  Meg is determined to prove herself to her boss and the other reporters.  I find it quite amusing that she works for an extreme sports magazine because she is a klutz and not is not a very athletic person.  She finds herself in some very precarious situations because of this.  She has issues with her mother and misses her father very much, since he passed away.  Her best male friend, Matt, is someone she could become romantically interested in but she is afraid to take that leap.  And her Gam is a hoot, practicing New Age techniques.  She is definitely not your normal grandma.
The mystery is carried on well throughout the book.  The are enough suspects and clues to keep the reader guessing.  There is also the mystery of Meg's father's death, whether it was an accident or murder.  This has been carried on throughout the entire series and it adds another level to the story.  
This is the third book in the series and I think it was the best one yet.  I enjoyed everything about this book: the characters, the descriptions, the mystery, the suspense and the humor.  I would highly recommend this book (and series) to any cozy lover.  
I received a free copy of this book from NetGalley in exchange for a honest review.  I would like to thank NetGalley and Kensington for the opportunity to read and review this book.
https://www.amazon.com/Silenced-Pacific-Northwest-Dyer-Seeley-2016-03-29/dp/B01FIWSFUG/ref=sr_1_2?s=books&ie=UTF8&qid=1463241737&sr=1-2&keywords=silenced+in+the+surf+by+kate+dyer-seeley