Engaged In Death
Wedding Planner Mystery, Book #1
Stephanie Blackmoore
5 Stars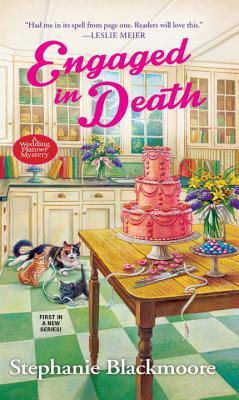 Synopsis:
"Had me in its spell from page one. Readers will love this." –Leslie Meier
All appears peaceful in sleepy Port Quincy, Pennsylvania–but in this small town, old grudges die hard. . .
After dumping her cheating fiancé and cancelling the wedding, Mallory Shepard can't bear another disaster. So when the former bride-to-be unexpectedly inherits Thistle Park, a ramshackle mansion in her ex's hometown of Port Quincy, it's a problem she can't afford–literally. Abound with stray cats, peeling wallpaper, and nosy neighbors, Mallory is dying to sell it off–once she finally fixes up both the place and her messy life. . .
Turns out, Thistle Park has its charms. But the honeymoon phase is abruptly cut short when an unwanted visitor is found dead on the front lawn. Enlisting the help of her sister Rachel, Mallory vows to unveil the killer before she herself becomes married to the suspect list. . .
"I had great fun reading the adventures of nouveau sleuth Mallory Shepard as she wrangles corpses, kittens, and a cheating fiancé in this charming debut mystery."              –Laura Levine, author of Death by Tiara (Goodreads)
Review:
Mallory Shepard is all set to get married in a few weeks.  Sure, her bossy future mother-in-law has taken control of her wedding, but she can let that slide.  And she can also let the fact that her future mother-in-law does not seem to really like her very much slide. After all, she is not marrying her but rather her son.  But what she cannot let slide is the fact that her fiance has been cheating on her and she has proof positive.  When she calls off the wedding and learns that she has inherited a rundown mansion, she is not sure if her luck has taken a turn for the worse or the better.  When a dead body is found on her front lawn right after she moves, she knows that her luck is on a downward slope.  To make sure that she is not considered a true suspect, she decides that she will try to find the murderer herself.  After all, she takes it personal when her yard is used as a dumping ground for murder.
The characters are well developed, well rounded and three dimensional.  I enjoyed watching the relationship between Mallory and Rachel, her sister, grow and develop. When they were younger, Mallory kept an eye on her sister and tried to keep her in line. Now the tables seem to be turned and Rachel is very willing to help Mallory and keep her on track.  The secondary characters added another layer of depth to the book and most of them are people I want to get to know better.  
The mystery was carried on well throughout the entire book.  There are plenty of suspects with numerous motives to consider and a lot of clues to shift through.  I was not sure of the killer until it was revealed at the end.  And there is more than one mystery that needs to be solved, such as who tried to kill Mallory.  She does not know if that incident is related to the murder but she intends to find out.  I liked the fact that there were multiple mysteries to figure out.   
The writing style flows smoothly and the book is an easy read.  The author is very talented in her descriptive writing and pulled me into the pages and held me captive.  I really enjoyed the small town setting and all the quirkiness that goes along with it.  
I would recommend this book to anyone who enjoys a well crafted cozy mystery.  I was very surprised to learn that this is the debut cozy mystery for this author.  I cannot wait to read book two in the series.
I received a free copy of this book from NetGalley in exchange for a honest review.  I would like to thank NetGalley and Kensington Books for the opportunity to read and review this book.
https://www.amazon.com/Engaged-Death-Wedding-Planner-Mystery-ebook/dp/B0165HUWCC/ref=sr_1_1?s=digital-text&ie=UTF8&qid=1465482426&sr=1-1&keywords=engaged+in+death