Here is a list of some of the new releases for the week of June 19th, 2016.  Check these out and you may find some selections for your weekly reading.
Return to Haven Point, where New York Times bestselling author RaeAnne Thayne proves there's no sweeter place to fall in love
Protecting the streets of Haven Point isn't just a job for police officer Wyn Bailey, it's a family tradition. But lately she's found herself wanting more, especially from her boss—and overprotective brother's best friend—sexy chief of police, Cade Emmett. The only problem is getting Cade to view her as more than just a little sister.
Cade's hands-off approach with Wyn isn't from lack of attraction. But his complicated past has forced him to conceal his desire. When Wyn is harmed in the line of duty, Cade realizes the depth of his feelings, but can he let his guard down long enough to embrace the love he secretly craves? (Goodreads)
A pair of murders, a little romance, and rivals in pursuit of a long-lost vintage car of unfathomable value–Bruno, chief of police, is busy in another mystery set in the beautiful Dordogne.
At an annual fête in St. Denis, Bruno's biggest worry is surviving in the rally race. The rally and a classic car parade are new to the festivities and draw a spate of outsiders with deep pockets, big-city egos, and, in the case of a young Englishman, an intriguing story. It's the tale of a Bugatti Type 57 Atlantic, lost somewhere in southern France during World War II. Among the most beautiful cars ever made, one of only four of its kind, it is worth untold millions and drives its pursuers mad with greed.
As the parade begins, a local scholar turns up dead–and Bruno suspects unnatural causes. To complicate matters, a family squabble over land brings to St. Denis a comely Parisienne who turns Bruno's head. And: there's mounting evidence that the events in St. Denis are linked to international crime. As usual, Bruno's village life offers its challenges–but there is always time for a good bottle and a home-cooked meal. (Goodreads)
https://www.amazon.com/Fatal-Pursuit-novel-Bruno-Police-ebook/dp/B015VACH22/ref=sr_1_1?s=books&ie=UTF8&qid=1466267966&sr=1-1&refinements=p_n_publication_date%3A1250228011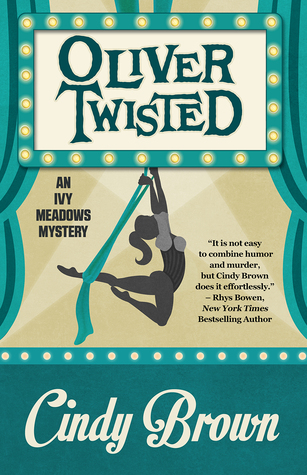 Orphans. Thieves. Murder. And an All-You-Can-Eat Buffet!
When Ivy Meadows lands a gig with the book-themed cruise line Get Lit!, she thinks she's died and gone to Broadway. Not only has she snagged a starring role in a musical production of Oliver Twist, she's making bank helping her PI uncle investigate a string of onboard thefts, all while sailing to Hawaii on the S.S. David Copperfield.
But Ivy is cruising for disaster. Her acting contract somehow skipped the part about aerial dancing forty feet above the stage, her uncle Bob is seriously sidetracked by a suspicious blonde, and—oh yeah—there's a corpse in her closet.
Forget catching crooks. Ivy's going to have a Dickens of a time just surviving.
"This gut-splitting mystery is a hilarious riff on an avant-garde production of 'the Scottish play'…Combining humor and pathos can be risky in a whodunit, but gifted author Brown makes it work." – Mystery Scene Magazine (on Macdeath)
"A definite delight…sit back, wait for the curtain to rise on this one, and then have a whole lot of fun figuring out whodunit." – Suspense Magazine (on The Sound of Murder)
"Ivy is a delight! She's sweet, smart, and a little zany. You'll find yourself laughing out loud as you race through the pages." – April Henry, New York Times Bestselling Author of Lethal Beauty (on The Sound of Murder)  (Goodreads)
https://www.amazon.com/Oliver-Twisted-Meadows-Mystery-Book-ebook/dp/B01DAPK14Q/ref=sr_1_89?s=books&ie=UTF8&qid=1466268341&sr=1-89&refinements=p_n_publication_date%3A1250228011
In this brand-new summer read by the USA Today bestselling author of The House on Mermaid Point, three women join forces to bring a historic seaside hotel back to life…
 
There's nothing that a fresh coat of paint and a few glasses of wine can't fix…
 
After losing their life savings in a Ponzi scheme, Maddie, Avery, and Nikki have banded together to make the most of what they have left, using their determination, ingenuity, guts, and a large dose of elbow grease. It's Maddie's daughter Kyra who stumbles across a once glorious beachfront hotel that has fallen into disrepair. The opportunity to renovate this seaside jewel is too good to pass up—especially when they come up with the idea of shooting their own independent television show about the restoration. What could possibly go wrong?
Everything. With the cameras rolling, Maddie's second-chance romance with her all-too-famous new boyfriend gets complicated, Avery struggles with grief over the loss of her mother, and Nikki's reluctance to commit to the man who loves her could leave her to face the biggest challenge of her life. Even the hotel seems to be against them, when their renovation uncovers a decades-old unsolved murder which just might bring their lives tumbling down all over again… (Goodreads)
https://www.amazon.com/Sunshine-Beach-Road-Novel-Book-ebook/dp/B016JPTIWU/ref=sr_1_1?s=books&ie=UTF8&qid=1466268941&sr=1-1&keywords=sunshine+beach+wendy+wax
The New York Times bestselling author of The Best of Enemiesserves up a hilarious new novel of the sandwich generation.
Actuary Penny Sinclair has a head for business, and she always makes rational decisions. Knowing that 60% of spouses cheat and 50% of marriages end in divorce, she wasn't too surprised when her husband had an affair. (That he did so with a woman their daughter's age? Well, that part did sting a bit.) She just made sure she got everything in the divorce, including their lovely old Victorian house. And as soon as her middle daughter has her hipster-fabulous wedding in the backyard, she's trading it in for a condo in downtown Chicago…
Well within the average market time in her area, Penny gets an offer on the house. But then life happens. Her children, her parents and her ex come flying back to the nest, all in need of Penny's emotional and financial support. Spread thin, Penny becomes the poster child for the sandwich generation, when all she really wanted to do was make managing director, buy a white couch, and maybe go on a Match.com date… (Goodreads)
https://www.amazon.com/Numbers-Jen-Lancaster-ebook/dp/B0167WQU9O/ref=sr_1_1?s=books&ie=UTF8&qid=1466269285&sr=1-1&keywords=by+the+numbers+jen+lancaster
The sun sets on the Chesapeake Diaries, New York Timesbestselling author Mariah Stewart's cherished series based on Maryland's picturesque eastern shore, with this romantic tale of a man who takes a second chance on love with the high school crush who broke his heart.
Up-and-coming artist Lisbeth Parker finally has a chance to show the folks back home what it means to leave Cannonball Island and make something of yourself. As a native whose stubborn father forbade her from befriending townies, Lis always felt like an outsider in St. Dennis. So while her work is on display in the local art gallery, she records her ailing centenarian great-grandmother's stories of the island's rich history and spearheads a fight for its survival.
Lis was Alec Jansen's secret dream girl growing up, even after she flat-out refused to be his prom date. Now the handsome environmental engineer and the whip-smart beauty are on opposite sides of a debate over the island's future. Hired to prove that developing the shore will have little impact on the area's natural integrity and huge gains for its economy, Alec is determined to change his alluring, headstrong rival's mind—and to win her heart. (Goodreads)
https://www.amazon.com/Driftwood-Chesapeake-Diaries-Mariah-Stewart-ebook/dp/B0176M3WQI/ref=sr_1_1?s=books&ie=UTF8&qid=1466269890&sr=1-1&keywords=driftwood+point+mariah+stewart
Sometimes you have to go back before you can move forward. Meg Monahan was born to be a secret keeper. From the moment she became a peer counselor in high school, Meg has been keeping her friends secrets from sordid family drama to their sex lives that she never wanted to know. Flash forward to adulthood when Meg is a recruiter for the world s hippest (and most paranoid) high-tech company and now Meg is a professional secret keeper. When sudden tragedy strikes before Meg hosts the wedding of her childhood BFF, Anne Calzaretta, the women are forced to face their past and their secrets in order to move on to their future. In 1978, Meg, Anne, Jennifer, and Tonya were such close friends, they were known as The Group in their hometown of Gridley, California. But in ninth grade, their lives were changed forever. Loss, lies, and secrets separated them, but could not break their bonds of friendship. Thirty years later, Meg and Anne reminisce about those days dealing with parents, school, boys, sex, love, and betrayal. Anne remembers their freshman year as an easier time, but Meg, still feeling guilty about a betrayal of Anne s trust, is haunted. Even now, Meg is keeping a secret she s not prepared to face, let alone share. In her debut novel, based on true events, Meredith First tells a timeless story about the bonds of friendship, loss, and betrayal and the forgiveness that is within everyone. Can anyone really keep a secret forever?" (Goodreads)
https://www.amazon.com/Gridley-Girls-Novel-Meredith-First-ebook/dp/B00W5QH06E/ref=sr_1_1?s=books&ie=UTF8&qid=1466273306&sr=1-1&keywords=gridley+girls+meredith+first