Today's Spotlight Author is Annette Dashofy, bestselling author of the Zoe Chambers Mystery series.  I can tell you that I have read all four books and they are excellent (book two is my favorite because of one of the characters) and I would recommend reading all of them.
About The Author:
USA Today bestselling author Annette Dashofy has been nominated for the Agatha for Best Contemporary Novel for Bridges Burned! She has spent her entire life in rural Pennsylvania surrounded by cattle and horses. When she wasn't roaming the family's farm or playing in the barn, she could be found reading or writing. After high school, she spent five years as an EMT on the local ambulance service, dealing with everything from drunks passing out on the sidewalk to mangled bodies in car accidents. These days, she, her husband, and their spoiled cat, Kensi, live on property that was once part of her grandfather's dairy.
Her Zoe Chambers mystery series includes Circle of Influence (nominated for the Agatha for Best First Novel and the David Award for Best Mystery of 2014), Lost Legacy, Bridges Burned and the forthcoming With a Vengeance.  (Goodreads)
Zoe Chambers, paramedic and deputy coroner in rural Pennsylvania's tight-knit Vance Township, has been privy to a number of local secrets over the years, some of them her own. But secrets become explosive when a dead body is found in the Township Board President's abandoned car. As a January blizzard rages, Zoe and Police Chief Pete Adams launch a desperate search for the killer, even if it means uncovering secrets that could not only destroy Zoe and Pete, but also those closest to them.
 (Goodreads)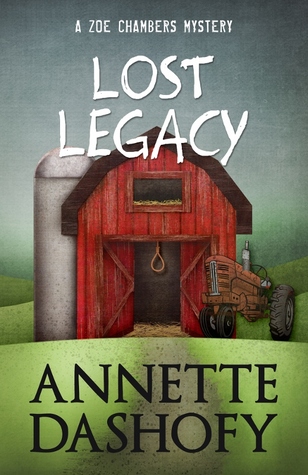 On a sultry summer afternoon, Paramedic Zoe Chambers responds to a call and finds a farmer's body hanging from the rafters of his hay barn. What first appears to be a suicide quickly becomes something sinister when Zoe links the victim to a pair of deaths forty-five years earlier. Her attempts to wheedle information from her mother and stepfather hit a brick wall of deception, one that brings into question everything Zoe knows about her late father, who died in a car crash when she was eight. Or did he?
Police Chief Pete Adams fears Zoe's inquiries are setting her up for deeper heartbreak and putting her in danger. As Zoe and Pete inch closer to the truth, they discover that a missing gun links the crimes which span more than four decades. But the killer isn't done. Two more Vance Township residents fall victim to the same gun, and when tragedy strikes too close to home, Zoe realizes her family is in the crosshairs. (Goodreads)
Agatha Award Nominee for Best Contemporary Novel of 2015!
Paramedic Zoe Chambers is used to saving lives, but when she stops a man from running into a raging inferno in a futile attempt to rescue his wife, Zoe finds herself drawn to him, and even more so to his ten-year-old daughter. She invites them both to live at the farm while the grieving widower picks up the pieces of his life.
Vance Township Police Chief Pete Adams, of course, is not happy with this setup, especially when he finds evidence implicating Zoe's new houseguest in murder times two. When Zoe ignores Pete's dire warnings, she runs the very real chance of burning one too many bridges, losing everything–and everyone–she holds dear. (Goodreads)
Paramedic Zoe Chambers and the rest of rural Monongahela County's EMS and fire personnel are used to wading into the middle of trouble to rescue the sick and the injured. But when someone with an ax to grind seeks retribution by staging accident scenes and gunning down the first responders, Zoe finds herself forced to not only treat her own brethren of the front lines, but also, in her role as deputy coroner, seek out whoever is killing her friends.
At the same time, Vance Township Police Chief Pete Adams races to track down a gun, a mysterious all-terrain vehicle, and the sniper before Zoe goes back on duty, placing herself—and Pete—firmly in the gunman's crosshairs.   (Goodreads)