At the roulette table an elderly, ludicrously made-up woman in dazzling diamonds is making a killing. Who would guess the bejewelled high roller is actually retired art teacher Miss Emily Seeton, in disguise to help capture a mysterious crime boss?
Miss S. must get a good look at the crook's face to produce a sketch for the police, a simple task surely. It's not her fault things escalate, and after half-blinding one baddie with the tail of her mink stole and whacking another with her handbag, she's soon gambling for the very highest stakes – her own life.
Serene amidst every kind of skullduggery, this eccentric English spinster steps in where Scotland Yard stumbles, armed with nothing more than her sketchpad and umbrella! (Amazon)
https://www.amazon.com/Odds-Miss-Seeton-Mystery-Book-ebook/dp/B01G0AW66E/ref=sr_1_1?s=books&ie=UTF8&qid=1466904406&sr=1-1&keywords=odds+on+miss+seeton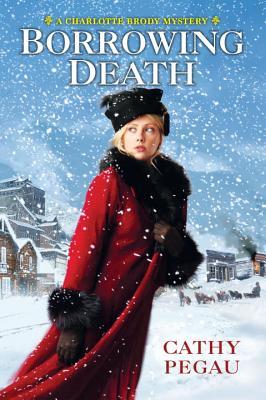 Suffragette and journalist Charlotte Brody is bracing herself for her first winter in the frontier town of Cordova in the Alaska Territory. But the chilling murder of a local store owner is what really makes her blood run cold. . .
After three months in Cordova, Charlotte is getting accustomed to frontier life. She is filing articles for the local paper–including a provocative editorial against Prohibition–and enjoying a reunion with her brother Michael, the town doctor and coroner. Michael's services are soon called upon when a fire claims the life of hardware store owner Lyle Fiske. A frontier firebug is suspected of arson, but when Michael determines Fiske was stabbed before his store was set ablaze, the town of Cordova has another murder to solve.
Her journalist's curiosity whetted, Charlotte begins to sort through the smoldering ruins of Lyle Fiske's life, only to discover any number of people who might have wanted him dead. As the days grow shorter, Charlotte's investigation turns increasingly complex. She may be distant from the trappings of civilization, but untangling the motives for murder will require plumbing the very depths of Charlotte's investigative acumen. . . (Goodreads)
https://www.amazon.com/Borrowing-Death-Charlotte-Brody-Mystery-ebook/dp/B0165HUVV4/ref=sr_1_1?s=books&ie=UTF8&qid=1466903655&sr=1-1&keywords=borrowing+death
The New York Times bestselling author of the Manor House Mysteries and the White House Chef Mysteries is back with another nail-biting murder mystery for curator Grace Wheaton.

Grace Wheaton, curator and manager of Marshfield Manor, and her benefactor, Bennett Marshfield, are discussing how to help her roommates Bruce and Scott with their wine shop troubles when Grace's trusted—if testy—assistant, Frances, calls, saying she needs some assistance of her own. Arriving at the address Frances has given them, they find a coroner's van and police cars parked outside an upscale assisted-living facility called Indwell.
One of the elderly residents has been found dead under suspicious circumstances, and Frances, seen arguing with the man earlier that day, is now a person of interest. It's up to Grace to clear her assistant's name and find the real killer—before another Indwell resident checks out early… (Goodreads)
https://www.amazon.com/Grace-Sees-Manor-House-Mystery-ebook/dp/B016JPTLDQ/ref=sr_1_2?s=books&ie=UTF8&qid=1466888140&sr=1-2&refinements=p_n_publication_date%3A1250228011
Welcome to Torte—a friendly, small-town family bake shop where the oven is heating up as high as the body count…
Jules Capshaw is still chewing over her husband Carlos's return to Ashland, Oregon. Could there be too many cooks in the kitchen? Whatever is stirring between those two will have to wait. Despite the Oregon Shakespeare Festival being dark for the winter, the bakeshop is bustling, the dough is rolling, and there's no rest for the weary…especially when murder is thrown into the mix.
When Mindy Nolan, the owner of a new restaurant in town, turns up dead, the batter at hand thickens. Jules knows that there was bad blood between Mindy and others in town, and tracking down the killer could prove to be an unwelcome treat. And to top it all off, there's Carlos, who is pleading—with those delicious dark eyes and sexy Spanish accent—for Jules to take him back. Is home where the heart is or will she make a fresh start…and risk getting burned? (Goodreads)
https://www.amazon.com/Caught-Bread-Handed-Bakeshop-Mystery-ebook/dp/B0191K3GN2/ref=sr_1_10?s=books&ie=UTF8&qid=1466888140&sr=1-10&refinements=p_n_publication_date%3A1250228011
"I'm crazy about Laura Levine's mystery series. Her books are so outrageously funny." –Joanne Fluke
The future is looking bright for freelance writer Jaine Austen. She's signed up for a new job, she's looking forward to a tropical vacation, and her cat Prozac is slated to star in a major commercial. But when the claws come out behind the scenes, Jaine worries that murder might be the only thing to meow about. . .
A writer's life is far from glamorous. Still, Jaine's new gig to write an ad campaign for Toiletmasters' new line of self-flushing toilets comes with a few perks–including a date with the president's dreamy nephew. And with a much-needed trip to Maui on the horizon, it seems life couldn't get any better–until her cat Prozac is tapped to star in a Skinny Kitty commercial. But Jaine never would have guessed the world of cat food could be quite so catty. . .
Jaine is nervous that Prozac won't be able to take direction, but the finicky furball ditches her diva behavior for the camera, eating and napping on cue like a seasoned pro. But just as Jaine begins dreaming of fame and fortune, Skinny Kitty's inventor drops dead on the set. Everyone is a suspect–including Jaine. And she'll have to get her paws on the truth before the killer takes a swipe at another victim. . . (Goodreads)
https://www.amazon.com/Murder-Lives-Jaine-Austen-Mystery-ebook/dp/B0165HUV96/ref=sr_1_14?s=books&ie=UTF8&qid=1466888571&sr=1-14&refinements=p_n_publication_date%3A1250228011
As Laurel Ridge embraces a stranger hungry for answers, a sinister truth is awakened.
A hard-hitting reporter, Kate Beaumont unearths the deepest lies and brings harsh truths to light, but the story that lures her to the gentle town of Laurel Ridge, Pennsylvania, is closer to her heart than anyone knows. The details of her half brother's sudden death have never made sense. She owes him justice, yet the one man who can help her is the stubborn sheriff she can't stand.
Protecting his town is Mac Whiting's top priority. Everything else, including pacifying a beautiful crusader on a mission best left resting in peace, is secondary. But as Kate's search embeds her in his world and attracts a skilled criminal, she needs Mac's protection. Drawn together by deadly secrets, they must find a way to trust each other before a killer silences them both.  (Goodreads)
https://www.amazon.com/How-Secrets-Die-Marta-Perry-ebook/dp/B017GV53XY/ref=sr_1_16?s=books&ie=UTF8&qid=1466888571&sr=1-16&refinements=p_n_publication_date%3A1250228011
Funerals can be patchy affairs for Martha Rose and her close-knit circle of friends–especially in the case of a missing body. . .
When Birdie Watson's husband Russell is killed during a bank robbery, Martha just wants to support her grieving friend. But en route to the burial plot in Oregon, Martha makes a harrowing discovery about the casket's contents–instead of Russell, she finds an unidentified man. Now Martha and her quilting klatch can't rest in peace until they unspool the truth behind the macabre mix up. . . (Goodreads)
https://www.amazon.com/Somethings-Knot-Kosher-Quilting-Mystery-ebook/dp/B0165HUVWS/ref=sr_1_17?s=books&ie=UTF8&qid=1466888571&sr=1-17&refinements=p_n_publication_date%3A1250228011
"A fresh and original new series!" –Krista Davis, New York Times bestselling author
When a treasure hunt leads to deadly plunder, it's up to glass shop owner Savannah Webb and her trusty investigative posse to map out the true motives of a killer . . .
It's the dog days of summer in St. Petersburg, Florida, and Webb's Glass Shop proprietor Savannah Webb has an eco-friendly plan to help locals escape the heat–a recyclable bottle-crafting workshop taught by reticent store manager Amanda Blake. Turns out, the class is a bigger smash than expected, thanks in part to a pair of staggeringly old bottles brought in by snorkeler Martin Lane . . .
Linked to a storied pirate shipwreck, the relics definitely pique Savannah's interest. But intrigue turns to shock when Martin's lifeless body washes ashore the next morning, another glass artifact tucked in his dive bag. With cell phone records connecting Amanda to the drowning, Savannah must voyage through unchartered territory to exonerate her colleague and capture the twisted criminal behind Martin's death . . .
"Cheryl Hollon clearly knows her glass craft, but better still, she also knows how to craft a good mystery." –Sheila Connolly,New York Times bestselling author  (Goodreads)
https://www.amazon.com/Cracked-Death-Webbs-Glass-Mystery-ebook/dp/B0165HVIRK/ref=sr_1_26?s=books&ie=UTF8&qid=1466889013&sr=1-26&refinements=p_n_publication_date%3A1250228011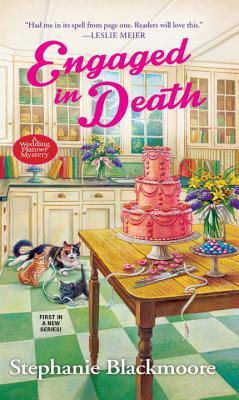 "Had me in its spell from page one. Readers will love this." –Leslie Meier
All appears peaceful in sleepy Port Quincy, Pennsylvania–but in this small town, old grudges die hard. . .
After dumping her cheating fiancé and cancelling the wedding, Mallory Shepard can't bear another disaster. So when the former bride-to-be unexpectedly inherits Thistle Park, a ramshackle mansion in her ex's hometown of Port Quincy, it's a problem she can't afford–literally. Abound with stray cats, peeling wallpaper, and nosy neighbors, Mallory is dying to sell it off–once she finally fixes up both the place and her messy life. . .
Turns out, Thistle Park has its charms. But the honeymoon phase is abruptly cut short when an unwanted visitor is found dead on the front lawn. Enlisting the help of her sister Rachel, Mallory vows to unveil the killer before she herself becomes married to the suspect list. . .
"I had great fun reading the adventures of nouveau sleuth Mallory Shepard as she wrangles corpses, kittens, and a cheating fiancé in this charming debut mystery."              –Laura Levine, author of Death by Tiara  (Goodreads)
https://www.amazon.com/Engaged-Death-Wedding-Planner-Mystery-ebook/dp/B0165HUWCC/ref=sr_1_29?s=books&ie=UTF8&qid=1466889013&sr=1-29&refinements=p_n_publication_date%3A1250228011
Val Deniston certainly has her plate full running a café, dabbling with recipes, and helping her grandfather prepare for the town's upcoming tri-centennial celebration, but she's grown fond of her new life in the Chesapeake Bay town of Bayport. . .
So when Val is asked to reclaim her old position as a cookbook publicist in New York City, she puts off her decision in order to help her grandfather perfect his chocolate fondue for the weekend festivity's dessert cook-off. But after the opening ceremonies, Val finds a houseguest strangled to death in her grandfather's backyard. She suspects a classic case of mistaken identity, especially when another guest nearly bids her life a fondue farewell. Now it's up to Val to keep the killer from making another stab at murder . . .  (Goodreads)
https://www.amazon.com/Final-Fondue-Five-Ingredient-Mystery-Corrigan-ebook/dp/B0165HVIPM/ref=sr_1_33?s=books&ie=UTF8&qid=1466889013&sr=1-33&refinements=p_n_publication_date%3A1250228011
Ellie Avery is a professional organizer, not a diplomat. But by agreeing to help organize a family wedding, she's basically signed on to prevent two mothers-in-law from killing each other. It comes as a complete surprise, then, when another member of the wedding party is the one who's actually murdered . . .
Ellie's sister-in-law, Summer, has planned a four-day destination wedding at a posh private resort on one of Georgia's beautiful barrier islands, but it won't be a vacation for Ellie. Summer has asked her to assist with the last-minute details, which includes keeping the peace between the groom's mother and stepmother.
The ladies are a handful, but the real problems are the ones Ellie and Summer haven't anticipated–like mysterious pranks directed toward the bride. When the best man shows up with the groom's gorgeous if unstable ex-girlfriend, she seems like an obvious suspect for the practical jokes.
But when a suspicious death occurs, Ellie realizes there's more going on than mean-spirited pranks. Is Summer the killer's real target? And what could possibly be driving someone to murder? Ellie vows to get to the truth so the blushing bride can walk down the aisle without fearing she'll never reach the altar . . . (Goodreads)
https://www.amazon.com/Marriage-Monsters–Murder-Ellie-Mystery-ebook/dp/B0165HVINY/ref=sr_1_45?s=books&ie=UTF8&qid=1466889525&sr=1-45&refinements=p_n_publication_date%3A1250228011