Today's Author Spotlight is Connie Archer, author of A Soup Lover's Mystery series.  There are currently 5 books in the series and it's a great one.
About The Author
Connie Archer is the national bestselling author of the Soup Lover's Mystery series set in Snowflake, Vermont — A Spoonful of Murder, A Broth of Betrayal, A Roux of Revenge, Ladle to the Grave and A Clue in the Stew. You can find excerpts from the Soup Lover's Mystery series and Connie's recipes in The Cozy Cookbook from Penguin Random House and The Mystery Writers of America Cookbook. Connie was born and raised in New England and loves writing about Vermont. Today she can be found on the other coast inventing soup recipes and designing plots. You can visit her website and blog at http://www.conniearchermysteries.com and sign up for her newsletter. You can find her on Facebook at http://www.facebook.com/ConnieArcherMysteries and Twitter @SnowflakeVT.
Writing as Connie di Marco, she also writes the Zodiac Mysteries from Midnight Ink. The first book in the series, The Madness of Mercury was released on June 8, 2016. You can visit her at http://www.conniedimarco.com, Facebook.com/ZodiacMysteries and Twitter @askzodia.
A Soup Lover's Mystery Series:
Winter is big business in small-town Snowflake, Vermont. Tourists arrive to hit the ski slopes–and what could be more satisfying after a chilly day of carving powder than a steaming bowl of soup?

When Lucky Jamieson inherits her parents' soup shop, By the Spoonful, she realizes it's time to take stock of her life. Should she sell her parents' house or move in herself? Does she really want to run a restaurant business? And what about her grandfather Jack, who seems to be showing signs of Alzheimer's?
But her life decisions are moved to the back burner after an icy blonde tourist is found frozen to death behind the soup shop. and Lucky is bowled over when her soup chef, Sage DuBois, is led out of the kitchen by the police. As suspicion and speculations snowball, Lucky decides that the only way to save her employee and her business is to find out herself who iced the tourist–and landed her chef in the soup…
Recipes included! (Goodreads)
http://www.amazon.com/Clue-Stew-Soup-Lovers-Mystery-ebook/dp/B011IVPB9Y/ref=la_B008EEFX9M_1_1?s=books&ie=UTF8&qid=1467566056&sr=1-1
Even a town called Snowflake, Vermont, has a summer season. In August, Lucky Jamieson's By the Spoonful serves chilled soups—celery and green onion, cream of asparagus—and salads. The shop also serves as a gathering place to talk about cold-blooded murder…
A protest to stop the construction of an ugly car wash in the middle of the town's picturesque Village Green is interrupted by the discovery of a skeleton that may date back to the Revolutionary War. While the remains pose a historical mystery, a present-day murder shakes the town to its core when local auto mechanic Harry Hodges is found dead in his shop.
Straining the patience of Chief of Police Nate Edgerton, Lucky soon finds herself in the soup again when her dear friend Elizabeth, the Mayor of Snowflake, goes missing. No matter how much trouble she has to stir up, Lucky is determined to use her noodle to uncover a killer and recover her friend…
Recipes included! (Goodreads)
http://www.amazon.com/Broth-Betrayal-Soup-Lovers-Mystery-ebook/dp/B009KUY95I/ref=la_B008EEFX9M_1_5?s=books&ie=UTF8&qid=1467566056&sr=1-5
STIRRING UP TROUBLE
Snowflake, Vermont, is known for its skiing in winter—and its soup all year round, thanks to Lucky Jamieson's By the Spoonful Soup Shop. Autumn brings golden leaves, pumpkin rice soup, the annual Harvest Festival… and murder.
Lucky's soup shop is busier than usual this October, with groups of itinerant travelers in town to work the Harvest Festival. One newcomer seems to take a particular interest in Lucky's young waitress, Janie, spying on her from across the street. Is the stranger stalking Janie?
After an unidentified man is found murdered in a van by the side of the road, simmering suspicions about the travelers are brought to a boil. But when Janie is put in harm's way, Lucky must join forces with the travelers to turn up the heat on a killer…
Recipes included!  (Goodreads)
http://www.amazon.com/Roux-Revenge-Soup-Lovers-Mystery-ebook/dp/B00F9F0T0M/ref=la_B008EEFX9M_1_6?s=books&ie=UTF8&qid=1467566056&sr=1-6
By the Spoonful is Snowflake, Vermont's most popular soup shop, but owner Lucky Jamieson doesn't have any time to enjoy her success—she's too busy trying to keep a lid on false accusations against her loved ones…
It's almost May, and some of the local ladies have organized a pagan celebration in the woods to welcome spring. But the evening goes terribly wrong when one of the attendees winds up dead, apparently poisoned by an herbal concoction prepared by Lucky's grandfather, Jack.
Lucky's sure her grandfather could not have made such a tragic mistake. But before she can clear him of suspicion, her best friend, Sophie, is diverted from planning her wedding to By the Spoonful chef Sage DuBois when she finds a dead man floating in the creek on her property. Now it's up to Lucky to get both Sophie and Jack out of hot water before a killer stirs up more trouble…
Recipes included! (Goodreads)
http://www.amazon.com/Ladle-Grave-Soup-Lovers-Mystery-ebook/dp/B00LMGLY7E/ref=la_B008EEFX9M_1_4?s=books&ie=UTF8&qid=1467566056&sr=1-4
Soup shop owner Lucky Jamieson stirs up more trouble in the latest mystery from the national bestselling author of Ladle to the Grave…
When Lucky Jamieson opens up By the Spoonful to host an event with a famous author, she's not expecting a bunch of nuts to descend on her small-town soup shop. But the author's exasperating entourage—from a prickly publicist to a snippy son and his tipsy wife—give fresh meaning to the phrase, too many cooks spoil the broth.
The evening is more than spoiled, however, when it ends with a homicide. When the manner of the murder—as well as another recent unsolved crime—echoes the author's fiction, Police Chief Nate Edgerton realizes he has a copycat killer on his hands. And Lucky hopes that one of her regular customers who has mysteriously gone missing isn't involved. Once again, the soup shop owner will need to stir up some clues to find her friend and catch a cunning killer—before things really take a tureen for the worse… (Goodreads)
http://www.amazon.com/Clue-Stew-Soup-Lovers-Mystery-ebook/dp/B011IVPB9Y/ref=la_B008EEFX9M_1_1?s=books&ie=UTF8&qid=1467566056&sr=1-1
Writing As Connie DiMarco:
A Zodiac Mystery Series:
San Francisco astrologer Julia Bonatti's life is turned upside down when she becomes the target of the city's newest cult leader, Reverend Roy of the Prophet's Tabernacle. Driven out of her apartment in the midst of a disastrous Mercury retrograde period, she takes shelter with a client who's caring for two elderly aunts. One aunt appears stricken with dementia and the other has fallen under the spell of the Reverend Roy. To add to the confusion, a young man claiming to be a long lost nephew arrives. The longer he stays, the more dangerous things become. Is the young man truly a member of the family? Can astrology confirm that? Julia's not sure, but one thing she does know is that Mercury wasn't merely the messenger of the gods—he was a trickster and a liar as well. (Goodreads)
https://www.amazon.com/Madness-Mercury-Zodiac-Mystery-ebook/dp/B01A5OGTRS/ref=sr_1_1?s=digital-text&ie=UTF8&qid=1467569523&sr=1-1&keywords=the+madness+of+mercury
Also Included in :
MORE THAN 100 RECIPES FROM
AVERY AAMES/DARYL WOOD GERBER
ELLERY ADAMS
CONNIE ARCHER
LESLIE BUDEWITZ
LAURA CHILDS
CLEO COYLE
VICTORIA HAMILTON
B. B. HAYWOOD
JULIE HYZY
JENN McKINLAY
PAIGE SHELTON
Great meals don't have to be a mystery—but they can come from a mystery. Selecting the most delicious recipes from some of the most popular names in crime solving, The Cozy Cookbook serves up mouth-watering appetizers, entrèes, and desserts that will leave your family or book club group asking, "Whodunit?"
In addition to recipes, choose a sleuth du jour from our menu of mystery series and get a taste of each of our authors' bread and butter—page-turning puzzles and stay-up-all-night suspense in excerpts from their bestselling works.
Whether you like your meals sautéed, roasted, baked, or served cold like revenge, The Cozy Cookbook has something to satisfy every mystery fan.
This book contains previously published material.  (Amazon)
https://www.amazon.com/Cozy-Cookbook-Recipes-Bestselling-Mystery-ebook/dp/B00I3N63LG/ref=sr_1_1?s=digital-text&ie=UTF8&qid=1467569770&sr=1-1&keywords=the+cozy+cookbook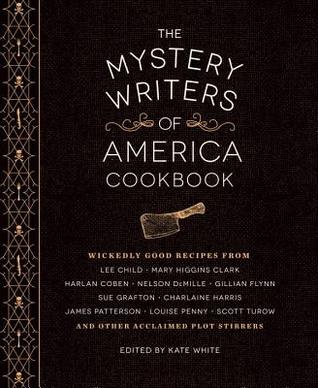 Hard-boiled breakfasts, thrilling entrees, cozy desserts, and more–this illustrated cookbook features more than 100 recipes from legendary mystery authors. Whether you're planning a sinister dinner party or whipping up some comfort food perfect for a day of writing, you'll find plenty to savor in this cunning collection. Full-color photography is featured throughout, along with mischievous sidebars revealing the links between food and foul play. Contributors include Lee Child, Mary Higgins Clark, Harlan Coben, Nelson DeMille, Gillian Flynn, Sue Grafton, Charlaine Harris, James Patterson, Louise Penny, Scott Turow, and many more. (Goodreads)
http://www.amazon.com/Mystery-Writers-America-Cookbook-Wickedly-ebook/dp/B00N6PBELA/ref=la_B008EEFX9M_1_2?s=books&ie=UTF8&qid=1467566056&sr=1-2