Today's Author Spotlight is Nancy Coco, author of the Candy Coated mystery series.  This is such a fun series and I really enjoy it.  Check it out and see why.
About The Author:
Best known for writing plucky heroines Nancy Coco AKA Nancy J. Parra has 15 books published-
Most recently Nancy has three cozy mystery book series going.
Gluten for Punishment and Murder Gone A-Rye are both part of the Gluten Free Baker's Treat Mystery series. (Berkley Prime Crime)
All Fudge Up and To Fudge or Not To Fudge are part of the Candy Coated Mystery series (Kensington) -which Nancy writes as Nancy Coco
Then there is Engaged in Murder- the first in the Perfect Proposal series from Berkly Prime Crime.
All Fudged Up was Nancy's first National Best seller.  (Amazon)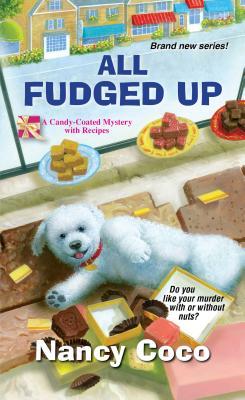 Welcome to the Historic McMurphy Hotel and Fudge Shop–where life is sweet, revenge is sweeter, and murder is here to to stay…
You Can't Fudge An Alibi
Allie McMurphy is up to her neck in renovations at the grand old hotel that's been in her family for generations. With its quaint Victorian charm–and world-famous fudge shop–the place is one of Mackinac Island's most beloved landmarks.
Sure, every family has a skeleton or two in the closet. But Allie didn't expect to find an actual corpse inside hers, especially one Joe Jessup, who had a long-running feud with her dear departed grandfather. Which makes Allie the number-one suspect.
Can she sniff out the culprit before another victim checks in? (Goodreads)
http://www.amazon.com/Fudged-Candy-Coated-Mystery-Recipes-Book-ebook/dp/B00CSX8UQI/ref=la_B00J21KXS2_1_3?s=books&ie=UTF8&qid=1467990120&sr=1-3
With summer in bloom and tourists afoot, Allie is out walking her pup, Mal, when the curious canine digs up a bone from under a flowering lilac bush. The bone leads to a toe that's missing a body. For the successful confectionaire it's only the first in a series of sour events in the middle of the island's Lilac Fest. When her stint on a cooking reality show swirls up a trail of foul play, Allie will have to outwit a cunning killer if she wants to continue living la dolce vida… (Goodreads)
http://www.amazon.com/Fudge-Candy-Coated-Mystery-Recipes-Book-ebook/dp/B00IUPCL0E/ref=la_B00J21KXS2_1_4?s=books&ie=UTF8&qid=1467990120&sr=1-4
It's not Fourth of July on Mackinac Island without fireworks and fudge. The Historic McMurphy Hotel and Fudge Shop is supplying the treats–and Allie has hired Rodney Rivers, the biggest name in aerial displays, to create an unforgettable spectacle. Unfortunately, Allie finds him dead, covered with screaming chicken fireworks, just before the entire warehouse of pyrotechnics goes up in smoke. Is it arson or is it murder? Allie and her bichonpoo, Mal, must sift through the suspects until the killer is caught and the island can enjoy a star-spangled celebration.  (Goodreads)
http://www.amazon.com/Fudge-Candy-Coated-Mystery-Recipes-Book-ebook/dp/B00ONTR4U8/ref=la_B00J21KXS2_1_2?s=books&ie=UTF8&qid=1467990120&sr=1-2
E-Book Exclusive
Includes a Yummy Recipe!
This Christmas, event planner Jenn Christensen has come back to the winter wonderland of Mackinac Island, Michigan, to race for charity in the Santa Fun Run, rekindle her love for CSI tech Shane Carpenter, and indulge in her BFF Allie McMurphy's fabulous fudge. But there's one event she didn't plan—chasing down a killer. After finding a deceased Santa in a snowbank, she's shocked to discover the police suspect her of murder. It's up to Jenn,  Allie, and a helpful  golden retriever named Marley to catch the killer and find out who's at the top of the naughty list.
https://www.amazon.com/Christmas-Fudge-Candy-Coated-Mystery-Recipes-ebook/dp/B00TWC3RXO/ref=sr_1_1?s=books&ie=UTF8&qid=1467991655&sr=1-1&keywords=all+i+want+for+christmas+is+fudge
Fudge shop owner Allie McMurphy is making fudgie treats for the annual yacht race–but a killer's stirring up a batch of trouble. . .
Sailing Into Murder
The annual yacht race off the coast of Mackinac Island, Michigan, is a highlight of the summer season, and Allie is pulling out all the stops making chocolate centerpieces for the occasion. Unfortunately, she and her bichonpoo, Mal, also pull a dead body from the murky waters of the marina. When Allie's boyfriend's sister becomes the prime suspect, Allie dives into investigating the murder herself. Amid bitter feuds and hushed-up scandals, the courageous candymaker quickly gets in over her head. Someone is trying to fudge the facts to keep a secret worth killing for. . . (Goodreads)
http://www.amazon.com/All-Need-Fudge-Candy-coated-Mystery-ebook/dp/B017G7HE4E/ref=la_B00J21KXS2_1_1?s=books&ie=UTF8&qid=1467990120&sr=1-1