Synopsis:
From New York Times bestselling author Linwood Barclay comes an explosive novel set in the peaceful small town of Promise Falls, where secrets can always be buried—but never forgotten…
After his wife's death and the collapse of his newspaper, David Harwood has no choice but to uproot his nine-year-old son and move back into his childhood home in Promise Falls, New York. David believes his life is in free fall, and he can't find a way to stop his descent.
Then he comes across a family secret of epic proportions. A year after a devastating miscarriage, David's cousin Marla has continued to struggle. But when David's mother asks him to check on her, he's horrified to discover that she's been secretly raising a child who is not her own—a baby she claims was a gift from an "angel" left on her porch.
When the baby's real mother is found murdered, David can't help wanting to piece together what happened—even if it means proving his own cousin's guilt. But as he uncovers each piece of evidence, David realizes that Marla's mysterious child is just the tip of the iceberg.
Other strange things are happening. Animals are found ritually slaughtered. An ominous abandoned Ferris wheel seems to stand as a warning that something dark has infected Promise Falls. And someone has decided that the entire town must pay for the sins of its past…in blood.  (Goodreads)
Review: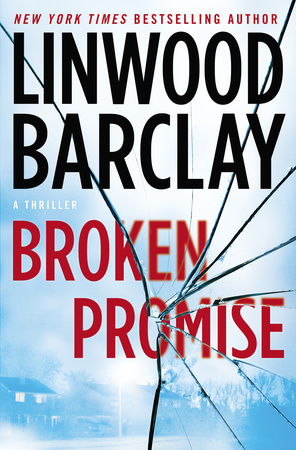 Many families have secrets that they try to keep hidden but few have deadly family secrets.  David Harwood does not expect to uncover one such secret when he returns home to Promise Falls, New York, but that is exactly what happens.  Not only does he have to try to uncover the mystery, he has to decide what to do with the information he discovers. Does he do the right thing or does he honor family ties?
The writing style flows smoothly and the book is an easy read.  The author is very talented in his descriptive writing and through much of the book I felt like I was right there watching all the action take place around me.  The book is written in different points of view.  Sometimes I think this style takes away from the story.  But in this case, I think it worked very well.  It allowed the reader to get different perspectives and different thoughts from the characters.    
While reading this book, I found are many twists and turns making it difficult to figure out what was going to happen.  There are multiple story lines with mysteries involved and the author nicely ties them all together.  
I would recommend this book to anyone who enjoys suspense crime reads.  This is the first book that I have read by this author but I plan on reading more of his books.  
I received a free copy of this book from NetGalley in exchange for a honest review.  I would like to thank NetGalley and Penguin Signet for the opportunity to read and review this book.
https://www.amazon.com/Broken-Promise-Falls-Trilogy/dp/0451472683/ref=sr_1_1?ie=UTF8&qid=1466440211&sr=8-1&keywords=broken+promise+linwood+barclay