Here is a list of some of the new releases for the week of July 17th, 2016.  Hope you find some selections for your weekly reading.  Enjoy and happy reading.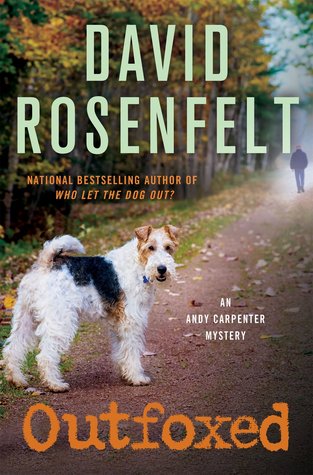 Defense lawyer Andy Carpenter spends as much time as he can working on his true passion, the Tara Foundation, the dog rescue organization he runs. Lately, Andy has been especially involved in a county prison program where inmates help train dogs the Tara Foundation has rescued to make them more adoptable, benefiting both the dogs and the prisoners. One of the prisoners Andy has been working with is Brian Atkins, who has 18 months left on a 5-year term for fraud. Brian has been helping to train Boomer, an adorable fox terrier the Tara Foundation rescued from a neglectful owner. Brian and Boomer are clearly a terrific match. In fact, Andy hopes that Brian will adopt Boomer himself, once his sentence is up. But one day, Andy arrives at the prison to discover that Brian has used Boomer to make an ingenious escape, and man and dog are both in the wind. The next day, the man on whose testimony Brian was convicted is found murdered. Brian is caught and arrested for the crime, though he forcefully protests his innocence. Suddenly, Andy finds himself with a new client in Brian and a new dog in Boomer. And as he starts to dig deeper into the murder and the events leading up to it, Andy realizes he might be putting them all in far more danger than anyone had realized. (Goodreads)
https://www.amazon.com/Outfoxed-Andy-Carpenter-Mystery-Novel-ebook/dp/B01AGHELKG/ref=sr_1_2?s=books&ie=UTF8&qid=1468635235&sr=1-2&refinements=p_n_publication_date%3A1250228011
Sherlock Holmes and Doctor Watson investigate the case of a kidnapped child. With no ransom note, and a sinister connection to the highest echelons of Victorian society, the companions' lives are in danger. What is the child's true heritage? And what is the connection with the vicious Whitechapel murders? (Goodreads)
https://www.amazon.com/Further-Adventures-Sherlock-Holmes-Ripper-ebook/dp/B0174PMR90/ref=sr_1_34?s=books&ie=UTF8&qid=1468635499&sr=1-34&refinements=p_n_publication_date%3A1250228011
The Branson Beauty, an old showboat, has crashed in the waters of an Ozark mountain lake just outside the popular tourist destination of Branson, Missouri. More than one hundred people are trapped aboard. Hank Worth is still settling into his new role as county sheriff, and when he responds to the emergency call, he knows he's in for a long winter day of helping elderly people into rafts and bringing them ashore. He realizes that he'll face anxiety, arguments, and extra costs for emergency equipment that will stretch the county's already thin budget to the breaking point.
But he is absolutely not expecting to discover high school track star Mandy Bryson's body locked inside the Captain's private dining room. Suddenly, Hank finds himself embroiled in a murder investigation, with the county commissioner breathing down his neck and the threat of an election year ahead of him. And as he wades deeper into the investigation, Hank starts to realize he's up against a web of small town secrets much darker and more tangled than he could have ever imagined.
In her captivating debut novel, Claire Booth has created a broad cast of wonderfully compelling characters, and she perfectly blends humor with the emotional drama and heartache of a murder investigation. (Goodreads)
 Everyone must do jury duty. Even Sherlock Holmes.
A nation's greatest sports hero has been accused of murder. The trial is approaching, and the public is clamoring―both for and against. And in a desperate, computer-generated quest to fill its quota of jurors, the Crown Court has included on its summons list the known occupants―real and otherwise―of 221B Baker Street. One summons is addressed to Sherlock Holmes; it doesn't matter to the Crown Court Jury Selection Service whether Holmes is real or fictional, or in which century he existed.
The other is addressed to Mr. Nigel Heath―who is living and sleeping on the couch in his office at Baker Street Chambers. With Nigel in the jury selection pool are a lovely young woman with a mysterious tattoo, an elderly widow with piercing blue eyes and a mind like a tack, a slick millennial whose occupation is cornering the market on prescription drugs, and a tall man with an aquiline nose who seems reluctant to say exactly how he received his jury summons.
Before the trial is done, Nigel and each of his fellow prospective jurors will wonder not only which of them will be impaneled―and what verdict they will reach―but also who will survive to render it. (Goodreads)
https://www.amazon.com/Baker-Street-Jurors-Mystery-Letters-ebook/dp/B017H2LBRO/ref=sr_1_37?s=books&ie=UTF8&qid=1468635943&sr=1-37&refinements=p_n_publication_date%3A1250228011
The tide has turned for Dodie O'Dell since a hurricane upended her life on the Jersey Shore. Now she's further up the coast in sleepy Etonville, managing a restaurant that dishes dinners themed around the community theater's latest productions. But Dodie just never imagined she'd land the starring role in a case of bloody homicide . . .
Intrigued by rumors of vanishing box office money, Dodie has agreed to help oversee the casting of Romeo and Juliet at the modest Etonville Little Theater. If nothing else, it's a welcome escape from the thirty-something's usual going-to-bed-with-a-mystery-novel routine. But when Jerome Angleton, a well-respected member of the theater company, is inexplicably found murdered on the loading dock, deadly drama transcends the stage—and the page. As a crime wave crashes over the small town, the spotlight is on Dodie to orchestrate her own investigation behind the scenes . . . before someone has a chance at a killer encore. (Goodreads)
https://www.amazon.com/Show-Time-Dodie-ODell-Mystery-ebook/dp/B0174PKHFG/ref=sr_1_54?s=books&ie=UTF8&qid=1468636142&sr=1-54&refinements=p_n_publication_date%3A1250228011
For professional organizer Maggie McDonald, moving her family into a new home should be the perfect organizational challenge. But murder was definitely not on the to-do list . . .
Maggie McDonald has a penchant for order that isn't confined to her clients' closets, kitchens, and sock drawers. As she lays out her plan to transfer her family to the hundred-year-old house her husband, Max, has inherited in the hills above Silicon Valley, she has every expectation for their new life to fall neatly into place. But as the family bounces up the driveway of their new home, she's shocked to discover the house's dilapidated condition. When her husband finds the caretaker face-down in their new basement, it's the detectives who end up moving in. What a mess! While the investigation unravels and the family camps out in a barn, a killer remains at large—exactly the sort of loose end Maggie can't help but clean up . . . (Goodreads)
https://www.amazon.com/Address-Die-Maggie-McDonald-Mystery-ebook/dp/B01B0KK5P8/ref=sr_1_73?s=books&ie=UTF8&qid=1468636406&sr=1-73&refinements=p_n_publication_date%3A1250228011