Here is a list of some of the new releases for the week of July 31st, 2016.  Hope you find some selections for your weekly reading.  Enjoy and happy reading.
Nothing is simple when you're thirty-fifth in line for the British crown, least of all marriage. But with love on their side, and plans to elope, Lady Georgiana Rannoch and her beau Darcy O'Mara hope to bypass a few royal rules…
With Darcy driving me out of London in a borrowed motor car, I soon discover that he isn't planning to introduce me to the pleasures of sinning in secret—as I had hoped—but to make me his wife!
Of course, there are some quibbles to be dealt with, such as my needing special permission from the King to marry a Roman Catholic and the question of where we might live after the honeymoon. Though he will inherit a title, Darcy is as broke as I am. Even his family's Irish castle has been sold to a rich American who now employes Darcy's father as a hired hand.
Throwing these cares to the wind, nothing could deter us from our mission—except perhaps the news that my future father-in-law has just been arrested. It seems the rich American was murdered and Darcy's father had more than enough motive to do the deed. With the elopement postponed, we head for Ireland where he insists he's innocent, and it's up to us to prove it—for better or worse. (Goodreads)
https://www.amazon.com/Crowned-Dangerous-Royal-Spyness-Mystery-ebook/dp/B01839Q3DM/ref=sr_1_3?s=books&ie=UTF8&qid=1469846712&sr=1-3&refinements=p_n_publication_date%3A1250228011
Meg is Team Mom and Michael is coach of their twin sons' youth baseball team, the Caerphilly Eagles. Meg tangles with Biff Brown, the petty, vindictive league head. On opening day, Biff's lookalike brother is found dead in the porta-potty at the ball field. So many people think Biff's scum that it would be easy to blame him, but he has an alibi–and Meg suspects he may actually have been the intended victim.
With Die Like an Eagle, readers can look forward to another zany Meg Langslow mystery–this one filled with the spirit of America's pastime and Donna's eagle eye.
Like Meg Langslow, the blacksmith heroine of her series, Donna Andrews was born and raised in Yorktown, Virginia. She introduced Meg to readers in her Malice Domestic Contest-winning first mystery, Murder with Peacocks, and readers are still laughing. This novel swept up the Agatha, Anthony, Barry, and a Romantic Times award for best first novel, and a Lefty for funniest mystery. (Goodreads)
https://www.amazon.com/Die-Like-Eagle-Langslow-Mysteries-ebook/dp/B01AGFYUBI/ref=sr_1_4?s=books&ie=UTF8&qid=1469846712&sr=1-4&refinements=p_n_publication_date%3A1250228011
Things really go to seed in the newest novel in the New York Times bestselling Book Retreat mysteries…
There is a hidden garden bordering the grounds of Jane Steward's book-themed resort—a garden filled with beautiful but deadly plants such as mandrake and nightshade. Tucked away behind ivy-covered walls and accessible only through a single locked door, as described in the pages of Frances Hodges Burnett's classic novel, the garden is of special interest to Jane's current group of guests, The Medieval Herbalists. But when one of them turns up dead, Jane must discover whether a member of the group has come to Storyton Hall to celebrate their passion for plant lore or to implement a particularly cruel means for murder.
With thousands of books at her disposal, Jane believes she has the proper materials to solve this deadly problem. If she's wrong, however, she may lose something far more precious than the contents of Storyton's secret library… (Goodreads)
https://www.amazon.com/Murder-Secret-Garden-Retreat-Mystery-ebook/dp/B01839Q2M4/ref=sr_1_6?s=books&ie=UTF8&qid=1469846712&sr=1-6&refinements=p_n_publication_date%3A1250228011
In the latest mystery from the New York Times bestselling author of The Cat, the Sneak and the Secret, a cat collector is suspected of murder.
Jillian Hart and police chief Tom Stewart are enjoying peaceful, newly wedded bliss in Mercy, South Carolina, until a woman is found wandering the streets one night. She's in her night clothes, disoriented, and carrying a kitten in a tote bag. A search of the woman's house reveals many more cats, a maze of cardboard boxes—and a dead man.Although the evidence suggests the frail woman is the killer, Jillian doesn't believe she's capable of such a crime. The dead man had many enemies in town, which means finding the real murderer may prove to be its own cat and mouse game…(Goodreads)
https://www.amazon.com/Collector-Killer-Cats-Trouble-Mystery-ebook/dp/B01839Q396/ref=sr_1_7?s=books&ie=UTF8&qid=1469846712&sr=1-7&refinements=p_n_publication_date%3A1250228011
The national bestselling author of Pouncing on Murder returns as librarian Minnie Hamilton and her rescue cat Eddie discover there's a true crime story unraveling in their own nonfiction section. . . .
Early one morning while shelving books in the library, Minnie stumbles upon a dead body. Authorities identify the woman as an out-of-towner visiting Chilson for her great-aunt's funeral. What she was doing in the library after hours is anyone's guess . . . but Minnie and Eddie are determined to save the library's reputation and catch a killer.
As rumors about the victim circulate through Chilson, the police are in a bind over a streak of baffling break-ins. Luckily, Minnie and Eddie are traveling the county in their bookmobile, and they'll stop at nothing to find the spineless killer before the final page is turned on someone else. (Goodreads)
In the USA Today bestselling Needlecraft Mysteries, Betsy Devonshire has her hands tied between running her needlework shop and turning her sharp eye for deduction to solving crimes…
The Monday Bunch and other local knitters are participating in a fundraising auction to save a community center, creating a growing pile of stuffed animals and toys right in front of the auctioneers as the audience bids. Among those contributing the most knitted goods is temperamental businesswoman Marsha Hanover—who keels over halfway through the event.
After she is pronounced DOA at the hospital, an autopsy reveals that Marsha had been poisoned. But how? And by whom? One of the prime suspects is her ruthless business rival Joe Mickels, who lost a bitterly contested property bid to Marsha.
When Mickels pleads his innocence to Betsy, she reluctantly believes him. But if Betsy is going to uncover the real murderer's identity, she must first untangle the knots Marsha made in her relationships throughout her life… (Goodreads)
 https://www.amazon.com/Knit-Your-Murder-Needlecraft-Mystery-ebook/dp/B00X593GXQ/ref=sr_1_13?s=books&ie=UTF8&qid=1469847611&sr=1-13&refinements=p_n_publication_date%3A1250228011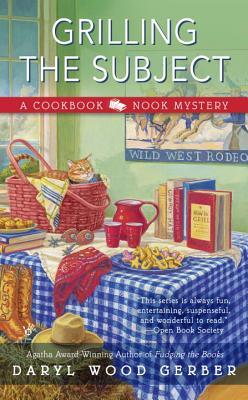 Things heat up for bookstore owner Jenna Hart in the latest Cookbook Nook mystery from the Agatha Award-winning author of Fudging the Books.
As the Wild West Extravaganza rides into Crystal Cove, California, Cookbook Nook store owner Jenna Hart is ready to indulge her appetite for grilled and barbecued treats and maybe even try the Texas skip. But when the body of one of her father's neighbors is found the next morning smoldering in a bonfire, the rodeo revelry is extinguished.Sylvia Gump had acquired plenty of enemies with her practice of illegally encroaching on her neighbors' properties—including Jenna's dad, who was off fishing by himself and has no alibi for the murder. Now it's up to Cary Hart's dutiful daughter to clear his name before the real killer turns up the heat and rakes someone else over the coals…(Goodreads)
In this fresh mystery from the national bestselling author of Death of an English Muffin, baker Merry Wynter comes to the aid of an innocent woman accused of murder.
When muffin baker Merry Wynter sees an innocent woman accused of murder, it's dough or die…
Opera singer Roma Toscano may have a crippling case of stage fright, but she certainly is stirring up drama in Autumn Vale, New York, as she prepares for an upcoming performance at Merry's Wynter Castle. With her flamboyant style and flirtatious personality, Roma attracts fans as well as critics, including the town's postmistress—and Merry's bitter foe—Minnie Urqhart.But Roma and Minnie's heated rivalry goes cold after Merry discovers Minnie dead at the post office. While every clue seems to be another ingredient in the investigation of Roma, Merry thinks the case is half-baked, and she's eager to get her mitts on the real killer…
(Goodreads)
One sleuthing book club finds themselves in the midst of a gothic-esque mystery as they read Du Maurier's Rebecca in the latest from the author of The Readaholics and the Poirot Puzzle.
Reading the gothic classic
Rebecca
already has the Readaholics spooked, and the chills only get worse when someone in town actually gives up the ghost….
Amy-Faye Johnson has her hands full coordinating the Celebration of Gothic Novels in Heaven, Colorado. The festivities start off smoothly, but the weekend is soon cursed with large egos, old resentments, and uninvited guests. Matters become truly grave when a dead body is found at the gothic-themed costume party.The out-of-town authors claim not to know the victim, but Amy-Faye has doubts. With skeletons turning up in all of the suspects' closets, Amy-Faye and the Readaholics must tap into their knowledge of gothic literature to find a killer who lurks in the shadows…(Goodreads)
A new side-splitting Meg Langslow mystery from award–winning, New York Times bestselling author of The Good, The Bad, and The Emus.
The brilliantly funny Donna Andrews delivers another winner in the acclaimed avian-themed series that mystery readers have come to love. The nineteenth book in her New York Times best-selling series continues to surprise and delight in this next knee-slapping adventure featuring Meg Langslow and all the eccentric characters that make up her world.
It's another holiday and Mayor Randall Shiffley has turned Caerphilly, Virginia into Spooky City, USA. The residents are covering every window with cobwebs and roaming the streets in costume to entertain the tourists, and Meg's grandfather is opening a new "Creatures of the Night" exhibit in the zoo.
When a suspicious fire burns the Haunted House and a body is found, Meg Langslow surrenders her home as a safer party venue. But all too soon a real body mars the town's creepy fun, and it's up to Meg to save Halloween.
Like Meg Langslow, the blacksmith heroine of her series, Donna Andrews was born and raised in Yorktown, Virginia. She introduced Meg to readers in her Malice Domestic Contest-winning first mystery, Murder with Peacocks, and readers are still laughing. This novel swept up the Agatha, Anthony, Barry, and a Romantic Times award for best first novel, and a Lefty for funniest mystery.
With Lord of the Wings, readers can look forward to another zany Meg Langslow mystery — this one filled with Halloween spirit and suspense. (Goodreads)
Fabric shop owner Polyester Monroe can get tangled up in textiles, but it's murder that really throws her for a loop in the latest mystery from the national bestselling author of Crushed Velvet.

The time has come for San Ladrón, California's annual Miss Tangorli beauty pageant, and Poly has agreed to use Material Girl's inventory of shimmery silks to create embellished gowns fit for a crown. But when millionaire Harvey Halliwell—the man who revived the city's citrus trade with his imported tangorli tree—is found dead days before the pageant contestants are announced, something sour takes over the town.To make matters worse, her friend, mechanic Charlie Brooks, is soon caught up in the crime, having been seen in the company of the case's prime suspect. Now Poly's on a mission to squeeze out the truth. But as she searches for a pattern, the killer seems intent on cutting up the evidence…(Goodreads)
FOR RICHER OR POORER, IN BUSINESS AND IN STEALTH.
Can IRS Special Agent Tara Holloway break up a clever ring of tax cheats who love money, dishonor the IRS, and disobey the laws of justice?
When Tara agreed to be her best friend's maid of honor, she knew it would be a ton of work. But planning a bachelorette party is a piece of (wedding) cake compared to her latest mission for the IRS. Her target is radio host Florence "Flo" Cash, star of "The Flo Cash Cash Flow Show." Not only has Flo been giving her listeners shady tax advice, she's set up an elaborate barter system that leaves Uncle Sam out of the equation―and Tara tied in knots…
While Flo flouts the IRS at every turn, Tara has yet another case to tackle: a catfishing Casanova who's relieved several lonely ladies of their cash, credit cards, and dignity. When her best friend's big day arrives, it's all Tara can do to keep from crying uncle. But when Tara snatches the bridal bouquet and her boyfriend Nick catches the satin garter, could Tara's days of filing single tax returns be over? (Goodreads)
October, 1944. It has been a challenging season for Elderberry's favorite first grade teacher, Miss Dimple Kilpatrick. A beloved former student was recently killed in the war, her brother has become distant, and her friend Odessa, the cook at Pheobe's rooming house, has taken a leave of absence to care for a relative. Still, when Dimple's librarian friend, Virginia, finds a young woman, Dora, on the library porch looking for a place to spend the night, soft-hearted Dimple brings her back to Phoebe's and offers her food and a warm coat. But when Dimple is trying to find her a place to sleep, the young girl disappears.
The next morning, Miss Dimple answers a knock on the door expecting it to be the girl. Instead, she is greeted by greeted by a somewhat disheveled young woman with lustrous hair and a sunrise of a smile who claims she has been assigned to fill in at the house. Augusta Goodnight, a guardian angel who has been summoned from a well-deserved rest after a series of troublesome earthly duties, has taken up at Phoebe's.
When Dora is discovered dead – murdered – the real reason for Augusta's "assignment" becomes clear, at least to Augusta. Reluctantly, Miss Dimple teams up with Augusta to find out who the killer is. (Goodreads)
From the bestselling author of Black Run comes Antonio Manzini's mesmerizing second mystery novel featuring detective Rocco Schiavone.
Six months after being exiled from his beloved Rome, Deputy Police Chief Rocco Schiavone has settled into a routine in the cold, quiet, chronically backward alpine town of Aosta: an espresso at home, breakfast in the piazza, and a morning joint in his office.
A little self-medication helps Rocco deal with the morons that almost exclusively comprise the local force. Especially on a day like today. It's his girlfriend's birthday (if you could call her that; in his mind, Rocco's only faithful to his late wife), he has no gift—and he's about to stumble upon a corpse.
It begins when a maid reports a burglary in Aosta. But there's no sign of forced entry, and after Rocco picks the lock, he notices something off about the carefully ransacked rooms. That's when he finds the body: a woman, the maid's employer, left hanging after a grisly suicide. Or is it? Rocco's intuition tells him the scene has been staged. In other words, it's murder—a pain in the ass of the highest order.
In this stylish international mystery, Antonio Manzini further establishes Rocco Schiavone as one of the most acerbic, complicated, and entertaining antiheroes crime fiction has seen in years. (Goodreads)
In bestselling author Jane Heller's wild and hilarious mystery, three friends go on a cooking excursion with a famous chef, only to discover one of their classmates is very keen on practicing knife technique.
Elaine Zimmerman and her best friends Jackie Gault and Pat Kovecky venture to a farm in Litchfield, Connecticut. It's been over a year since their last trip together, a Caribbean cruise aboard the Princess Charming, and after dealing with a murderous ex and his hit man, they're yearning for a no-drama vacation this time. During their Cultivate Our Bounty Week, they and eight other guests will learn how to cook farm-to-table meals with Whitley's artisan-in-residence, a renowned TV/restaurant chef named Jason Hill. Elaine, the jaded, neurotic narrator, is less than thrilled—especially because the program wasn't supposed to include a surprise appearance by her former boyfriend Simon, who's still the love of her life but can't commit to her. What's more, after milking a cow and making cheese, she stumbles on evidence that one of her fellow agritourists is out to murder Chef Hill at the resort's Bounty Fest finale.
Is the killer among the freakishly fit Manhattan couple who takes their devotion to organic, hormone-free, non-GMO food to the point of obsession? The grandmother from Wisconsin who's a groupie of the celebrity chef and follows him to every event? The mother and son from Palm Beach who bicker over whether he should give up his law practice to open his own restaurant?
Three Blonde Mice serves up a crackling romance between Elaine and Simon, a twisty whodunit involving a screwball cast of suspects and a satire of current food fads and the farm-to-table chefs who perpetuate them. (Goodreads)
A pair of murders, a little romance, and rivals in pursuit of a long-lost vintage car of unfathomable value–Bruno, chief of police, is busy in another mystery set in the beautiful Dordogne.
At an annual fête in St. Denis, Bruno's biggest worry is surviving in the rally race. The rally and a classic car parade are new to the festivities and draw a spate of outsiders with deep pockets, big-city egos, and, in the case of a young Englishman, an intriguing story. It's the tale of a Bugatti Type 57 Atlantic, lost somewhere in southern France during World War II. Among the most beautiful cars ever made, one of only four of its kind, it is worth untold millions and drives its pursuers mad with greed.
As the parade begins, a local scholar turns up dead–and Bruno suspects unnatural causes. To complicate matters, a family squabble over land brings to St. Denis a comely Parisienne who turns Bruno's head. And: there's mounting evidence that the events in St. Denis are linked to international crime. As usual, Bruno's village life offers its challenges–but there is always time for a good bottle and a home-cooked meal. (Goodreads)
LOVE—UNLEASHED. . .
First in a wickedly funny new series brimming with mystery and romance!
Piper Summers works like a dog juggling three jobs to put herself through veterinary school—driving taxis, delivering pizzas, and singing telegrams. Thankfully, Piper has her devoted dachshund Colin to help her keep things in line. That is, until she gets fired…and someone throws her a bone that is too good to resist.
Aiden Caldwell is an Armani ad come to life—a billionaire CEO who's just adopted a dachshund from the rescue center where Piper volunteers. He's hot on Piper's tail to be his personal dog walker…but he may be after more than a walker for his wiener. The gorgeous, spirited Piper is everything he's ever wanted from a woman—and more. But can Piper ever love, and trust, a man who has never learned to open his heart—or has she bitten off more than she can chew?
Must Love Wieners is the first book in Casey Griffin's Rescue Dog Romance series! (Goodreads)
Bestselling author Marty Wingate "plants clever clues with a dash of romantic spice," raves Mary Daheim. Now Wingate's inimitable gardening heroine, Pru Parke, is importing a precious bloom from Texas—and she won't let a vicious murder stop her.
Pru's life in England is coming full circle. A Texas transplant, she's married to the love of her life, thriving in the plum gardening position she shares with her long-lost brother, and prepping a Chelsea Flower Show exhibit featuring the beloved bluebonnets of the Texas hill country. Technically, Twyla Woodford, the president of a gardening club in the Lone Star State, is in charge of the London event, but Pru seems to be the one getting her hands dirty. When they finally do meet, Pru senses a kindred spirit—until Twyla turns up dead.
Although Twyla's body was half buried under a wall in their display, Pru remains determined to mount a spectacular show. Twyla would have insisted. So Pru recruits her husband, former Detective Chief Inspector Christopher Pearse, to go undercover and do a bit of unofficial digging into Twyla's final hours. If Pru has anything to say about it, this killer is going to learn the hard way not to mess with Texas.  (Goodreads)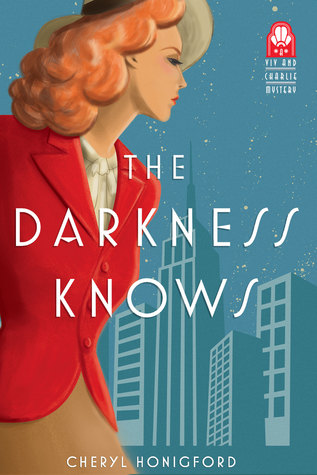 Bright lights. Big city. Brutal murder.

Chicago, 1938. Late one night before the ten o'clock show, the body of a prominent radio actress is found dead in the station's lounge. All the evidence points to murder…and one young, up-and-coming radio actress, Vivian Witchell, as the next victim. But Viv isn't the type to leave her fate in the hands of others—she's used to stealing the show. Alongside charming private detective Charlie Haverman, Vivian is thrust into a world of clues and motives, suspects and secrets. And with so much on the line, Viv finds her detective work doesn't end when the "On-Air" lights go out…

The gripping first novel in a new series from debut author Cheryl Honigford, The Darkness Knows is a thrilling mystery that evokes the drama and scandal of radio stardom in prewar Chicago.
 (Goodreads)