Today's Author Spotlight is Lee Hollis, author of the Hayley Powell Food And Cocktails Mystery series.  I am not sure how I have missed this series, but I did.  I just  had the pleasure of reading book number eight, Death Of a Pumpkin Carver and I loved it.  I cannot wait to go back and read all of the other books in the series.  That is why I decided Lee Hollis had to be my Spotlight Author this week, so others hear about the series and have the enjoyment of reading all of the books.
About The Author:
Rick Copp was two years out of New York University's Tisch School of the Arts when he was tapped at 24 years old to become a staff writer on the enormously popular NBC sitcom The Golden Girls in 1988. It was a once in a lifetime opportunity, especially for a boy from Bar Harbor, Maine, who grew up dreaming of living underneath the famous Hollywood sign, a dream that became a reality soon after his arrival in Los Angeles.
He spent the next five years writing for a number of series including the critically acclaimed and commercially successsful hits NBC's Wings, FOX's Flying Blind and HBO's Dream On.
In 1995, he teamed up with screenwriter Laurice Elehwany, who wrote the popular MaCauley Culkin comedy drama My Girl and together they co-wrote the big screen TV remake The Brady Bunch Movie, which was a major box office hit for Paramount Pictures. This led to many more feature writing assignments for Universal, Warner Brothers, Imagine Entertainment, The Jim Henson Company among others as well as uncredited rewrites on Howard Stern's Private Parts and The Flintstones: Viva Rock Vegas.
But Rick has also stayed very busy in television co-creating and executive producing a campy, fun TV revival of the '80s David Hasselhoff hit Team Knight Rider where he also played the recurring role of Clayton the Chef. He's written for a wide variety of series including Secret Agent Man, Barbershop, executive produced by Ice Cube, and Jack of All Trades starring Bruce Campbell. He's created and written many television pilots for most of the major networks including ABC, CBS, MTV, Lifetime, USA, Nickoleon and Logo including two produced one hour prime time mystery pilots Homewood P.I. for CBS starring Tony Danza and Soccer Moms for ABC starring Kristin Davis. Recently he's written five episodes of the late night Cinemax anthology crime series Femme Fatales under the pen name Richard Hollis, which also provided him the opportunity to return to acting playing a befuddled professor in three episodes. Acting is a hobby Rick still loves to indulge.
Rick has always kept a strong presence in children's television programming as well, which began with him co-writing the popular animated feature Scooby Doo and the Witch's Ghost. Its success led to him writing multiple episodes of the Cartoon Network smash hit Teen Titans as well as story editing the first season of Warner Brothers' Loonatics Unleashed. His passion in life is traveling so it was a special treat for him to work abroad on another successful animated series called Chi Rho -The Secret produced by Cross Media and broadcast by KiKa in Germany.
In 2001, Rick decided to fulfill another goal and write a mystery novel. He had been playing around with a character named Jarrod Jarvis, a former child star on a hit '80s sitcom called Go to Your Room! who had his very own catch phrase, "Baby, don't even go there!" Jarrod's unbridled curiosity led him to investigate a series of sordid Hollywood murder mysteries in between acting audtions. The first book The Actor's Guide to Murder (Kensington, Nov 2003) was very well received and was followed by two sequels The Actor's Guide to Adultery (Kensington, Nov 2004) and The Actor's Guide to Greed (Kensington, Nov 2005), which was nominated for a LAMBDA Literary Award for Best Mystery. He wrote a stand alone book called Fingerprints & Facelifts (Kensington, July 2007), an homage to his favorite TV series as a child, Charlie's Angels. A crack team of female private investigators known as the LA Dolls, who had a very successful detective business in the late '80s were long retired and living separate lives, but were forced to reunite when someone from their past began targeting their children. Lifetime Television optioned the book for a TV movie and hired Rick to adapt his own novel as a teleplay.
Another childhood obsession of Rick's was collecting comic books and he was able to realize yet another dream by writing a graphic novel Celebrity Zombie Killers (Ape Entertainment, March 2010), best described as "a twisted, hilarious mash-up of MTV's The Hills meets 28 Days Later."
In 2010, when Rick's sister won an award for her cooking column in their hometown's local paper, he saw an opportunity. He writes mysteries. She writes recipes. Combine the two for a new book series. And the Hayley Powell Food & Cocktails Mystery series was born. The brother and sister writing team are collaborating on three books under the pen name Lee Hollis, Death of a Kitchen Diva (Kensington, March 2012), Death of a Country Fried Redneck (Kensington, November 2012) and Death of a Coupon Clipper (Kensington, 2013).
Hayley Powell Food And Cocktails Mystery Series:
Welcome to Bar Harbor, Maine, one of New England's most idyllic coastal towns. But as new food writer Hayley Powell is about to find out, the occasional murder can take a bite out of seaside bliss. . .
Single mom Hayley Powell is barely keeping her leaking roof over her head when her boss at the Island Times gives her a new assignment–taking over the paper's food column. Hayley's not sure she has the chops–she's an office manager, not a writer, even if her friends clamor for her mouth-watering potluck dishes. But the extra income is tempting, and Hayley's chatty first column is suddenly on everyone's menu–with one exception.
When rival food writer Karen Appelbaum is found face-down dead in a bowl of Hayley's creamy clam chowder, all signs point to Hayley. To clear her name, she'll have to enlist some help, including her BFFs, a perpetually pregnant lobster woman, and a glamorous real estate agent. As she whips up a list of suspects, Hayley discovers a juicy secret about the victim–and finds herself in a dangerous mix with a cold-blooded killer.
Includes seven delectable recipes from Hayley's kitchen!
"What a delicious debut mystery!" Laura Levine
"A delicious read that I ate up in one sitting." Isis Crawford
More Mouth-Watering Praise For Lee Hollis And Hayley Powell!
"Sleuth Hayley Powell slides down as easily as one of her Lemon Drop Martinis (recipe included) and readers will be calling for a second round from author Lee Hollis." –Leslie Meier, author of "Chocolate Covered Murder"
"Delicious and satisfying. Another course, please." Carolyn Hart
More Mouth-Watering Praise For Lee Hollis And Hayley Powell!
"Sleuth Hayley Powell slides down as easily as one of her Lemon Drop Martinis (recipe included) and readers will be calling for a second round from author Lee Hollis." –Leslie Meier, author of "Chocolate Covered Murder"" (Goodreads)
https://www.amazon.com/Death-Kitchen-Hayley-Powell-Mystery/dp/0758267371/ref=sr_1_5?ie=UTF8&qid=1472414581&sr=8-5&keywords=lee+hollis
Local food and drink writer Haley Powell thinks she's done solving murders in scenic Bar Ha
rbor, Maine. But when a taste of the South comes to New England, Haley's following another recipe for disaster…
As a single mom, Hayley Powell already has a full plate—she's got deadlines to make and a teenage daughter with eyes for an aspiring singer-songwriter. But when country music superstar Wade Springer rolls into town, Hayley spies an irresistible side gig: personal chef to her all-American idol. After he tries her home cooking, Wade's so impressed that he hires her on the spot—and invites her to dine with him alone.
Hayley and Wade are hitting all the right notes…until a body turns up. Wade's tour bus was torched overnight and a roadie named Mickey Pritchett came out well-done. But the real cause of death isn't barbecue: Mickey was shot, his mouth stuffed with one of Hayley's trademark chicken legs. An ornery drunk, Mickey had already made plenty of enemies in town, but Wade's reputation is on the rocks. Hayley reckons it's up to her to settle this mess—a charbroiled mystery with all the fixin's. (Goodreads)
https://www.amazon.com/Country-Redneck-Hayley-Powell-Mystery/dp/075826738X/ref=sr_1_6?ie=UTF8&qid=1472414581&sr=8-6&keywords=lee+hollis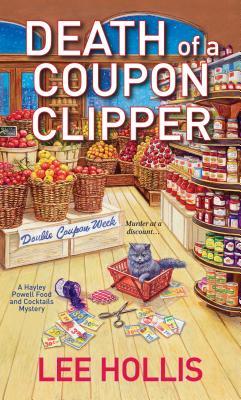 Hayley Powell, food and cocktails columnist for Bar Harbor's Island Times, is. . .well, kind of broke. So when she's selected for that extreme coupon-clipping reality game show coming to town. . . . . . she's thrilled, especially when her competition is nasty nurse Candace Culpepper. But when Haley stumbles across a face-down-in-the-snow Candace–scissors gleaming between her shoulders–she knows the next thing she'll be selected for will probably be a police line-up.
Meanwhile, though Hayley's BFF Mona was only joking about "taking Candace out," Bruce Linney, the Island Times crime reporter, definitely isn't laughing. And what about the smarmy, cold-hearted host of the show, Drew Nickerson, who may have been having a steamy affair with the intentionally-iced nurse? Hayley needs to cut to the chase and find the killer. Everything may hinge on a stray coupon, but Hayley better keep her eyes on the real grand prize: staying out of permanent cold storage!
Includes seven delectable recipes from Hayley's kitchen! (Goodreads)
https://www.amazon.com/Coupon-Clipper-Hayley-Powell-Mystery/dp/0758267398/ref=sr_1_9?ie=UTF8&qid=1472414581&sr=8-9&keywords=lee+hollis
Food and cocktails columnist Hayley Powell is not looking for love this Valentine's Day. Of course she also isn't planning on looking for a murderer. . .
Fed up with dating after a disastrous setup, the only thing Hayley wants to snuggle up to is a box of made-to-order chocolates from plus-sized, plus-mouthed chocolatier Bessie Winthrop. But when Bessie is found dead in her kitchen, only Hayley suspects that Bessie's "heart attack" might actually be a candy-coated murder.
Turns out Bessie had more enemies than a boxful of chocolates, each one a suspicious flavor. It's sticky business juggling a job, two teenagers and finding a killer, but it's better than letting a killer find Hayley first. . .
Includes seven delectable recipes from Hayley's kitchen! (Goodreads)
https://www.amazon.com/Death-Chocoholic-Hayley-Powell-Mystery/dp/0758294492/ref=sr_1_7?ie=UTF8&qid=1472414581&sr=8-7&keywords=lee+hollis
Who better than food and cocktails columnist Hayley Powell to book a caterer for the Island Times holiday party? But Hayley's quest for a cook turns into the pursuit of a killer who caters to no one. . .
Office Christmas parties can sometimes mean career suicide–but they rarely lead to murder. Hayley thought Garth Rawlings would be the perfect caterer for this year's bash, but when the gourmet sees her budget, he goes galloping.
Unfortunately his run is short-lived. Garth is found dead on the floor of his kitchen, with his delectable creations burning in the oven. Faced with a spread of suspects, Hayley is determined to discover who would want to take out the Christmas caterer, because–no matter what the season–justice must be served. . .
Includes seven delectable recipes from Hayley's kitchen! (Goodreads)
https://www.amazon.com/Christmas-Caterer-Hayley-Powell-Mystery/dp/0758294514/ref=sr_1_8?ie=UTF8&qid=1472414581&sr=8-8&keywords=lee+hollis
As the food and cocktails columnist for the Island Times, Hayley Powell attends a lot of events—but this one will be murder…
On the eve of her high school reunion, Hayley dreads seeing the trio of mean girls who used to torment her: Sabrina Merryweather, Nykki Temple, and former prom queen Ivy Foster. These days Ivy wears a different crown as the cupcake queen—and flaunting her success is just the icing on the cake.
But maybe the prom queen should have been voted Most Likely to Die. At the reunion, Ivy is found murdered, cupcakes scattered around her. Is a killer out to teach the mean girls a lesson? As Hayley tries to get the scoop, she'll have to be careful…or someone may be writing this columnist's obituary next.
Includes seven delectable recipes from Hayley's kitchen! (Goodreads)
https://www.amazon.com/Death-Cupcake-Hayley-Powell-Mystery/dp/0758294530/ref=sr_1_4?ie=UTF8&qid=1472414581&sr=8-4&keywords=lee+hollis
For food and cocktails columnist Hayley Powell, becoming a local culinary celebrity opens lots of doors. Unfortunately, one leads straight to cold-blooded murder…
When Hayley is invited to do a cooking demo on one of daytime's most popular talk shows, it's a welcome distraction from her empty nest blues. And the newfound fame certainly has its perks–especially when Olivia Redmond, the posh bacon heiress of Redmond Meats, offers Hayley a writing gig with a juicy paycheck.
But Hayley's good fortune fizzles fast. The heiress is found dead with her pet pot-bellied pig, Pork Chop, squealing bloody murder beside her body, and clogged arteries aren't to blame. It turns out Olivia's inherited a wealth of enemies over the years, and as Hayley trims the fat off a mounting list of suspects, it's clear that being rich and hot-tempered can be a recipe for disaster…
Includes seven delectable recipes from Hayley's kitchen! (Goodreads)
https://www.amazon.com/Death-Heiress-Hayley-Powell-Mystery/dp/1496702522/ref=sr_1_3?ie=UTF8&qid=1472414581&sr=8-3&keywords=lee+hollis
For Hayley Powell, food and cocktails columnist for the Island Times, Halloween is all about costume parties and holiday treats—until a killer crashes the party…
This Halloween, Hayley can't imagine a worse trick than her ex-husband Danny returning to Bar Harbor. Her kids may be happy to see their dad, but Hayley's determined not to be taken in by his charms, and suspects he's in financial trouble—again.
Still, the haunted holiday is about to get a whole lot scarier after Danny's moonshine-making uncle is found lying dead next to a tombstone in a cemetery—and Danny quickly becomes the prime suspect. To prove her ex is innocent, Hayley will have to dig deep into her own bag of tricks to unmask the real culprit . . . before anyone else—including her—ends up in the graveyard…
Includes seven delectable recipes from Hayley's kitchen! (Goodreads)
https://www.amazon.com/Pumpkin-Carver-Hayley-Powell-Mystery/dp/1496702549/ref=sr_1_1?ie=UTF8&qid=1472414581&sr=8-1&keywords=lee+hollis