Here is a list of some of the new releases for the week of September 4th, 2016.  Hope you find some selections for your weekly reading.  Enjoy and happy reading.
The New York Times bestselling author of Dead with the Wind andBless Her Dead Little Heart is back with more of those sleuthing Southern belles, the Ducote sisters…
An'gel and Dickce Ducote, busy with plans for the Athena Garden Club's spring tour of grand old homes, are having trouble getting the other club members to help. The rest of the group is all a-flutter now that dashing and still-eligible Hadley Partridge is back to restore his family mansion. But the idle chatter soon turns deadly serious when a body turns up on the Partridge estate after a storm…
The remains might belong to Hadley's long-lost sister-in-law, Callie, who everyone thought ran off with Hadley years ago. And if it's not Callie, who could it be? As the Ducotes begin uncovering secrets, they discover that more than one person in Athena would kill to be Mrs. Partridge. Now An'gel and Dickce will need to get their hands dirty if they hope to reveal a killer's deep-buried motives before someone else's name is mud… (Goodreads)
https://www.amazon.com/Digging-Dirt-Southern-Ladies-Mystery-ebook/dp/B0191ZL5NU/ref=sr_1_4?s=books&ie=UTF8&qid=1472939698&sr=1-4&refinements=p_n_publication_date%3A1250228011
I
n the latest from the New York Times bestselling author ofMurder of an Open Book, a school psychologist has her hands full after a school board sourpuss meets a bitter end…
 
With her morning sickness finally abated, Skye Denison Boyd is ready to pounce on the pertinent problems she faces as Scumble River School's psychologist. After trying almost every trick in the book to aid a handful of socially awkward fourth grade boys, Skye opts for the innovative approach of pet therapy with the assistance of the local vet, a Siberian husky, and a Maine coon cat.
Unfortunately the first session only breeds disaster and draws the ire of cantankerous school board member Palmer Lynch. But Skye's worry over the episode changes to dread after Lynch is found dead in his home with the therapy cat hidden in his garage. With a clowder of questions unleashed, Skye finds herself dealing with a killer who isn't pussyfooting around…(Goodreads)
https://www.amazon.com/Murder-Cranky-Catnapper-Scumble-Mystery-ebook/dp/B0191WS14E/ref=sr_1_5?s=books&ie=UTF8&qid=1472939698&sr=1-5&refinements=p_n_publication_date%3A1250228011
Caterer and cook Lilah Drake is up to her elbows in deadly trouble in the latest mystery from the author of The Big Chili…
 
The Christmas holidays are one of Lilah's favorite times of the year, filled with friends, family, and, of course, tons of food orders for her Covered Dish clients. But Lilah's Yuletide cheer ends when she sees a most Grinch-like crime: the murder of a Santa in a school parking lot.
It turns out the deceased Kris Kringle was a complicated tangle of naughty and nice, with a long list of people who might have wanted him dead. And whoever did the deed wants to make sure that Lilah keeps quiet. Now, Lilah will have to team up with her former fling, Detective Jay Parker, to unwrap the mysteries of a deadly Christmas killer and stay alive long enough to ring in the New Year… (Goodreads)
https://www.amazon.com/Cheddar-Dead-Undercover-Dish-Mystery-ebook/dp/B0191ZL2PG/ref=sr_1_13?s=books&ie=UTF8&qid=1472939698&sr=1-13&refinements=p_n_publication_date%3A1250228011
Second in the Postmistress Mystery series by Jean Flowers, following Death Takes Priority…
"MAKE THIS MYSTERY SERIES YOUR PRIORITY."—Janet Cantrell, national bestselling author of the Fat Cat mysteries
Cassie Miller returned to her sleepy hometown in the Berkshires to start over as the new postmistress. But she soon finds that dead letters are nothing compared to murder victims…
With a massive storm about to hit North Ashcot, Massachusetts, threatening floods and widespread wind damage, Cassie is forced to close up the post office along with the rest of the local business owners and residents, who are battening down the hatches and bracing themselves for the worst.
Although the storm proves not to be as bad as predicted, fabric shop owner Daisy Harmon is found dead, seemingly killed by a fallen branch. But the police quickly determine that her death had nothing to do with foul weather and everything to do with foul play. After Daisy's widowed husband approaches her to help solve his wife's murder, Cassie vows to find the killer before another innocent victim is taken by storm. (Goodreads)
https://www.amazon.com/Cancelled-Murder-Postmistress-Mystery-Flowers-ebook/dp/B0191WS0Z4/ref=sr_1_16?s=books&ie=UTF8&qid=1472939698&sr=1-16&refinements=p_n_publication_date%3A1250228011
From the national bestselling author of Basket Case comes the second mystery starring the crafty and cantankerous Silver Six.
 
Leslee Stanton Nix—aka "Nixy"—thought moving to small-town Lilyvale, Arkansas, would be about as thrilling as watching paint dry. But keeping up with her retired Aunt Sherry and her troublemaking housemates—collectively known as the Silver Six—has proven to be as exciting as it is exasperating.
To kick off the grand opening of their craft shop, the Handcraft Emporium, Nixy and the Silver Six invite Doralee Gordon to teach a gourd painting class. Doralee's spirit gets squashed when her ex crashes the class with his new fiancée, but things really get messy when the bride-to-be later turns up dead. Now it's up to Nixy and the Silver Six to use their melons to find the killer—before someone else gets painted out of the picture…(Goodreads)
https://www.amazon.com/Paint-Town-Dead-Silver-Mystery-ebook/dp/B015DLUR2G/ref=sr_1_17?s=books&ie=UTF8&qid=1472940247&sr=1-17&refinements=p_n_publication_date%3A1250228011
Two delightful stories—one each from the New York Timesbestselling Magical Cat and Second Chance Cat mystery series.
The Cat Burglar
A Magical Cats Mystery Novella
Kathleen Paulson has her hands full in Mayville Heights, Minnesota, running the public library, and taking care of her two uncanny cats, Hercules and Owen. Kathleen's good friend Maggie says items are being stolen from the local artists' co-op. She doesn't want to call the police, because the main suspects are all close friends. Luckily, Kathleen and her faithful felines are there to put their paws on the truth!  (Goodreads)
https://www.amazon.com/Two-Tall-Tails-Sofie-Kelly/dp/B01IAUG2OO/ref=sr_1_174?s=books&ie=UTF8&qid=1472941096&sr=1-174&refinements=p_n_publication_date%3A1250228011
Too many cooks…
Blood is thicker than water. But whose blood? And who is the stranger at Jill's door?
…are after my custard creams. (Goodreads)
https://www.amazon.com/Witch-Laughter-Stopped-P-I-Mystery-ebook/dp/B01HRSOKFI/ref=sr_1_204?s=books&ie=UTF8&qid=1472941250&sr=1-204&refinements=p_n_publication_date%3A1250228011
Miss Seeton's rather unusual drawings for the Best Kept Village Competition may hold vital clues to a recent series of fires. At least, that's what Scotland Yard believes. And when two corpses turn up-and someone sets Miss Seeton's cottage ablaze-the whole town is burning with curiosity. Will Miss Seeton clear the air of smoke-filled suspicion?  (Goodreads)
https://www.amazon.com/Miss-Seeton-Paints-Town-Mystery-ebook/dp/B01JNHEW04/ref=sr_1_210?s=books&ie=UTF8&qid=1472941520&sr=1-210&refinements=p_n_publication_date%3A1250228011
Whisper Cove is stuck in a heat wave, although it's nothing compared to the fire stoking between Harper Harlow and Jared Monroe. They're happy and enjoying themselves … until a face from the past resurfaces.
Jason Thurman and Harper had a brief fling in high school, and when he returns to town to open a restaurant he's hoping they can revisit their relationship as adults. Harper has no interest other than friendship in the amiable man, but he seems determined despite her protests.
When a body drops at his restaurant, Harper finds herself in a unique situation. The deceased woman died horribly, but she's completely unlikeable and helping her is harder than Harper ever envisioned – mostly because she's keeping secrets from the only people who can solve her murder.
Between Jason's unwanted attention, a brewing fight with Zander, and an enemy no one can pin down, Harper has her hands full. Jared is by her side, but jealousy is getting the better of him even as he fights to do right by his blonde.
When the end comes, will Jared be too distracted to realize who the enemy really is? Will Harper's insistence on believing Jason is innocent be her ultimate downfall?
Only time will tell … and the clock is ticking. (Goodreads)
https://www.amazon.com/Ghostly-Worries-Harper-Harlow-Mystery-ebook/dp/B01GQMOPCE/ref=sr_1_216?s=books&ie=UTF8&qid=1472941520&sr=1-216&refinements=p_n_publication_date%3A1250228011
Between volunteering for the annual pumpkin festival and coaching her girls to the state soccer finals, high school teacher Tj Jensen finds her good friend Zachary Collins dead in his favorite chair. When the handsome new deputy closes the case without so much as a "why" or "how," Tj turns her attention from chili cook-offs and pumpkin carving to complex puzzles, prophetic riddles, and a decades-old secret she seems destined to unravel.
Related subjects include: cozy mysteries, women sleuths, murder mystery series, whodunit mysteries (whodunnit), humorous murder mysteries, book club recommendations, amateur sleuth books, small town. (Goodreads)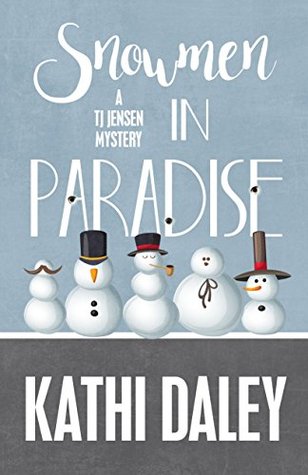 Winter Carnival comes to Serenity, and with it Tj finds her schedule busier than ever. Not only is her ski and snowboard team heavily involved in demonstrations and local competitions, but her ragtag choir is about to debut in their first live performance. To make matters even more complicated, someone has killed Travis Davidson, a town favorite son, world-class snowboarder, and Olympic hopeful. Tj is determined not to get involved in the subsequent investigation until she learns the prime suspect is Chelsea Hanson, high-school boyfriend Hunter Hanson's sister.
Although there's no shortage of Sereninites with a grudge against the hometown hero, even Tj has to admit there's good cause to suspect Chelsea of the murder. Balancing bridesmaid duties, Winter Carnival obligations, show choir duty, and after-hours investigation, Tj sets out to prove Chelsea innocent.  (Goodreads)
When the Tropical Tan Corporation descends on Maggie's Hideaway, the lakeside resort where Tj Jensen lives, she must juggle a bikini contest, a BBQ cook-off, a missing model, and a dead chaperone while her father is out of town. Lead Deputy Dylan Caine is on vacation while his sister is visiting, leaving Assistant Deputy Roy Fisher in charge. When Roy asks Tj for her help they find there may be more going on than anyone realized. With Kyle and Jenna's help, they dig into the lives of those involved, only to find a mystery more complex than anything they could ever have imagined.  (Goodreads)
Christmas in Serenity is a magical time of year Tj has always looked forward to with happy anticipation. This year her holiday spirit is marred by the impending arrival of two new men in her life. When one of them ends up dead, Tj must juggle community plays, Christmas tree cuttings, sleigh rides, and holiday shopping with a complex murder investigation. As the facts begin to unravel, she realizes she may have to risk everything to save someone she loves.  (Goodreads)
When a friend of Tj's is injured in a car accident during a blizzard, Tj takes responsibility for the litter of puppies left behind. Meanwhile she works with Kyle, Jenna, and the gang to catch the killer responsible for the death of a close Jensen family friend. When it turns out that the main suspects are also close family friends, Tj must face one of the most difficult decisions she's ever had to make.  (Goodreads)
In the midst of the annual Halloween frenzy, Tj finds herself pulled into a series of events at the high school where she works. Not only must she help one of the girls on her team deal with a case of cyberbullying, but she must help a student who has recently suffered a personal tragedy. And as if Tj wasn't busy enough, in walks Samantha Colton, a reporter for Second Look, a television series that takes a look back at unsolved murders. This time the case is the death of a popular student after the homecoming dance ten years before.
To make matters even worse—or maybe more convenient—the graduating class of the victim is in town for their ten-year reunion and all the suspects just happen to have converged on Serenity for the weekend. When Samantha turns up dead, Tj must track down someone who seems willing to kill again to keep their secret. (Amazon)
First in the Farmer's Daughter mystery series set on a picturesque farm in Michigan, where Shelby McDonald runs a popular lifestyle and cooking blog, from the national bestselling author of the Cranberry Cove Mysteries.
On her blog,
The Farmer's Daughter
, Shelby McDonald is growing her audience as she posts recipes, gardening tips, and her experiences raising two kids and running Love Blossom Farm in the small western Michigan town of Lovett.Working the farm is demanding but peaceful—until that peace is shattered when the minister's wife is murdered on Shelby's property during a fund-raiser for a local church. But the manure really hits the fan when Shelby's good friend veterinarian Kelly Thacker emerges as the prime suspect. Shelby decides to dig in and find the murderer by herself. As more suspects crop up, she'll have to move fast—before someone else buys the farm. . . .
(Goodreads)