Here is a list of some of the new releases for the week of October 2nd, 2016.  Since there are so many releases this week, I will post half today and half tomorrow.   Hope you find some selections for your weekly reading.  Enjoy and happy reading.
Magical cats Owen and Hercules and resourceful librarian Kathleen Paulson are back in the latest from the New York Timesbestselling author of Faux Paw…
Kathleen is excited to meet three old pals of her beau, Detective Marcus Gordon, while they visit charming Mayville Heights on business. But the reunion is cut short when one of the friends is killed—and the evidence points towards Marcus as the murderer.
Though it seems she doesn't know all of Marcus's secrets, Kathleen is sure he's no killer. With his suspect status sidelining him from investigating the case, it's up to Kathleen and her feline partners-in-crime to find whoever is framing Marcus—and make sure the good detective hasn't found his last clue. (Goodreads)
https://www.amazon.com/Paws-Effect-Magical-Sofie-Kelly-ebook/dp/B01AHKXJ78/ref=sr_1_1?s=books&ie=UTF8&qid=1475345394&sr=1-1&refinements=p_n_publication_date%3A1250228011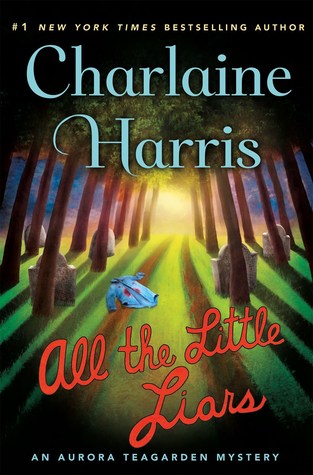 #1 New York Times bestseller Charlaine Harris returns to her Aurora Teagarden mystery series with a fabulous new book featuring the small-town Southern librarian.
Aurora Teagarden is basking in the news of her pregnancy when disaster strikes her small Georgia town: four kids vanish from the school soccer field in an afternoon. Aurora's 15-year-old brother Phillip is one of them. Also gone are two of his friends, and an 11-year-old girl who was just hoping to get a ride home from soccer practice. And then there's an even worse discovery—at the kids' last known destination, a dead body.
While the local police and sheriff's department comb the county for the missing kids and interview everyone even remotely involved, Aurora and her new husband, true crime writer Robin Crusoe, begin their own investigation. Could the death and kidnappings have anything to do with a group of bullies at the middle school? Is Phillip's disappearance related to Aurora's father's gambling debts? Or is Phillip himself, new to town and an unknown quantity, responsible for taking the other children? But regardless of the reason, as the days go by, the most important questions remain. Are the kids still alive? Who could be concealing them? Where could they be?
With Christmas approaching, Aurora is determined to find her brother…if he's still alive.
After more than a decade, #1 New York Times bestseller Charlaine Harris finally returns to her fan-favorite Aurora Teagarden series with All the Little Liars, a fabulously fun new mystery.  (Goodreads)
https://www.amazon.com/All-Little-Liars-Teagarden-Mystery-ebook/dp/B01D8F63DQ/ref=sr_1_2?s=books&ie=UTF8&qid=1475345394&sr=1-2&refinements=p_n_publication_date%3A1250228011
The New York Times bestselling author of A Gala Event returns with newlyweds Meg and Seth Chapin who should be worried about writing thank you notes, not taking a juicy bite out of crime…
With the bushels of time they spent organizing their wedding, Meg and Seth didn't have a chance to plan a honeymoon. But now that winter has arrived, there's not much to do at the orchard. So with their shared love of history and all things apple, they pick Thomas Jefferson's orchards at Monticello as the perfect getaway.
While they enjoy the beautiful sights, there's a rotten addition to the agenda when Meg's parents discover their handyman dead in the backyard. With a bitter police chief eyeing Meg's father as a suspect, Meg and Seth have to cut their honeymoon short to find the root of the problem.
 
 
Includes Delicious Recipes  (Goodreads)
https://www.amazon.com/Deception-Orchard-Mystery-Sheila-Connolly-ebook/dp/B01AHKXJF0/ref=sr_1_4?s=books&ie=UTF8&qid=1475345394&sr=1-4&refinements=p_n_publication_date%3A1250228011
The national bestselling author of Gone with the Witch returns as wish-granting witch Darcy Merriweather uncovers dangerous skeletons in the closet—and the garage….
 
When Darcy moved to Salem, Massachusetts, she never expected her life to change as drastically as it did. But within a short time, the Enchanted Village has become her home, its mystical residents have become her family, and As You Wish, the personal concierge business formerly run by her Aunt Ve, has become her calling. Still, the time has come for change—and for Darcy to move out of Aunt Ve's house.
Darcy's belongings are stashed in Aunt Ve's garage, alongside a mess of memories, forgotten possessions, and, to both Ve and Darcy's horror, a pile of old bones. It turns out they belong to Ve's long missing second husband. Now Darcy must unpack old secrets to solve a cold case—and make sure her aunt isn't looking at a spell behind bars.  (Goodreads)
https://www.amazon.com/Witch-Dead-Wishcraft-Mystery-ebook/dp/B01AHKXI2O/ref=sr_1_6?s=books&ie=UTF8&qid=1475345394&sr=1-6&refinements=p_n_publication_date%3A1250228011
The Winter Market in the French Quarter is in full swing, but murder isn't taking a holiday in the latest from the New York Times bestselling author of Parchment and Old Lace…
 
The holidays are a busy time for scrapbook shop owner Carmela Bertrand—but not so hectic that she doesn't have time to enjoy browsing the booths at the Winter Market with her best friend Ava. The last thing the ladies expect to see is a thrashing man stabbed by a serving fork, dying in front of them.
The victim is loathed restaurant critic Martin Lash, who posted his scathing reviews on the Glutton for Punishment website. And the prime suspect is New Orleans restauranteur Quigg Brevard—who was seen giving the critic a tongue-lashing minutes before someone stuck a fork in him. An old flame of Carmela, Quigg asks for her help, which does not please her current beau, Detective Edgar Babcock, to say the least.
Before her relationship is the next victim, Carmela needs to find a murderer who had no reservations about punishing the culinary curmudgeon…
INCLUDES SCRAPBOOKING TIPS  (Goodreads)
https://www.amazon.com/Crepe-Factor-Scrapbooking-Mystery-Childs-ebook/dp/B01AHKY37I/ref=sr_1_8?s=books&ie=UTF8&qid=1475345394&sr=1-8&refinements=p_n_publication_date%3A1250228011
The national bestselling author of The Marsh Madness takes rare book collector Jordan Bingham on a trip to San Francisco—home to Dashiell Hammett's hard-boiled heroes—where nothing is as it seems.
 
On a getaway to the City by the Bay, book collector Jordan Bingham becomes entangled in a mystery with more twists than Lombard Street…
 
Jordan has been able to swing a romantic trip to San Francisco with Officer Tyler "Smiley" Dekker on one condition—she must return with a rare copy of Dashiell Hammett's Red Harvest for her irascible employer, Vera Van Alst. For his own part, Smiley is full of surprises. He's a Dashiell devotee himself—excited to be in the city of Hammett's hard-boiled heroes like Sam Spade and the Continental Op—and also announces he plans to visit his previously unmentioned estranged grandmother, who lives in an old Victorian on Telegraph Hill.
But the trip goes downhill fast when Jordan is pushed from a cable car and barely escapes death. And when a dark sedan tries to run the couple down, it's clear someone's after them—but who? Just like in Hammett's world, nothing is quite what is seems… (Goodreads)
https://www.amazon.com/Hammett-Hex-Book-Collector-Mystery-ebook/dp/B01AHKXHKC/ref=sr_1_10?s=books&ie=UTF8&qid=1475345394&sr=1-10&refinements=p_n_publication_date%3A1250228011
Carolyn Hart—New York Times bestselling author of Ghost to the Rescue—returns with a new Bailey Ruth Ghost Novel in which one woman shatters the glass ceiling…with a little help from beyond.
Bailey Ruth Raeburn's latest mission is to guide the happy-go-lucky spirit of a deceased young man named Jimmy to the next life. But Jimmy is determined to watch over his still-living girlfriend Megan, whom he wants to be happy even without him—which is easier said than done.As if being haunted by her late boyfriend wasn't enough, Megan is dealing with an arrogant, manipulative senior partner who threatens to fire Megan's vulnerable secretary if Megan accepts a partnership at another law firm. She's in an impossible bind.
Since Jimmy refuses to move on while Megan is being blackmailed, Bailey Ruth agrees to help him. But after the partner turns up dead and Megan is found at the crime scene, Bailey Ruth and Jimmy have to find a way to uncover a killer before the love of Jimmy's life is ordered to spend a lifetime behind bars…
(Goodreads)
In the latest mystery from the bestselling authors of Looking for Mr. Good Witch, the retired witches of Wilmington, North Carolina, are ready to kick up their heels…
With their coven's spell book still missing, Molly and Elsie—along with their ghostly friend Olivia, her daughter Dorothy, and her boyfriend Brian—are all on edge, especially now that Dorothy's infamously wicked father is back in the picture. So when they receive an invitation to an exclusive Witches Ball, the ladies jump at the chance to dress up and have some fun.The castle locale is spectacular and the party is hopping, but the festivities come to a swift end when a member of the Grand Council of Witches is murdered. With the whole place on lock down, the coven is determined to find the cunning killer, even with an angry council and a real Spanish Inquisitor breathing down their necks…
(Goodreads)
In Seattle's Pike Place Market, Spice Shop owner Pepper Reece is savoring her business success, but soon finds her plans disrupted by a killer in the latest from the national bestselling author of Guilty as Cinnamon.
Pepper Reece's to-do list is longer than the shopping list for a five-course dinner, as she conjures up spice blends bursting with seasonal flavor, soothes nervous brides fretting over the gift registry, and crosses her fingers for a rave review from a sharp-tongued food critic. Add to the mix a welcome visit from her mother, Lena, and she's got the perfect recipe for a busy summer garnished with a dash of fun.While browsing in the artists' stalls, Pepper and Lena drool over stunning pottery made by a Market newcomer. But when Lena recognizes the potter, Bonnie Clay, as an old friend who disappeared years ago, the afternoon turns sour. To Pepper's surprise, Bonnie seems intimately connected to her family's past. After Bonnie is murdered only days later, Pepper is determined to uncover the truth. But as Pepper roots out long-buried secrets, will she be digging her own grave?
(Goodreads)
Halloween brings more tricks than treats for costume shop owner Margo Tamblyn in the second in a new cozy series from the national bestselling author of the Material Witness Mysteries.
Halloween conjures up big business for Margo Tamblyn's costume shop, Disguise DeLimit, but this year, the holiday comes knocking with serious trouble. Venture capitalist Paul Haverford plans to rezone historic downtown into a glitzy commercial area which would push out local business. Margo is set on saving her family's store, especially after a nasty run-in with the chain-store tycoon, but after Haverford's body is discovered during a spooky party at the derelict Alexandria Hotel, Margo finds herself dressed as the police's prime suspect.Anxious to clear her name, Margo begins hunting down anyone who might have wanted Haverford dead. Between all of his malicious maneuverings, the murdered mogul had buckets of people anxious to see him gone. Now, Margo will have to use every trick in the book to find a cloaked killer—before someone else winds up wearing a death shroud…
(Goodreads)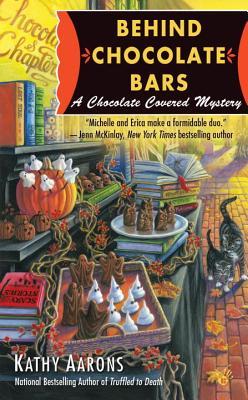 DOUBLE, DOUBLE-BOIL, AND TROUBLE…
Best friends and business partners Michelle and Erica have a monstrous to-do list as they prepare for the annual West Riverdale Halloween Fair. Their shop, Chocolates and Chapters, will have a booth at the event, where Michelle will serve spooky delights while Erica displays an assortment of spine-chilling books. Thank goodness the teenagers from Erica's comic-book club are chipping in to help. But one of their volunteers winds up in trouble after a woman's body is found in an abandoned house—with the teen's superhero key ring close by.
The teen swears he didn't do it, but he's obviously hiding something—leaving Michelle and Erica with a witch's cauldron of questions. Soon they discover that the dead woman was tricking a whole bunch of people out of more than just treats. Now these two friends must go door-to-door if they hope to unmask a killer… (Goodreads)
Brew pub owner Maxine "Max" O'Hara and her chef/boyfriend Jake Lambert are excited to be participating in the Three Rivers Brews and Burgers Festival. Max hopes to win the coveted Golden Stein for best craft beer—but even if she doesn't, the festival will be great publicity for her Allegheny Brew House.
Or will it? When notoriously nasty food and beverage critic Reginald Mobley is drafted as a last-minute replacement judge, Max dreads a punishing review. Her fears are confirmed when Mobley literally spits out her beer, but things get even worse when the cranky critic drops dead right after trying one of Jake's burgers. Now an ambitious new police detective is determined to pin Mobley's murder on Max and Jake, who must pore over the clues to protect their freedom and reputations—and to find the self-appointed judge, jury, and executioner.  (Goodreads)
Ivy is determined to make her living as a nutritionist, but her family has other plans. When that family is the mafia, and one of them has gone missing, all other jobs are summarily pushed aside. Or else.
Ivy can't trust anyone outside of the family, but Slate is not only willing to help, he's the last person to have seen her uncle alive. It only makes sense to keep her eye and gun on Slate while they hunt for clues. Watching him is easy because Slate is more than happy to keep her close, but is he leading her away from her uncle or truly helping?
Ivy can't cook her way out of this mess, but she has a recipe or two for dealing with disaster—if she can just put the fires out before she gets burned! (Goodreads)