Here is a list of some of the new releases for the week of October 2nd, 2016.  Since there are so many releases this week, I posted half yesterday and the rest today.  Hope you find some selections for your weekly reading.  Enjoy and happy reading.
Rory Chasen, manager of the Lucky Dog Boutique in Destiny, California, hopes her new line of good-luck doggy toys will be a hit, especially the stuffed rabbits with extra-large feet. The timing of the line's debut proves ill-fated, though, as several local shops—including Rory's—are ransacked and vandalized with spilled salt and other unlucky charms.
The most likely culprit is disgruntled real estate agent Flora Curtival, whose issues with the town give her a motive. But after Flora is murdered and one of Rory's toy rabbits is found with the body, Rory needs all the luck she can get while trying to determine just who killed the superstitious vandal. (Goodreads)
https://www.amazon.com/Unlucky-Charms-Superstition-Mystery-Johnston-ebook/dp/B01APSYQ5G/ref=sr_1_50?s=books&ie=UTF8&qid=1475352183&sr=1-50&refinements=p_n_publication_date%3A1250228011
In Maia Chance's follow-up to her acclaimed Prohibition-era caper Come Hell or Highball, Lola Woodby is hired to find a diary, but soon the diary owner's future mother-in-law is murdered.
After her philandering husband died and left her penniless in Prohibition-era New York, Lola Woodby escaped with her Swedish cook to the only place she could—her deceased husband's secret love nest in the middle of Manhattan. Her only comforts were chocolate cake, dime store detective novels, and the occasional highball (okay, maybe not so occasional). But rent came due and Lola and Berta were forced to accept the first job that came their way, ultimately leading them to set up shop as a Discreet Retrieval Agency, operating out of Alfie's cramped love nest.
Now they're in danger of losing the business they've barely gotten off the ground—they haven't had a job in months and money is running out. So when a society matron offers them a job, they take it—even if it means sneaking into a detox facility and consuming only water and health food until they can steal a diary from Grace Whiddle, a resident at the "health farm." But barely a day in, Grace and her diary escape from the facility—and Grace's future mother-in-law is found murdered on the premises. Lola and Berta are promptly fired. But before they can climb into Lola's red and white Duesenberg Model A and whiz off the property, they find themselves with a new client and a new charge: to solve the murder of Grace's future mother-in-law. (Goodreads)
https://www.amazon.com/Teetotaled-Mystery-Discreet-Retrieval-Mysteries-ebook/dp/B01CXOYM4U/ref=sr_1_59?s=books&ie=UTF8&qid=1475352183&sr=1-59&refinements=p_n_publication_date%3A1250228011
Lady Emily Hardcastle is an eccentric widow with a secret past. Florence Armstrong, her maid and confidante, is an expert in martial arts. The year is 1908 and they've just moved from London to the country, hoping for a quiet life.
But it is not long before Lady Hardcastle is forced out of her self-imposed retirement. There's a dead body in the woods, and the police are on the wrong scent. Lady Hardcastle makes some enquiries of her own, and it seems she knows a surprising amount about crime investigation…
As Lady Hardcastle and Flo delve deeper into rural rivalries and resentment, they uncover a web of intrigue that extends far beyond the village. With almost no one free from suspicion, they can be certain of only one fact: there is no such thing as a quiet life in the country.
Revised edition: This edition of A Quiet Life In The Country includes editorial revisions.  (Amazon)
https://www.amazon.com/Quiet-Life-Country-Hardcastle-Mystery-ebook/dp/B01ER14CRY/ref=sr_1_71?s=books&ie=UTF8&qid=1475352620&sr=1-71&refinements=p_n_publication_date%3A1250228011
How do you catch an art thief? With artistic bait, of course. And who else but the talented Miss Seeton would provide a painting for Scotland Yard, hoping it will get stolen? Before the trap is sprung, a second thief strikes . . . in one of England's most stately homes. Now Miss Seeton – incognito – is off to the scene to draw her own conclusions . . .  (Amazon)
https://www.amazon.com/Miss-Seeton-Moonlight-Mystery-Book-ebook/dp/B01KMMA3A2/ref=sr_1_176?s=books&ie=UTF8&qid=1475354102&sr=1-176&refinements=p_n_publication_date%3A1250228011
Thanksgiving is here, and while Maddie Graves is thrilled to be sharing the holiday with the love of her life, Nick Winters, she's also slightly manic about hosting her first big family meal, but that's cause for family hijinks more than actual worry.
Maddie's anxiety shifts to a new problem when Detroit Detective Dwight Kincaid – a man Maddie worked with for years as he searched for missing people – shows up on her doorstep. It seems Dwight's daughter Sage, a freshman at a local college, has gone missing. Dwight needs Maddie's help to find her.
Nick volunteers his time to help, but he's terrified Maddie will fall into despair if the search for Sage doesn't go as planned and Dwight doesn't get the happy outcome Maddie desperately wants for him. When the trio hits the campus, things turn dark and deadly quickly.
Between an out-of-control fraternity, two friends who seem more like enemies than allies, and a secret about Sage herself that throws Maddie for a loop, the group has a lot on their plates. For his part, Dwight seems resigned to his daughter's death while Maddie refuses to give up hope and won't listen to reason when Nick tries to talk her down from a perilous ledge.
As the pieces start falling into place, Maddie realizes something even more nefarious is going on. Will it be too late to save Sage, though? And when a killer sets his sights on Maddie, will she escape and make it to another family holiday? (Goodreads)
https://www.amazon.com/Grave-Seasons-Maddie-Graves-Mystery-ebook/dp/B01I214LAS/ref=sr_1_184?s=books&ie=UTF8&qid=1475354140&sr=1-184&refinements=p_n_publication_date%3A1250228011
Meet Sofia Salgado. As a kid she starred as a private detective on the hit TV show, Half Pint Detective. But now she's all grown up and has turned her back on a glittering Hollywood career to become a private detective for real.
But will idealistic Sofia be able to hack it as the newest member of the team at Maloney Investigations, Malibu's premier private investigation service? (Amazon)
https://www.amazon.com/Triple-Trouble-Mysteries-Rebecca-Cantrell-ebook/dp/B01LXV5TFF/ref=sr_1_195?s=books&ie=UTF8&qid=1475354464&sr=1-195&refinements=p_n_publication_date%3A1250228011
He caught the back of a chair, staggered and groaned. There was a heavy crash and fall, and the parson lay motionless and livid, while lilies from a vase fell, like a wreath, across his chest.
The Rev. Ulder, everyone agreed, was the parish priest from hell. In addition to tales of drunkenness and embezzlement, the repellent cleric had recently added blackmail to his list of depravities. There was scandal in the district, plenty of it, and Ulder had the facts. Until, that is, a liberal helping of morphia, served to him in the Bishop's Palace, silenced the insufferable priest – for good.
Was it the Bishop himself who delivered the fatal dose? Was it Soames, the less-than-model butler? Or one of a host of other inmates and guests in the house that night, with motives of their own to put Ulder out of the way? Young Dick Marlin, ex-military intelligence and now a Church deacon, finds himself assisting Chief Constable Mack investigate murder most irreverent.
Arrest the Bishop? was first published in 1949. This new edition, the first in many decades, includes a new introduction by crime fiction historian Martin Edwards.  (Amazon)
https://www.amazon.com/Arrest-Bishop-Peck-Winifred-ebook/dp/B01M0J1BLI/ref=sr_1_204?s=books&ie=UTF8&qid=1475354464&sr=1-204&refinements=p_n_publication_date%3A1250228011
From USA Today bestselling author Tracy D. Comstock…
A new school year is under way, and English teacher turned reluctant amateur sleuth Emily Taylor has been roped into directing Ellington High's fall play production. With the help of the new junior high English teacher, Destiny Willis, their production of Clue is soon ready to take the stage. The students are especially thrilled when James Bodley, a hometown favorite with a rising star on Broadway, agrees to help out at rehearsals.
But when the drama king, Bodley, is found murdered—strung up like Mr. Boddy, the play's victim, was supposed to be!—Emily vows to find the person behind this heinous killing. Unfortunately, the list of suspects is as long as her cast roll. Could it be his new love…or her resentful daughter? Or maybe his scorned high school sweetheart? Or was the death less about love and more about his betrayal… possibly of the theater seamstress, baker, or woman from his past?
With the days ticking down to the first showing, Emily is under the gun to find out who the real killer is before another murder takes center stage.  (Goodreads)
https://www.amazon.com/Murder-Takes-Center-Stage-Schooled-ebook/dp/B01K0177WW/ref=sr_1_206?s=books&ie=UTF8&qid=1475354665&sr=1-206&refinements=p_n_publication_date%3A1250228011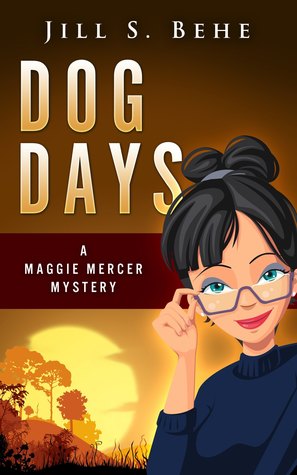 Searing daytime temperatures, steamy sticky nights, thunderstorms every few days, a temporary relocation due to major renovations of the police station, a murder, and a stalker-still at large-determined to undermine Maggie's sanity, are only a few of the reasons the tension is mounting. Another is that the wedding of the century is looming, and Maggie's list of things that need to be finalized isn't getting any shorter.
On the helpful side, there are five new members of the force settling into life in a small town, more than willing to help take the pressure off. It's the Dog Days of summer in Mossy Creek. Can Maggie, Wyatt, and the team capture the stalker, and solve a murder before she and Wyatt stand in front of the minister? The stalker is getting bolder, and continues to evade. The murder of a good friend is also being investigated. The new team is blending well, and making contributions.
Grab yourself some sweet tea, have a seat here by the fan, and I'll fill you in. (Goodreads)
https://www.amazon.com/Dog-Days-Maggie-Mercer-Mystery-ebook/dp/B01LWL0TMZ/ref=sr_1_207?s=books&ie=UTF8&qid=1475354665&sr=1-207&refinements=p_n_publication_date%3A1250228011
Listen! I see I'd better take you into my confidence.'
'I'd rather you didn't,' I said.
Betty Morrison, a lawyer's wife, is flung into the society of an ancient Edinburgh family, the Warrielaws. There's Neil the Rip, Cora the Siren, Rhoda the Business Woman, and Alison the little Beauty – not to mention the formidable, elderly Jessica and her meek sister Mary. The family all possess unusual gold-green eyes – and harbour a precious and historic jewel, a bauble under constant threat of theft. The alarmed Betty will become a crucial witness in a case that includes mysterious disappearances of gemsand people, as well as wholesale murder.
The Warrielaw Jewel was originally published in 1933. This new edition features an introduction by crime fiction historian Martin Edwards. (Amazon)
https://www.amazon.com/Warrielaw-Jewel-Peck-Winifred-ebook/dp/B01M0USOK4/ref=sr_1_208?s=books&ie=UTF8&qid=1475355298&sr=1-208&refinements=p_n_publication_date%3A1250228011
A boxed set of three classic Albert Campion Mystery novels by one of the four Queens of Crime, Margery Allingham.
Flowers for the Judge
Scandal hits the prestigious publishing house of Barnabas when one of the directors is found dead in a locked cellar.
All eyes are on the other partners at the firm – cousins of the dead man with much to gain from his demise – and all rumours hint at a connection to the disappearance of another director decades earlier.
Desperate to salvage their reputation, the cousins turn to Albert Campion – but will his investigations clear the Barnabas family name, or besmirch it forever?
Death of a Ghost
John Sebastian Lafcadio's ambition to be known as the greatest painter since Rembrandt was not to be thwarted by a matter as trifling as his own death.
A set of twelve sealed paintings is left in the hands of his widow, together with the instruction that she unveil one canvas each year before a carefully selected audience.
Albert Campion is invited to join a cast of gadabouts, muses, and socialites to witness the eighth unveiling but they are treated instead to a murder. The lights go down, and a young man is stabbed to death.
Campion must get to work on the baffling case, with its long – suspiciously long – line-up of possible killers and soon finds himself having to face his dearest enemy…
The Case of the Late Pig
Private detective Albert Campion is summoned to the village of Kepesake to investigate a particularly distasteful death. The body turns out to be that of Pig Peters, freshly killed five months after his own funeral. Soon other corpses start to turn up, just as Peter's body goes missing. It takes all Campion's coolly incisive powers of detection to unravel the crime.
The Case of the Late Pig is, uniquely, narrated by Campion himself. In Allingham's inimitable style, high drama sits neatly beside pitch perfect black comedy. A heady mix of murder, romance, and the urbane detective's own unglamorous past make this an unmissable Allingham mystery. (Amazon)
https://www.amazon.com/Margery-Allingham-Box-Set-Flowers-ebook/dp/B01LW81Z82/ref=sr_1_215?s=books&ie=UTF8&qid=1475355298&sr=1-215&refinements=p_n_publication_date%3A1250228011
There's a hex on Charley Howard's Hot Links Emporium, and Charley, a.k.a. the Hot Sauce King, is furious. He suspects that the Jamaican psychic who's been "advising" his gullible wife Mabel is a phony, and he asks choir director Bertie Bigelow to do a little amateur sleuthing to help him prove it.
But Bertie's already got all the drama she can handle.
The high-profile concert she's doing with The Ace Of Spades, an ageing (but still sexy) rap star, has Metro College in an uproar. Her on-again, off-again flirtation with attorney David Mackenzie has hit a dead end, and her best friend Ellen Simpson has been seduced and abandoned for the third time this year.
When a Chicago Zoning Commissioner is rushed to the emergency room after filling up on the Soul Food Special at Charley's restaurant, Bertie is forced to take action. She doesn't need a crystal ball to know that there's trouble on the horizon.
On the South Side of Chicago, a murderer lies in wait for Bertie Bigelow. To solve this case, she's going to need all the mojo she can get.
Will Bertie get her mojo working?  (Goodreads)
https://www.amazon.com/Mojo-Murder-Bertie-Bigelow-Mystery-ebook/dp/B01LI8Q240/ref=sr_1_237?s=books&ie=UTF8&qid=1475355492&sr=1-237&refinements=p_n_publication_date%3A1250228011