Here is a list of some of the new releases for the week of November 6th, 2016.  Since there are so many releases this week, I will post half today and half tomorrow.   Hope you find some selections for your weekly reading.  Enjoy and happy reading.
It's the Christmas season, and seven months since Phoebe Mercer's life dramatically changed. She went from being an overworked legal assistant to a CEO of Lavish Looks Beauty Company. She moved from the bustling city to a quaint seaside town. She's gone from living with a fiancé to living with a ghost. Yet, it seems she can't get a grip on her new life, whether it's getting used to being a public figure, having a Chief Operating Official who hates her, or a ghost who is just too passionate. As if things couldn't get any worse, Phoebe's mentor is suddenly arrested for a horrible crime and the town is ready to lock them away for good. The new product from Lavish Looks smells like a sewer, and people everywhere are noticing. Phoebe and her ghost find themselves having to race against time to prove her mentors innocence, and stop the company from sinking. Meanwhile, Phoebe must deal with a face from her past that throws her in a disarray of emotion, an unwanted visitor, and old friends who seem to have abandoned her. Can she figure out whose sabotaging her life, and the company, before she finds herself behind bars for a crime she didn't commit? (Amazon)
https://www.amazon.com/Locking-Up-Santa-Haunting-Book-ebook/dp/B01M10VC86/ref=sr_1_159?s=books&ie=UTF8&qid=1478393435&sr=1-159&refinements=p_n_publication_date%3A1250228011
When cat shelter volunteer Lynley Cannon attends an elite creative retreat at the world-famous Cloverleaf Animal Sanctuary in the San Juan Islands, she gets more than a lesson in art. Accused by vigilantes of a shocking double homicide, she persuades them of her innocence and runs home to Portland, but murder follows in her wake.
Suspicion falls on a dear friend, and Lynley must fight through fear, assault, and her own anxiety disorder to keep from becoming another victim. It all comes down to cats in this 3rd Crazy Cat Lady mystery.  (Amazon)
https://www.amazon.com/Cats-Paw-Crazy-Lady-Book-ebook/dp/B01M9B6LNH/ref=sr_1_178?s=books&ie=UTF8&qid=1478393602&sr=1-178&refinements=p_n_publication_date%3A1250228011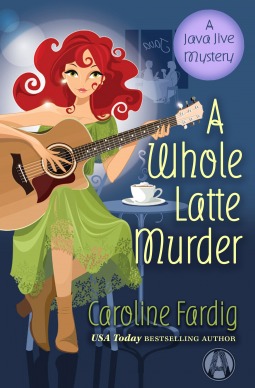 Coffeehouse manager and reluctant sleuth Juliet Langley returns in a gripping novel from the bestselling author of Death Before Decaf and Mug Shot. Just as things are perking up in Nashville, a serial killer sends tensions foaming over.
Juliet's personal and professional lives have recently received an extra jolt of energy. Her romance with the hunky detective Ryder Hamilton continues to simmer, and business at Java Jive has never been better. But her good mood quickly turns as stale as day-old espresso when she finds out that Ryder has been promoted to his precinct's homicide division. With him risking his life to catch the worst kind of criminals, Juliet's growing sense of unease ignites when a local college student goes missing.
Suddenly every Nashville resident is on high alert, especially Juliet's neighbor Chelsea. Juliet does her best to calm the girl's nerves, but her worst fears are confirmed when she finds Chelsea dead. Even though she tries her best to stay out of it, Juliet's involvement puts a strain on Ryder's first homicide case. The situation soon becomes even more personal for Juliet and her best friend Pete Bennett when one of their employees disappears during her shift. As a killer lurks in the shadows, Juliet, Pete, and Ryder seek out a double shot of justice. (Goodreads)
https://www.amazon.com/Whole-Latte-Murder-Java-Mystery-ebook/dp/B01AQNZQFY/ref=sr_1_190?s=books&ie=UTF8&qid=1478393640&sr=1-190&refinements=p_n_publication_date%3A1250228011
Enjoy 3 humorous cozy mysteries in one bargain-priced box set. Read for free on Kindle Unlimited.
Event planner Emma Cassidy returns to her home town to rebuild her life among friends, family and quirky residents of Shamrock Lake. But it seems that wherever she goes, there's a murder mystery that must be solved.
Each book is a complete, full-length cozy mystery and approximately 220 pages.
Throw a Monkey Wrench
Event planner Emma Cassidy is hired to throw a housewarming party for the brash and arrogant Tony Barnet. But when the party ends in disaster, Tony is quick to blame Emma, and the subsequent rumors spell doom for Emma's business.
At least she still has the job of planning Sean and Madison's wedding. Sean, one of the notorious McCluskey clan, is about to marry Madison, daughter of the rich and powerful Whites. But when Tony Barnet is killed, the police swiftly arrest Sean McCluskey. Though the evidence is damning, Emma is convinced her friend is innocent. With Sean facing prison, the wedding in jeopardy, and her fledgling business in danger of tanking, Emma must unravel the mystery and expose the real killer before it's too late.
Pushed to the Limit
Faye Seymour has long reigned as Greenville's gossip queen, but recently she's been at her worst, spreading rumors like wild fire and putting a lot of noses out of joint. When someone attempts to silence Faye for good, event planner Emma Cassidy reluctantly delves into the busybody's life of meddling and scuttlebutt.
What scandalous secrets has Faye unearthed? How many lives has she ruined or threatened to ruin? Plenty of people have a reason to hate her, but one in particular is driven to commit a brutal murder. Can Emma follow the clues to unmask the killer, or will she fall victim herself?
Murder Most Likely
Software guru and multimillionaire Mervyn is devastated when his mentor drowns in the lake during his housewarming party. Event planner Emma Cassidy agrees to help her old school friend. For a mild-mannered geek, Mervyn has a surprising number of enemies, but which of them is a dangerous killer?  (Amazon)
https://www.amazon.com/Emma-Cassidy-Mysteries-Books-Mystery-ebook/dp/B01M7MYMZJ/ref=sr_1_193?s=books&ie=UTF8&qid=1478393981&sr=1-193&refinements=p_n_publication_date%3A1250228011
As Susan Breen's compelling cozy mystery series continues, Maggie Dove's budding detective agency has given her a new lease on life. Only one thing stands in the way of success: her clients—or lack of them.
After catching the killer who shook her small Hudson River town, former Sunday School teacher Maggie Dove stumbled onto an exciting new career and found a way to take her mind off her own tragic past. Now, despite her best efforts to promote the agency, Maggie can't seem to land any new cases—until Racine Stern, one of the village's wealthiest residents, offers her a thousand dollars to convince her "evil" sister, Domino, to stay out of town.
While Maggie's business partner thinks she's crazy for turning down a potential client, she doesn't want her agency to get a reputation for accommodating bizarre requests. However, Maggie is soon caught up in the family drama anyway. Racine may fear for her life—and her inheritance—but it's Domino who takes the fall when she plunges to her death from a tower at Stern Manor. Was it an accident or something more sinister? Maggie's investigation will test her faith—and her ability to survive.  (Goodreads)
https://www.amazon.com/Maggie-Doves-Detective-Agency-Mystery-ebook/dp/B01AERZS0A/ref=sr_1_202?s=books&ie=UTF8&qid=1478394136&sr=1-202&refinements=p_n_publication_date%3A1250228011
Lifeguard by day.
Witch detective by night.
Solving murder mysteries is what India does…
Florida beach lifeguard India Kirby was always a skeptic when it came to magical things…
Until her witch mentor showed up and began to teach her how to influence people, conjure anything she wants out of thin air, and a whole lot of other crazy things.
When reality TV star Katriane comes to Benton Point to get married, India's best friend and gossip magazine addict Amy is overjoyed. Especially as Katriane brings her gorgeous groom, supermodel sister and tycoon father along.
But as soon as the wedding's over, Katriane is shot with a single bullet to the head. Murdered.
India's cop boyfriend Xavier is blocked from the case by jealous Detective Kirby, who jumps to the wrong conclusion and charges the wrong people.
Soon India finds herself in the midst of the mystery, trying to unpick the history behind this dysfunctional family, and learning new magical powers to bring the truth to light and the killer to justice. (Amazon)
https://www.amazon.com/Dying-Married-India-Kirby-Mystery-ebook/dp/B01M6AO28D/ref=sr_1_1?ie=UTF8&qid=1478395008&sr=8-1&keywords=dying+to+be+married
South Lake, MIssissippi used to be a quiet, sleepy little town. The cops were on a first-name basis with the townsfolk, the teacher's were always bumping into their students at civic events, and the town's inhabitants loved each other. Mostly. What has happened to all the goodness in the world?
Shannon and Dwayne are hired to videotape the interior of a former teacher's home when her marriage crumbles. But the teacher is missing, and our dastardly duo step headlong into another murder in their small town. Cop buddy, Sal Ramirez, is too busy to bail them out this time, and they quickly discovered that school may be out for them all if the killer is not caught!  (Amazon)
https://www.amazon.com/dp/B01MFHJWC3/ref=sr_1_217?s=books&ie=UTF8&qid=1478395167&sr=1-217&refinements=p_n_publication_date%3A1250228011
With less than two weeks until Christmas Cait stumbles across a man who had been washed up onto the beach. The man is very much alive, but after suffering a blow to the head, he cannot seem to remember who he is or how he came to be on the island. Cait and visiting cat Clarence set out to discover Prince Charming's identity only to find that their charismatic guest may not be so charming after all. (Goodreads)
https://www.amazon.com/Christmas-Present-Whales-Tails-Mystery-ebook/dp/B01LXBOJ6Y/ref=sr_1_1?s=digital-text&ie=UTF8&qid=1478395286&sr=1-1&keywords=the+cat+of+christmas+present