A Whole Latte Murder
A Java Jive Mystery, Book #3
Caroline Fardig
5+ Stars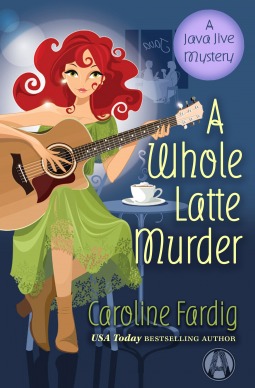 Synopsis:
Coffeehouse manager and reluctant sleuth Juliet Langley returns in a gripping novel from the bestselling author of Death Before Decaf and Mug Shot. Just as things are perking up in Nashville, a serial killer sends tensions foaming over.
Juliet's personal and professional lives have recently received an extra jolt of energy. Her romance with the hunky detective Ryder Hamilton continues to simmer, and business at Java Jive has never been better. But her good mood quickly turns as stale as day-old espresso when she finds out that Ryder has been promoted to his precinct's homicide division. With him risking his life to catch the worst kind of criminals, Juliet's growing sense of unease ignites when a local college student goes missing.
Suddenly every Nashville resident is on high alert, especially Juliet's neighbor Chelsea. Juliet does her best to calm the girl's nerves, but her worst fears are confirmed when she finds Chelsea dead. Even though she tries her best to stay out of it, Juliet's involvement puts a strain on Ryder's first homicide case. The situation soon becomes even more personal for Juliet and her best friend Pete Bennett when one of their employees disappears during her shift. As a killer lurks in the shadows, Juliet, Pete, and Ryder seek out a double shot of justice. (Goodreads)
Review:
Sometimes when I read a book, something clicks and I really connect with it.  It pulls me in and takes me on a fantastic journey.  I do not know why this happens with some books and not others, but it does.  That is exactly what happened when I read A Whole Latte Murder.
The characters are well developed and well rounded.  Juliet is a determined, strong willed woman (it might have something to do with her red hair).  She is loyal to her friends and coworkers.  When one of her neighbors is found murdered, it is no wonder she feels a responsibility to help solve the crime.  Even though her efforts get her into some difficult situations, she does not stop her snooping.  Pete, her best friend (forever) and her boss knows he better help Juliet because someone needs to keep her safe.  I loved the relationship and interactions between Juliet and Pete.  It is so easy to see that they are best friends and would do anything for the other.  We all need a friend in our life like that.  Their bickering and banter is so funny to read: at times they acted like brother and sister, at other times like an old married couple.  The secondary characters also added a lot to the story.
The writing style flows smoothly and the book is a quick easy read.  The author is very talented in her descriptive writing and through much of the book, I felt like I was right there, watching the action take place and privy to many different conversations.  That was a real plus, in my opinion.  This is the third book in the series, and although I have not read the others (yet) I had no trouble following the storyline and connecting with the characters.
The mystery is carried on well throughout the entire book.  There are a few different mysteries that need solving and that was another thing that I really enjoyed about the book.  The book is well plotted and there were enough suspects, twists and turns and red herrings throughout the story that made it nearly impossible to solve.  That did not stop me from trying to solve the mysteries but I did not do that before it was revealed at the end.  I really enjoyed how all of these mysteries were entwined together and thought it was very cleverly written.
I would recommend this book to anyone who enjoys a well crafted cozy mystery with great characters, lots of mysteries, humor, suspense and tension.  Some of the language was a bit stronger than what is usually in a cozy mystery (but nothing that was offensive to me in the least).  This is the third book in the series and I cannot wait to read the first two.  Check them all out.
I received a free copy of this book from NetGalley in exchange for a honest review.  I would like to thank NetGalley and Random House Publishing Group-Alibi for the opportunity to read and review this book.
https://www.amazon.com/Whole-Latte-Murder-Java-Mystery-ebook/dp/B01AQNZQFY/ref=sr_1_1?ie=UTF8&qid=1478651375&sr=8-1&keywords=a+whole+latte+murder
Other Books In A Java Jive Mystery Series: 
Perfect for fans of Janet Evanovich and Diane Mott Davidson, Caroline Fardig's captivating new mystery novel takes readers behind the counter of a seemingly run-of-the-mill coffeehouse . . . where murder is brewing.
After her music career crashes and burns spectacularly, Juliet Langley is forced to turn to the only other business she knows: food service. Unfortunately, bad luck strikes yet again when her two-timing fiancé robs her blind and runs off with her best waitress. Flushing what's left of her beloved café down the toilet with her failed engagement, Juliet packs up and moves back to her college stomping grounds in Nashville to manage an old friend's coffeehouse. At first glance, it seems as though nothing's changed at Java Jive. What could possibly go wrong? Only that the place is hemorrhaging money, the staff is in open revolt, and Juliet finds one unlucky employee dead in the dumpster out back before her first day is even over.
The corpse just so happens to belong to the cook who'd locked horns with Juliet over the finer points of the health code. Unimpressed with her management style, the other disgruntled employees are only too eager to spill the beans about her fiery temper to the detective on the case. Add to the mix a hunky stranger who's asking way too many questions, and suddenly Juliet finds herself in some very hot water. If she can't simmer down and sleuth her way to the real killer, she's going to get burned. (Goodreads)
Former musician Juliet Langley has barely had a day off since taking over management of the coffeehouse owned by her best friend, Pete Bennett. But there's always more to be done—such as prepping for the annual Holiday 5K Race organized by Pete's snobby socialite girlfriend, Cecilia Hollingsworth. This year, Java Jive has a booth right at the finish line, and since Juliet and Cecilia don't always see eye to eye, everything has to be perfect. Nothing can go wrong. Nothing . . . like Juliet stumbling over Cecilia's dead body on the morning of the race.
When Pete is arrested for Cecilia's murder, Juliet sets out to clear his name. She'll do whatever it takes—even if it means standing up to the police, her ex-boyfriend, and the grande dames of Nashville. But there isn't enough espresso in the world for the greatest challenge in her path: infiltrating Nashville's high society to uncover the hidden hotbed of scandal without running afoul of the law herself. With her last dime staked on Pete's bail bond and her staff growing jittery, the last thing Juliet needs is for her trademark temper to land her behind bars. As time drips away, Juliet needs to crack this case before the killer comes back for another shot. (Goodreads)
About The Author:
CAROLINE FARDIG is the USA TODAY BESTSELLING AUTHOR of the Java Jive Mysteries series and the Lizzie Hart Mysteries series. Fardig's BAD MEDICINE was named one of the "Best Books of 2015" by Suspense Magazine. She worked as a schoolteacher, church organist, insurance agent, funeral parlor associate, and stay-at-home mom before she realized that she wanted to be a writer when she grew up. Born and raised in a small town in Indiana, Fardig still lives in that same town with an understanding husband, two sweet kids, two energetic dogs, and one malevolent cat. (Goodreads)