Every day between now and Christmas I will spotlight some Christmas books for your reading pleasure.  I hope you find some that you will enjoy.  Happy Reading.
While Kay attends a Christmas tea at Hawthorne Hills Retirement Home, a beloved caretaker dies from an allergic reaction to peanuts. When the official coroner's report rules the cause of death to be accidental, a small group of residents suspect foul play and call upon Kay to investigate.
Kay uncovers sinister plots of fraud, revenge, and corruption at the Home. During this season of peace on earth, good will to men, additional murders occur. Despite multiple attempts on her life, and with the support once again of her best friends, Elizabeth and Deirdre, Kay continues her quest for bringing justice for the victims.
Kay's first Christmas in Sudbury Falls is an unforgettable one, with equal amounts of celebration and danger. Tis the season to be sleuthing! (Goodreads)
https://www.amazon.com/Murder-Under-Tree-Driscoll-Mystery-ebook/dp/B00P8ACREE/ref=sr_1_1?s=digital-text&ie=UTF8&qid=1480695158&sr=1-1&keywords=murder+under+the+tree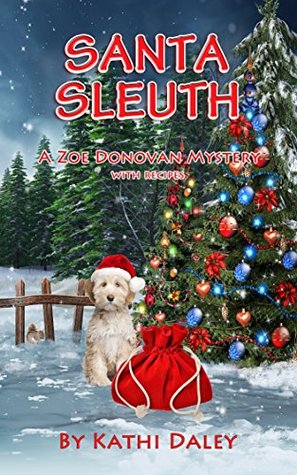 It's Christmas in Ashton Falls and the entire Zimmerman household is gearing up for their first Christmas as a newly formed family unit. While Zak is busy decking the halls, Zoe is busy tracking down a killer while still taking the time to make certain a little girls Christmas wish comes true. It's funny, it's family, it's a Zak and Zoe Christmas. (Goodreads)
https://www.amazon.com/Santa-Sleuth-Donovan-Mystery-Book-ebook/dp/B015EXE6I4/ref=sr_1_1?s=digital-text&ie=UTF8&qid=1480695313&sr=1-1&keywords=santa+sleuth
THE GIFT THAT GIVES ON GIVING. . .
With Farberville's college on holiday break, Claire Malloy's bookstore is quiet . . . deadly quiet. Breaking the silence is a little old lady looking for volumes on pagan rituals, applied magick, and Celtic mysticism. Claire is intrigued and—miffed that her lover, Farberville police Lieutenant Peter Rosen, says she's in a rut—happily accepts an invitation to welcome the winter solstice at dawn.
HOMICIDE FOR THE HOLIDAYS
Showing up at the Sacred Grove, Claire expects wild chanting or even nude dancing. Instead she ends up sitting on a stump watching the Arch Druid clean her bifocals. Then winter arrives and so does a dead man. Someone has shot the wealthy benefactor of Farberville's neo-pagans. Now Claire is mixing some snooping with her Christmas shopping. But instead of wrapping up the case, she finds out 'tis the season for ho- ho- homicide . . . and she may be the next victim. (Goodreads)
https://www.amazon.com/Holly-Jolly-Murder-Mystery-Mysteries-ebook/dp/B006GR7LVM/ref=sr_1_1?s=books&ie=UTF8&qid=1480695633&sr=1-1&keywords=a+holly+jolly+murder
Cecily Sinclair Baxter hosts a holiday party at the Pennyfoot Hotel where the children of Badger's End can meet Father Christmas. Unfortunately, the jolly old man is found dead along with one of his helpers.
The role of St. Nicholas had previously been played by a notorious village drunkard, and the police believe the two men killed each other. But Cecily has her doubts, as the murder weapon was never recovered. And since no one has left the hotel since the crime, she's making a list of suspects-and checking it twice. (Goodreads)
https://www.amazon.com/Slay-Bells-Pennyfoot-Hotel-Mystery-ebook/dp/B000XCQ4AA/ref=sr_1_1?s=books&ie=UTF8&qid=1480695817&sr=1-1&keywords=slay+bells+kate+kingsbury
Book 3: Sedona O'Hala Mysteries. Steve Huntington had a way of offering jobs that were too good to be true. Mark Huntington made offers too good to turn down. Sedona had a habit of being caught in the middle; somewhere near bad guys with guns and family members she was trying to avoid. (Goodreads)
https://www.amazon.com/Executive-Sick-Sedona-OHala-Mystery-ebook/dp/B004P5NQ8Y/ref=sr_1_1?s=books&ie=UTF8&qid=1480696010&sr=1-1&keywords=executive+sick+days
Myrtle Crumb, the sassy, sixty-something sleuth from BETWEEN A CLUTCH AND A HARD PLACE and WHEN GOOD BRAS GO BAD, is suspicious when the mall Santa is found dead "on the throne"–the Santa Land throne, that is. The police are saying it was suicide, but Myrtle knows no self-respecting Santa Claus would let himself die in front of the children! She goes undercover to investigate the suicide and uncovers more than she bargained for! (Goodreads)
https://www.amazon.com/Claus-Death-Myrtle-Crumb-Mystery-ebook/dp/B00F8O4P2C/ref=sr_1_1?s=books&ie=UTF8&qid=1480696180&sr=1-1&keywords=claus+of+death