Spiced And Iced
A Callie's Kitchen Mystery, Book #2
Jenny Kales
5 Stars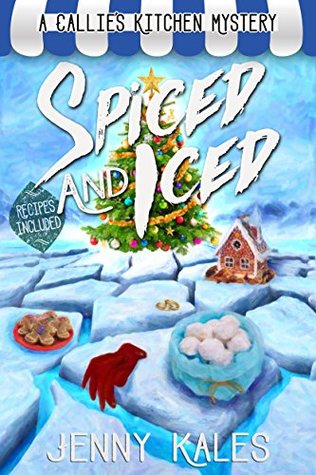 Synopsis:
The holidays can be murder! Greek-American restaurateur Callie Costas finds herself on thin ice when a colleague is killed. Recipes included!
The season is bright when Calliope "Callie" Costas agrees to contribute her Greek snowball cookies to a December bridal shower at The English Country Inn in the scenic waterfront town of Crystal Bay, WI. But when Callie finds a colleague dead, she's sucked into another murder investigation — all while juggling her growing business and staggering holiday workload.
As she reluctantly agrees to help the Inn's owner track the killer, Callie is soon up to her spiced Greek biscotti in difficulties. For one thing, the hotel staff is freezing her out as she tries to uncover information, helped by her feisty Grandma Viv and her sweet but nosy aunt who's visiting from Greece. And then there's her deepening relationship with the suave and mysterious Detective Sands, a British expat now living in Wisconsin, who seems to have a few secrets of his own.
The icing on the cake is a host of simultaneous family mayhem including her father's surprising fixation on a real estate agent and her ex's plans to move back to Crystal Bay. As the Inn's annual Christmas Tea approaches, things are heating up in Callie's Kitchen, but she's on thin ice! Will Christmas be a festive celebration this year – or will it be murder?
Turn to the end of the book for six delicious recipes, including Greek cookies and savories, plus traditional Midwestern favorites! (Goodreads)
Review:
The characters are well developed and well rounded.  Callie is one tough lady and she is not afraid of hard work.  I enjoyed getting to spend more time with her, her best friend Samantha, and her family.  I especially liked reading about what her grandmother and her Aunt Sweetie were up too and what kind of trouble they were going to get into.
The author is very talented in her descriptive writing and through much of the book, I felt like I was right there, watching all the action take place around me.  I could small all the food from Callie Kitchen and it made me hungry while I was reading.
The mystery was carried on well throughout the entire book.  The were enough suspects to keep this reader guessing until the end. That, combined with many twists and turns and a few red herrings thrown in, and I did not figure out the killer until it was revealed at the end.  I like that when I am reading a mystery.  
I would recommend this book to anyone who enjoys a well crafted cozy mystery.  Both of the books in the series are really great and I would suggest you read them both.  
https://www.amazon.com/Spiced-Iced-Callies-Kitchen-Mystery-ebook/dp/B01N8UXIWC/ref=sr_1_1?s=books&ie=UTF8&qid=1482867918&sr=1-1&keywords=spiced+and+iced