Here is a list of some of the new releases for the week of January 8th, 2017.  Hope you find some selections for your weekly reading.  Enjoy and happy reading.
From Cleo Coyle, the New York Times bestselling author of Dead to the Last Drop, comes a gripping new entry in the Coffeehouse Mystery series.
THE PERFECT PROPOSAL LEADS TO A CHILLING COLD CASE…
 
Coffeehouse manager Clare Cosi sheds tears of joy when her NYPD detective boyfriend surprises her with an engagement ring. But her bridal bliss is put on hold when a chilling mystery brings a wave of deadly danger to those she holds dear…
 
After everything Clare and Mike have been through, they deserve a little bit of happily ever after. So when Mike decides to put a ring on Clare's finger, Clare's eccentric octogenarian employer is there to help. She donates the perfect coffee-colored diamonds to include in the setting and the name of a world-famous jeweler who happens to be an old family friend. But while the engagement is steeped in perfection, the celebration is not long lived.
First, a grim-faced attorney interrupts their party with a mysterious letter bequeathing a strange, hidden treasure to Clare's daughter. Next, the renowned jeweler who designed Clare's ring is found poisoned in his shop. Both events appear to be connected to a cold case murder involving a sunken ship, an Italian curse, a suspiciously charming jewel thief, and a shocking family secret. With deadly trouble brewing, Clare must track down clues in some of New York's most secret places before an old vendetta starts producing fresh corpses.
With recipes to die for, including how to make cold-brew coffee at home!  (Goodreads)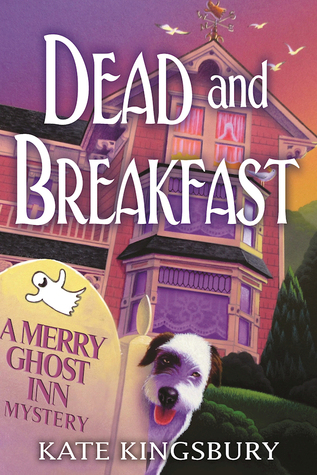 Melanie West is getting her life back on track after a messy divorce when her grandmother, Liza Harris, asks her to open a B&B with her. Together, Liza and Melanie purchase a purportedly haunted mansion on the Oregon coast and jump right into clearing out the cobwebs. But while attempting to remove wallpaper in an upstairs bedroom, the new B&B owners stumble upon a very real skeleton in their closet.
The police suspect the skeleton is that of the wife of the previous owner of the B&B, but no one in town seems to want to say much about her. As the inn owners try to juggle renovations with their own amateur investigations, their grand opening looms closer and closer–and a friendly ghost in their walls starts playing tricks. But it all comes crashing to a halt when a new body is found stabbed to death on the beach below the inn–the victim chillingly close in resemblance to Melanie herself.
It seems someone doesn't appreciate newcomers prying into the small town's past, and now it's up to Melanie and Liza to get to the bottom of these murders to save their business…and their lives. (Goodreads)
It isn't quite 40 days and 40 nights, but the relentless downpour has been blighting the village of Plummergen for over a fortnight, keeping everyone indoors.
Even the ever resourceful Miss Seeton is beginning to experience cabin fever, when her old friend Lady Colveden proposes a welcome shopping expedition, taking in the local auctioneers. Miss S is well aware of the dangers of making any sudden moves at an auction, so how is it that this quiet ex-art teacher becomes the possessor of an ancient padlocked chest, that speaks thrillingly of long-lost treasure?
The mysterious box and its contents will not only lead her to discover a forgotten noble lady – but also a ruthless killer.
Serene amidst every kind of skullduggery, this eccentric English spinster steps in where Scotland Yard stumbles, armed with nothing more than her sketchpad and umbrella! (Goodreads)
Aunt Bessie likes weddings.
Elizabeth Cubbon, known to everyone as "Aunt Bessie," is delighted to see two of her friends being united in marriage. But before the wedding, there's a cold case that has the whole island talking.
Aunt Bessie likes helping Hugh Watterson and John Rockwell with their investigation.
But when the three girls who went missing decades ago turn out to have been murdered, Bessie isn't as happy to be involved. When one of the main suspects turns up dead, things look increasingly complicated.
Aunt Bessie doesn't really like surprises.
But she's determined to give the happy couple the best possible surprise she can arrange. She just has to find time to plan that while hunting down a killer. (Goodreads)
The reverberating bangs shake Melanie Perkin's nerves. Either someone's aiming at her truck, or they don't know fireworks are supposed to go upward. Could things get any worse?
Yes. The next day she discovers a dead body in the barn on her late parents' farm, Sheriff's Deputy Granger's gun pointed at the chest of a primary suspect – someone she holds dear.
Illegal merchandise flooding the small Iowa town of River's Edge, upcoming Fourth of July activities, and a half-finished manuscript all hinder her determined efforts to solve the crime, before an innocent person is convicted of murder.
In this, the second novel in beloved, cozy mystery writer Elaine Orr's River's Edge series, the author once again offers humor, believable characters and tight prose as she carries the reader to an exciting climax. Those who follow her Jolie Gentil series will find themselves right at home. (Goodreads)
Murder. It's a perennial problem.
Verity Hawkes is a shut-in. After two years bunkered in her apartment, the only thing that gets her out is the disappearance of her beloved but eccentric aunt. As she takes over her aunt's landscaping shop, she'll need to go from hoarder to horticulturist in a hurry…
Her new home of Leafy Hollow is quaint, except for her most obnoxious client. When a series of freak accidents kills the customer, all signs point to Verity as the killer.
The hunt for answers is on, and Verity must question a tipsy carpenter, a bacon-peddling vegan baker, and her dreamy landscaping competitor to keep her new life afloat. Failure to find the truth could put her back in a confined space for much more than two years…
If you like lovably quirky characters, deceptively idyllic Canadian villages, and twists you won't see coming, then you'll love Rickie Blair's Leafy Hollow Mysteries series. (Goodreads)
From USA Today bestselling author Kelly Rey comes a boxed set of three hilarious mysteries featuring legal secretary turned reluctant amateur sleuth, Jamie Winters! This boxed set includes the first three, full length novels in the bestselling Jamie Winters Mysteries series, including:
Motion for Murder (book #1)
Jamie Winter loathes her job as a secretary in the sleaziest law firm in New Jersey. Trouble is, someone else loathes the whole firm—enough to kill one of the partners, the two-timing, eleven-fingered king of lowbrow television commercial spots, Dougie Digits. Now, Jamie is being strong-armed into investigating by Dougie's frosty widow, Hilary. The suspect list is long, including the firm's bookish paralegal, embezzling bookkeeper, ambitious associate, and resentful senior partners. Add to that list a mélange of oddball clients with grudges of their own, and Jamie has her work cut out for her. With assists from her studly landlord and husband-hungry sister, Jamie uncovers enough dirt on her coworkers to launch a tabloid in her hunt to find the killer…before he or she strikes again!
Motion for Malice (book #2)
Psychic medium Dorcas Beeber is brash, obnoxious…and dead. Unfortunately for legal secretary Jamie Winters, she arrives at the psychic's studio for a reading only to find the victim apparently killed by a blow from her own crystal ball. And things only get worse when Jamie suddenly finds herself the prime suspect in the murder. It's clearly a setup, but Jamie's only clue to the real killer's identity is a black SUV parked near the scene of the crime. Desperate and running out of time, Jamie enlists the help of her landlord's eccentric teenaged niece, Maizy, as her unlikely sidekick to help wade through the pool of disgruntled clients, a family with divided loyalties, a creepy ex-boss, and incriminating news reports to find the real killer…before Jamie's future includes a jail cell!
Motion for Madness (book #3)
Just when legal secretary and reluctant sleuth Jamie Winters thinks life has settled down and her prospects are looking up…murder catches up to her again!
Kay Culverson, a low-budget cable talk show host and diva extraordinaire, is found dead in her office after alienating not only Jamie's boss, Howard Dennis, but also her own agent and every employee in the studio. When Howard falls under suspicion, his wife asks Jamie to investigate. While she's not exactly excited at the prospect of solving another murder, Jamie isn't thrilled with the idea of losing her job either. So with the help of her hot landlord Curt and Curt's feisty teen niece Maizy, Jamie's on the case! But she soon finds herself dealing with a whole cast of suspects, including a shady agent, a group of anti-government geeks, a light-fingered ex-con, and a mysterious hitman for hire named Z. It couldn't possibly get any worse…until it does. And suddenly Jamie wonders if this next case may be her last!  (Goodreads)
Murdered in the Gourmet Kitchen is the sequel to the popular Riley Reed cozy mystery, Murdered in the Man Cave, by bestselling crime writer R. Barri Flowers.
Interior design consultant Riley Reed's blog is full of helpful advice on home décor, custom furnishings, lighting, and renovation in the town of Cozy Pines, Oregon. At forty-four and happily single, Riley once again finds herself immersed in a tantalizing murder mystery.
Riley recently helped her widowed friend Suzanne Crier, the director of Cozy House, a local battered women's shelter, remodel the aging kitchen of her Victorian residence. After turning it into a fabulous gourmet kitchen, Riley is invited over with a few other friends to celebrate the completion.
Arriving early, Riley brings along her own casserole. After freshening up in the bathroom, she returns to find Suzanne dead on the hardwood floor of the gourmet kitchen. Her head had been bashed in with Riley's own casserole dish.
And now she's considered a suspect in the murder. While fighting to clear her name, Riley finds there is more than one person who could be the true killer–including a man who looks a lot like Nathaniel Crier, Suzanne's abusive financier husband, who allegedly committed suicide three years ago. But did he really? Or did he come back from the grave to haunt her to death literally?
As Riley sleuths around the official police investigation, a desperate and devious killer will stop at nothing to stay in the shadows, even if it means adding Riley to a growing list of victims.
Fans of cozy mysteries will love Murdered in the Gourmet Kitchen as Riley tries to stop a killer in his or her tracks and avoid joining her friend Suzanne in the grave.  (Goodreads)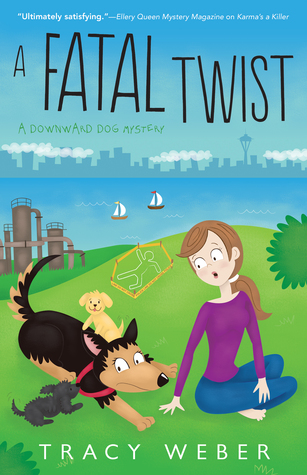 Yoga instructor Kate Davidson's life takes a chaotic turn once she agrees to not only be the doula for her pregnant best friend, but also play foster mother to two puppies. The chaos only gets worse when Kate finds the dead body of a philandering fertility doctor and Rachel, one of her yoga students, fleeing the scene.
Kate is convinced her student is innocent, and she sets out to find the real killer before her testimony condemns Rachel to a life behind bars. But her hands are full with caring for three dogs, teaching yoga classes, and gaining an unexpected crime-solving partner. If she's not careful, Kate's next yoga pose may be a fatal one.  (Goodreads)