Happy Release Day to Tracy Weber.  The fourth book in her Downward Dog Mystery series has been released this week, A Fatal Twist.  It is a great book (and a great series) and I would recommend the whole series for cozy lovers.
About The Author: 
Tracy Weber is the author of the award-winning Downward Dog Mysteries series featuring yoga teacher Kate Davidson and her feisty German shepherd, Bella. Her first book, Murder Strikes a Pose won the Maxwell Award for Fiction and was 2015 Agatha award nominee for Best First Novel. The fourth book in her series, A Fatal Twist, will released January, 2017 by Midnight Ink.
Tracy and her husband live in Seattle with their precocious German shepherd puppy, Ana. When she's not writing, Tracy spends her time teaching yoga, walking Ana, and sipping Blackthorn cider at her favorite ale house.
Sign up for her monthly newsletter including mystery recommendations, yoga tips, and series news at http://tracyweberauthor.com/newslette….
Tracy loves connecting with readers! Feel free to visit her at TracyWeberAuthor.com, friend her on Facebook at https://www.facebook.com/tracywe, or e-mail her at Tracy@WholeLifeYoga.com.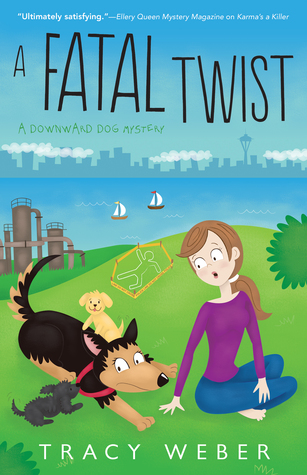 Yoga instructor Kate Davidson's life takes a chaotic turn once she agrees to not only be the doula for her pregnant best friend, but also play foster mother to two puppies. The chaos only gets worse when Kate finds the dead body of a philandering fertility doctor and Rachel, one of her yoga students, fleeing the scene.
Kate is convinced her student is innocent, and she sets out to find the real killer before her testimony condemns Rachel to a life behind bars. But her hands are full with caring for three dogs, teaching yoga classes, and gaining an unexpected crime-solving partner. If she's not careful, Kate's next yoga pose may be a fatal one.  (Goodreads)
When Seattle yoga teacher Kate Davidson agrees to teach doga (yoga for dogs) at a fundraiser for a local animal rescue, she believes the only damage will be to her reputation. But a few downward-facing dogs are the least of Kate's problems when an animal rights protest at the event leads to a suspicious fire and a drowning.
The police arrest a woman claiming to be Kate's estranged mother and charge her with murder. To prove her innocence, Kate, boyfriend Michael, and German shepherd sidekick Bella dive deeply into the worlds of animal activism, organizational politics, and the dangerous obsessions that drive them. All while discovering that when it comes to murder, there's no place like home. (Goodreads)
When Kate Davidson gets an offer to teach yoga classes at the Elysian Springs resort, she jumps at the opportunity–even if it means enduring the wedding ceremony of the center's two caretakers. But avoiding the M-word turns out to be the least of Kate's problems when a wedding guest is found floating face-down in the resort's hot tub, shortly after a loud, public fight with Kate.
The police pick Kate as their number-one suspect, so she teams up with her boyfriend Michael, best friend Rene, and German shepherd sidekick Bella to find the real killer. They must solve the crime before the police arrest Kate, or her next gig may last a lifetime–behind bars. (Goodreads)
Yoga instructor Kate Davidson tries to live up to yoga's Zen-like expectations, but it's not easy while struggling to keep her small business afloat or dodging her best friend's matchmaking efforts.
When George, a homeless alcoholic, and his loud, horse-sized German shepherd, Bella, start hawking newspapers outside her studio, Kate attempts to convince them to leave. Instead, the three strike up an unlikely friendship.
Then Kate finds George's dead body. The police dismiss it as a drug-related street crime, but Kate knows he was no drug dealer. Now she must solve George's murder and find someone willing to adopt his intimidating companion before Bella is sent to the big dog park in the sky. With the murderer on her trail, Kate has to work fast or her next Corpse Pose may be for real. (Goodreads)