Here is a list of some of the new releases for the week of January 29th, 2017.  Since there were so many this week, I am going to divide them between today and tomorrow.  Hope you find some selections for your weekly reading.  Enjoy and happy reading.
Highly original and great fun. A triumph of imagination with twists and turns to delight readers. New York Times bestseller Carolyn Hart

A killer takes a spin through Salem . . .
Lee Barrett has agreed to attend a storage auction with Aunt Ibby even though she suspects the forgotten rooms will yield more junk than treasure. Her skepticism vanishes once the two win a bid on an overlooked locker and uncover a trove of beautiful curiosities, including a stunning wooden carousel horse with gentle eyes and fading paint. But just before Lee leaves the fairground relic at a local repair shop, the sight of a silver samovar awakens her psychic abilities and conjures visions of murder.
Lee prays the intrusive ESP episode was just a glimpse into the past until her policeman boyfriend reports a dead man outside the repair shop. Apparently, the unknown victim had been hot on Lee s trail since the auction. And with the horse found dismantled, it looks like he was up to no good. What s the story behind the antique equine, and could a strange bubblegum-chewing woman with fiery hair have something to do with the crime? Guided by her gift and O Ryan, her wise tabby cat, Lee s set on catching the murderer . . . before she s sent on the darkest ride of her life.
Praise for The Witch City Mysteries
Perfectly relaxing and readable. Kirkus Reviews
This rewarding paranormal cozy series debut will have Victoria Laurie fans lining up to follow. Library Journal
[A]n entertaining story that keeps readers guessing until the very twisted and eerie end. RT Book Reviews"  (Goodreads)
Mallory Shepard s wedding planning business is off to a shaky start when a member of the bridal family drops dead at a food tasting . . ."
Mallory hopes to unveil her new B&B just in time for her first ceremony as a wedding planner. The renovations to Thistle Park the mansion she inherited in small-town Port Quincy, Pennsylvania are almost complete. But what Mallory didn t plan on is the bride s aunt being poisoned at the wedding tasting and her perfect venue becoming a crime scene.
Adding to the mystery is the discovery that this is not the first murder in the bridal family, and as Mallory becomes engaged in her own investigation she learns the man convicted of the crime may not be guilty. Now she has two crimes to solve before the bride walks down the aisle but a killer has other plans to ensure that Mallory forever holds her peace . . .
Praise for "Engaged in Death"
""
I had great fun reading the adventures of nouveau sleuth Mallory Shepard as she wrangles corpses, kittens, and a cheating fiance in this charming debut mystery. Laura Levine, author of "Murder Has Nine Lives"
 (Goodreads)
"Johnson paints characters with a folksy charm that makes them feel like family…Color me a fan!" – Diane Vallere, Author of the Material Witness, Style & Error, and Madison Night Mysteries
"Rory is definitely a quirky character; she has the ability to draw the readers in so that they want to follow her through her adventures." – Suspense Magazine
A killer heat wave settles over Seagull Lane…
Summer's sizzling in Vista Beach, the home of computer programmer and tole-painting enthusiast Aurora (Rory) Anderson. The abnormally high temperatures are hard on everyone in the quiet Los Angeles county beach community, especially the city's homeless population. Residents are doing everything they can to stay cool, including leaving windows open to catch the faintest breeze. Not the best idea when a string of burglaries is plaguing nearby towns.
Still, Rory doesn't expect to find her neighbor's body just a few doors down. When suspicion falls on a friend and fellow painter, Rory must discover the truth before the police paint the wrong picture and send her friend away permanently.
Related subjects include: cozy mysteries, women sleuths, murder mystery series, whodunit mysteries (whodunnit), amateur sleuth books, book club recommendations, craft and hobby mysteries (Goodreads)
Keeley Carpenter has found her center. After returning to Befrey, the traditional English village she called home ten years ago, she's opened her dream yoga café, which doubles as both a yoga studio and a delicious vegetarian café. Even better, Keeley is dating handsome Detective Ben Taylor, and things are beginning to look serious.
Too bad things never seem to run smoothly for long. Eager to get involved with the local community, Keeley sets up a booth at the annual Belfrey Arts Festival, along with her nemesis, fellow small business owner Raquel. Preparing herself to play nice, she's shocked when Raquel's boyfriend, Town Mayor Gerald, is found dead after a public spat. Despite Ben's strict warnings to stay out of it, Keeley isn't going to let an innocent woman take the blame for the murder—even if it is glamorous, spoiled Raquel.
Now Keeley must balance a precarious murder investigation with the demands of her growing business and now-strained relationship. But when the killer takes a personal interest in Keeley, can she find the culprit before she gets bent out of shape? Charming and delicious, this cozy follow up to Downward Facing Death features recipes from Keeley's café and is perfect for fans of Cleo Coyle and Laura Childs. (Goodreads)
State troopers Ethan Brandt and Gabriel Donnelly are finally going to get their storybook wedding—sailing on an ocean liner to a castle in the English countryside! But when an Icelandic volcano scrambles flights all over the world, they must find alternate routes to the altar—separately.
Donnelly meets Sandler Birkin, a globetrotting courier who specializes in carrying rare artifacts and diplomatic pouches. He pulls a few strings to get Donnelly to the ship on time and then accompanies him across the Atlantic. Donnelly returns the favor by helping to find Sandler's long-lost first love, Trevor Hendricks. Trevor's controlling, homophobic parents have brought him to Europe for a radical treatment to cure him of his homosexuality—and his love for Sandler.
Brandt, meanwhile, finagles his way around the globe with the help of Kerry Mercer, a sales executive whose spirit of adventure leads her to accompany him on his improvised journey. However, sharing hotel rooms with her presents a problem for Brandt who, despite being about to marry a man, still finds her attractive.
Once Brandt and Donnelly are reunited, they band together with Kerry and Sandler to plot Trevor's rescue. But doing so might mean missing their own wedding. (Goodreads)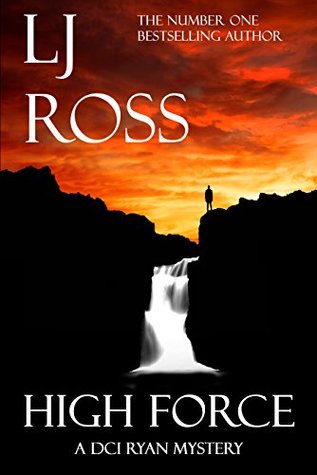 FROM THE #1 INTERNATIONAL BESTSELLING AUTHOR OF HOLY ISLAND
Hell has unleashed a demon – and he's coming for you…
Detective Chief Inspector Ryan's worst nightmare has just become a reality. Notorious serial killer The Hacker has escaped prison and kidnapped one of his best detectives from her own home. His brutality is the stuff of legend – Ryan lost his sister and nearly his own life bringing the man to justice first time around. Can Ryan do it again to save his friend?
There's a nationwide manhunt underway but the trail has gone cold and fear spreads like a virus. Ryan and his team must find The Hacker before he takes another life – but are they too late?
The clock is ticking…
Murder and mystery are peppered with romance and humour in this fast-paced crime whodunit set amidst the spectacular Northumbrian landscape.  (Goodreads)
After months of marital bliss, Jessica Faraday and Murphy Thornton are still discovering and adjusting to their life together. Settled in their new home, everything appears to be perfect … except in the middle of the night when, in darkest shadows of her subconscious, a deep secret from Jessica's past creeps to the surface to make her strike out at Murphy.
When investigative journalist Dallas Walker tells the couple about her latest case, known as the Pine Bridge Massacre, they realize Jessica may have witnessed the murder of a family living near a winery owned by distant relatives she was visiting and suppressed the memory.
Determined to uncover the truth and find justice for the murder victims, Jessica and Murphy return to the scene of the crime with Dallas Walker, a spunky bull-headed Texan. Can this family reunion bring closure for a community touched by tragedy or will this prickly get-together bring an end to the Thorny Rose couple?  (Goodreads)
Warm breezes, tropical seas, a handsome new husband? What more could a girl dream of?
When newlyweds Laurel McKay and Tom Hunter embark on their honeymoon cruise, they look forward to sunny days exploring the Caribbean islands and intimate evenings together. Their dream quickly goes "poof," when Laurel's family decides to tag along and their romantic duet turns into a party of eight.
The first night on the ship, Laurel witnesses someone going overboard. But no one is reported missing, and the chief of security gives Laurel's sighting the same credibility as an alien landing.
After a series of diamond thefts, Laurel discovers that suspicious shipmates are as plentiful as calories on this cruise. When a murder occurs, and a family member becomes the top suspect, Laurel is determined to unmask the killer before her dream honeymoon becomes a nautical nightmare.  (Goodreads)