The Ex Who Wouldn't Die
Charley's Ghost, Book #1
Sally Berneathy
5+ Stars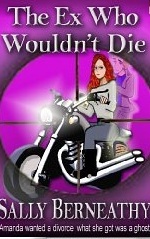 Synopsis:
When Amanda's lying, cheating, scam-artist husband, Charley, saves her life in a near-fatal motorcycle accident, she can almost forgive him for dragging his feet on their divorce. Then she discovers he'd been dead for several hours at the time she thought he rescued her. And not just dead…murdered.
On the good side, at least they are no longer married.
But she's the primary suspect in Charley's murder and, as if that isn't bad enough, Charley's ghost shows up in her apartment. He was rejected, kicked back, not allowed to go into the light. The situation was bad enough when he was alive and trying to charm his way back into her life, but now he claims to be unable to go more than a few yards away from her. She can't even be certain he isn't peeking when she undresses for bed.
Even death did not them part.
As Amanda puts her life in danger in an effort to bring Charley's murderer to justice and send him into the light or the dark or anywhere away from her, she learns her knowledge of Charley's misdeeds is only the tip of a toxic iceberg. Charley blackmailed his murderer, blackmailed Amanda's father, lied about his family being dead when he is actually related to half the town of Silver Creek, Texas, and, with his treachery, has stirred up secrets that will change Amanda's life. (Goodreads)
Review:
The characters were well developed, well rounded and three dimensional.  I loved both Amanda and Charley. Amanda was a feisty, tough and independent woman who did not like to take any grief from anyone.  She has a snarky personality, which I loved.  The comments that she made at times were great.   She does not really get along that well with her family,  They think she is too much of a rebel and she thinks they are too straight laced.  That made for some tension filled family dinners.   Charley is a two bit con but he is so likable that you do not even care.  And he really wants to protect Amanda and be sure that she is safe.  I loved all the bickering and banter between the two of them, I was laughing out loud through much of the book.  And Charley's mom, Irene, was so warmhearted and such a nice person that I wish she was someone I knew in real life.  
Although I knew early on who the killer was, that did not take anything away from my enjoyment.  I was caught up in how Amanda was going to clear her name and point the finger at the real culprit.  There was still plenty of suspense and tension surrounding the fact that the killer was after Amanda and not knowing if he was going to succeed in causing her bodily harm.  
The author is very talented in her descriptive writing and through much of the book, I felt like I was right there, watching all the action taking place around me.  The writing style flows smoothly and the book is a quick easy read.  
Ghostly cozy paranormals are one of my favorite genres to read, and this one was as good as any that I have read.  I would recommend this book to anyone who enjoys a well plotted cozy with great characters, lots of humor, suspense and plenty of heartfelt moments.  This author has a new fan in me and I cannot wait to read this rest of the books in the series.  If I could, I would rate this book higher than five stars.