Here is a list of some of the new releases for the week of February 12th, 2017.  Since there were so many this week, I am going to divide them between today and tomorrow.  Hope you find some selections for your weekly reading.  Enjoy and happy reading.
After a crossbow killing at a cheap roadside motel, Ozarks police chief Arly Hanks finds herself investigating her first murder case.
Her marriage over and career gone bust, Arly Hanks flees Manhattan for her hometown: Maggody, Arkansas. In a town this size, nothing much ever happens, so Arly figures she's safe as the town's first female chief of police — until the husband of one of the local barmaids escapes from state prison and heads for town. And that's not all. An EPA official with ties to polluting the local fishing hole has suddenly vanished off the face of the earth.
As if two manhunts aren't enough to contend with, a body has been discovered at the pay-by-the-hour Flamingo Motel, shot clean through the neck with an arrow. For some reason, Maggody's residents — all 755 of them — have gone tight-lipped, stonewalling Arly's investigations, and Arly hasn't a soul to trust but her half-wit deputy. Now, as Maggody's finest, she'll have to show a little muscle and a lot of cunning to curtail the inhospitable mountain malice that's overtaken her town. And she'll have to watch her own back every step of the way.
From Agatha Award–winning author Joan Hess, Malice in Maggody is the novel that introduced police chief Arly Hanks — the indomitable sleuth of the popular and long-running Maggody series.
Malice in Maggody is the 1st book in the Arly Hanks Mysteries, but you may enjoy reading the series in any order. (Goodreads)
When a woman is shot in a cannabis patch, Arly Hanks must restore order to her Ozarks community, in this sharp-witted mystery by an Agatha Award–winning author.
When small-town police chief Arly Hanks returns to Maggody, Arkansas, after vacation, she finds the population has risen to a booming 802. Among the newbies: Madame Celeste, the psychic who's holding locals in thrall with her predictions of doom; a handsome new high school guidance counselor; and a gaggle of mantra-chanting hippies who have turned the old general store into the source for cosmic harmony. Unfortunately, life in Maggody is anything but harmonious.
Robin Buchanon—a member of Maggody's most abundant family—has been murdered. The moonshiner, prostitute, and mother of four foul-mouthed little bad seeds was found shot to death in a booby-trapped marijuana field. Assuming the weed harvesters are sending a message to trespassers, Arly decides to hold vigil and set her own trap. But when another, seemingly unrelated, murder catches Arly off-guard, even Madame Celeste can't predict where this case is headed.
An Agatha Award finalist, Mischief in Maggody is just the kind of "bawdy, cheerful entertainment" that has brought countless fans to Joan Hess's quirky, long-running Maggody series (Kirkus Reviews).
Mischief in Maggody is the 2nd book in the Arly Hanks Mysteries, but you may enjoy reading the series in any order. (Goodreads)
When Poppy Parker turns 21, the popular TV witch detective discovers she has supernatural powers off the set as well as on. The show gets canceled and she returns home to figure out how to harness the magic brewing inside her.
Freaked out by these recent paranormal gifts, Poppy just wants to fit in, so when she's asked to serve as a judge for the annual Bloomin' Belles youth beauty competition she readily agrees.
But when the pageant's snooty director drops dead and Poppy's friend is arrested,
the former TV sleuth sets out to uncover the real killer, only to find…
the business of beauty can be deadly.  (Goodreads)
Sure, Ingrid and Emily knew that they were fleeing responsibility and stupid things like real life when they decide to go on an epic vacation. But no shame there, right?
Except, Ingrid is finding that she misses pieces of her life. Mostly Gabe. And Emily is finding that she might be ready to start growing as a witch. Mostly because, yet again, they stumble across yet another murder.
The truth is–the Paris Catacombs would be spooky regardless but add a fresh body, and the two worst witches of Sage Island are well and truly terrified. But now, they have to uncover and escape whoever is murdering people in the catacombs. All without falling victim themselves. They probably shouldn't have so much fun stumbling around so many bodies, but they do!(Goodreads)
Time for another vacation for Zoey and her daughter Claire. This go-around it's off to a retreat deep in the mountains, nicknamed The Howliday Inn. Nothing, however, can ever be a true vacation for the Kanes, especially when welcomed by a crazy man chasing down their car—howling. A cult convinced they're wolves is bent on keeping tourists—especially a couple of savvy sleuths—away from their nearby campsite. Seems harmless enough, until evidence suddenly points to outsiders being killed by a beast of the night.
 (Goodreads)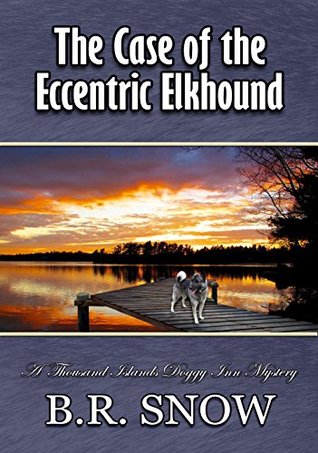 It is Memorial Day weekend, and everyone is eagerly awaiting the opening of C's, the restaurant Suzy and Josie are starting with Chef Claire. And on opening night, Suzy and Josie are surprised to find out that Suzy's mother has invited the mobster Jimmy Calducci and his entourage to have dinner with them. When Suzy and Josie find Calducci's dead body on his houseboat the following day, along with his dog, a gorgeous Norwegian Elkhound with some serious health issues, Suzy and Josie embark on a mission to save the dog's life as well as figure out how the mobster died.
Along the way, they are forced to deal with a dangerous and unusual group of possible suspects including Fatal Franny, a contract killer who worked for Calducci, and the mysterious Rocco, a former criminal who has entered their lives in a rather suspicious way. And when the mayor of Clay Bay disappears, events take another strange turn, and the question of who killed Calducci becomes even more nuanced and layered.
The Thousand Islands Doggy Inn Mysteries features two of the smartest and funniest lead female protagonists to hit the cozy mystery scene in a very long time, and Suzy and Josie's affection for food and their boundless love and devotion to their dogs puts this new series in the don't miss category. The Case of the Eccentric Elkhound is the latest installment in this fast-paced and funny series that affectionately focuses on dogs, food, and the natural beauty of the Thousand Islands region. (Goodreads)
Clove Winchester is feeling lucky at life, and that's before a mysterious stranger drops into her magic store and gifts her with a special coin. Suddenly things can't go wrong for Clove, and she's the center of attention in the Winchesters' world – especially because Aunt Tillie wants that coin.
When a near-death experience rocks Clove and her boyfriend Sam, Clove takes a closer look at the coin and realizes there's a lot she can do with her new luck streak. Unfortunately for Aunt Tillie, Clove is determined to keep the benefits to herself.
When a brazen armed robber hits Hemlock Cove and goes after Bay, all of the Winchester witches band together to solve the crime and save the day. Of course, they may need a little luck to do it.Note: This is a 28,000-word short in the Wicked Witches of the Midwest world. It is set after The Trouble With Witches in the timeline.(Goodreads)
A penny saved is…
Everything is going just great for Jill Gooder. Whoops! Spoke too soon. What's in the black box?
…a penny towards my next custard cream.  (Goodreads)
Three secrets, first revealed in Grimm's Furry Tail, A Tale of Two Tabbies, and The Cat of Christmas Present, collide in a single horrific moment that leaves one person dead and one fighting for their life. This fast paced cozy mystery will have you glued to the page as Cait and Cody join forces with a cat named Moirai in a race against time to track down a killer.  (Goodreads)