Here is a list of some of the new releases for the week of February 19th, 2017.  Since there were so many this week, I divided them between yesterday and today.  Hope you find some selections for your weekly reading.  Enjoy and happy reading.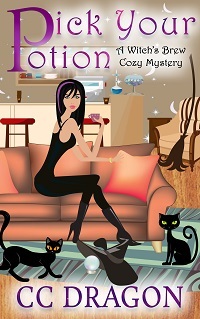 Gypsies, vamps, and weres…these are just some of the people powerful witch Claudia Crestwood and her friends protect. In the city of Hartford, Connecticut—years before Salem, there were witch trials. Now the paranormal coexist with humans, more or less. With the help of her hippie aunt and cousins, her gypsy uncle, and other paranormal friends, Claudia stands on the line between humans and paras—helping to keep the peace.
When a human customer dies after an incident at the coffee shop, Claudia must dig into the case to protect the cafe and the coven. Threats have been made and what's worse, she's harboring a hunter wanted by the police in her basement. A hot and powerful wizard starts showing up in the shop when Claudia needs help and is at her worst. Intriguing and annoying… She isn't sure she can trust him and his reclusive family but it's time for her to dig deeper into the magical world.  (Goodreads)
From USA Today bestselling author Kelly Rey comes the next hilarious Jamie Winters Mystery …
Legal secretary and sometimes-sleuth Jamie Winters thought she'd seen it all… until now.
When Oxnard Thorpe, the Adult Diaper King of New Jersey and one of Parker, Dennis's most important clients, is found dead in the swimming pool of his sprawling mansion on his wedding night, his bride gives Jamie and her teenaged sidekick, Maizy, the green light to find the killer. Could it be the faded society maven, the bridesmaid for hire, the harried housekeeper, Oxnard's embittered twin siblings, the surly wedding planner, the groom's sketchy colleague, or even the not-so-blushing bride herself? Just when it seems things couldn't possibly get more confusing, they get an assist from Eunice Kublinski, the firm's timid new attorney with a morbid fear of public speaking—which makes things much, much worse! If Jamie doesn't unravel the truth quickly, she may just be next on the killer's list!
Jamie Winters Mysteries:
Motion for Murder – book #1
Motion for Mistletoe – holiday short story
Motion for Malice – book #2
Motion for Misfits (short story in the "Killer Beach Reads" collection)
Motion for Madness – book #3
Motion for Mischief – book #4     (Goodreads)
When a magical amulet gives marine biologist Naomi Twain the power to see through glamours it plunges her into a world of danger and intrigue. Fantastical creatures are everywhere, but hidden, on Catalina Island—and someone is hunting them, putting at risk a unique, magical ecosystem.
Corey Madrigal is bathing a behemi, a flying miniature pig, when Naomi crashes into his life. With a natural talent for seeing through glamours, he feels a responsibility to the creatures of his island home, creatures who were the friends of his childhood. Now, he's a Hollywood special effects artist, and he's going to be an amazing ally for Naomi in her quest to capture the hunters of the island's fantastical creatures.
But the hunters have their own agenda.
And then, there's the ghost…
Intense danger, wild storms, and passionate loyalties put to the test. Fantastical Island is a stand-alone adventure in the Old School series.   (Goodreads)
Samantha Cooper is missing and her boyfriend is desperate to find her. Desperate enough to hire Gertrude, Gumshoe. Thrilled to have her first real client, Gertrude gets right to work. But is she really ready for a real case? Can she catch a kidnapper without getting herself kidnapped?  (Goodreads)
Though she was certainly born with all the traits of a world-class private detective, blogger Jade Blackwell believed she would do nothing more than solve the murders in her latest favorite cozy mystery book.
Set in mountainous south-eastern Wyoming, Jade Blackwell lives in a log home in the quaint village of Aspen Falls with her husband, Christian and daughter Penelope (Ellie). She left her life as a tenured college English professor at the University of Wyoming four years ago, sick of the bureaucracy, mounds of essays to grade and apathetic students. She turns to blogging and ghostwriting as her new career.
Jade's promising career as a blogger halts abruptly when she learns of a hacker who is controlling her friend and fellow blogger Liz Collin's business remotely. When the hacker is found dead in her home, Liz is thrown in jail.
Determined to help her friend regain her life and livelihood, Jade teams up with Liz's reluctant lawyer, Gabriel Langdon, to get Liz off the hook and out of jail. What she learns will break the case wide open, while unraveling her faith in humanity and the safety she feels living in the Rocky Mountain hamlet she calls home.
An exciting thrill ride from the first page, to the last. Read Gilian Baker's Blogging is Murder, the first book in the Jade Blackwell cozy mystery series!
Learn more at www.GilianBaker.com  (Goodreads)
The Lost Savannah is the second novella in the Lost and Found Pets series. Alexandra Prescott opened Lost and Found Pets because she loves animals. Reuniting pet and owner is more than just a job.
Alex is hired to find a lost Savannah, a rare and expensive cat breed. She quickly learns the cat isn't just missing. The cat was stolen. The main suspect is the next door neighbor who is obsessed with Savannahs and the game of golf.
Soon Alex discovers a black market ring in the world of fanatic Savannah cat breeders. She has to dust off her rusty investigative skills to solve the mystery of the lost Savannah.  (Goodreads)
California University mathematics instructor Pat O'Shea is horrified to learn that a fellow faculty member is responsible for the theft of a valuable piece of lab equipment. But biology professor Everett Adams hasn't just turned thief; he's also become a stark raving madman. After a confrontation, Adams leaves his accuser for dead, badly beaten on the outside of town. Now, no one has seen either man in days.
When O'Shea awakens in a dilapidated old bungalow on a deserted stretch of nowhere, he's not in the hands of a rescuer, but rather at the mercy of a captor. The watchful old woman is demented, homicidal, and taking wicked delight in keeping a hostage. Her killer hound stands guard, and if all goes according to plan, the gravely injured O'Shea will never be allowed to leave.
Frustrated by the ineffective work of the authorities, O'Shea's wife, Anabel, is committed to conducting her own investigation into her husband's disappearance. Amassing a trail of evidence, she follows a strange path of baffling clues, family skeletons, and fatal secrets. One by one, they will lead Anabel to a house on the dark side of a dead-end road. (Goodreads)
It is 1875 and former stagecoach shotgun Jack Craft, the newest member of the just formed Denver Police, discovers a horrific murder unlike any he has ever seen. Was it random? Or revenge? With little to go on, Jack carefully untangles the thread of mystery surrounding the death of the woman without a face.  (Goodreads)