Here is a list of some of the new releases for the week of February 26th, 2017.  Since there were so many this week, I am going to divide them between the next three days.  Hope you find some selections for your weekly reading.  Enjoy and happy reading.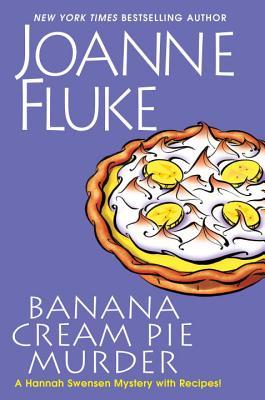 A romantic seven-day cruise is the perfect start to bakery owner Hannah Swensen's marriage. However, with a murder mystery heating up in Lake Eden, Minnesota, it seems the newlywed's homecoming won't be as sweet as she anticipated . . .
After an extravagant honeymoon, Hannah's eager to settle down in Lake Eden and turn domestic daydreams into reality. But when her mother's neighbor is discovered murdered in the condo downstairs, reality becomes a nightmarish investigation. Victoria Bascomb, once a renowned stage actress, was active in the theater community during her brief appearance in town . . . and made throngs of enemies along the way. Did a random intruder murder the woman as police claim, or was a deadlier scheme at play? As Hannah peels through countless suspects and some new troubles of her own, solving this crime—and living to tell about it—might prove trickier than mixing up the ultimate banana cream pie . . . (Goodreads)
Pet sitter Daphne Templeton has a soft spot for every stray and misfit who wanders into the quaint, lakeside village of Sylvan Creek. But even Daphne doesn't like arrogant, womanizing Steve Beamus, the controversial owner of Blue Ribbon K-9 Academy. When Steve turns up dead during a dog agility trial, Daphne can think of a long list of people with motives for homicide, and so can the police. Unfortunately, at the top of the list is Daphne's sister, Piper—Steve's latest wronged girlfriend.
Certain that Piper is innocent, in spite of mounting evidence to the contrary, Daphne sets out to clear her sister's name—and find Axis, Steve's prize-winning chocolate Labrador, who went missing the night of Steve's death. Aided by Socrates, her taciturn basset hound, and a hyperactive one-eared Chihuahua named Artie, Daphne quickly runs afoul of Detective Jonathan Black, a handsome and enigmatic newcomer to town, who has no appreciation for Daphne's unorthodox sleuthing.
Can a free-spirited pet sitter, armed only with a Ph.D. in Philosophy and her two incompatible dogs, find the real killer before she becomes the next victim? (Goodreads)
Everyone swears by Yeast of Eden, the Mexican bread shop in town. But tonight, the only thing on the menu is la muerte . . .
Struggling photographer Ivy Culpepper has lots of soul-searching to do since returning to seaside Santa Linda, California. That is, until the thirty-one-year-old enters a bread making class at Yeast of Eden. Whether it's the aroma of fresh conchas in the oven, or her instant connection with owner Olaya Dias and her sisters, Ivy just knows the missing ingredients in her life are hidden among the secrets of Olaya's bakery . . .
But Ivy's spirits crumble when a missing classmate is suddenly discovered dead in her car, riddled with stab wounds. Even more devastating, the prime suspects are the Dias sisters themselves. Doubting the women could commit such a crime, Ivy embarks on a murder investigation of her own to prove their innocence and seize the real killer. As she follows a deadly trail of crumbs around town, Ivy must trust her gut like never before—or someone else could be toast! (Goodreads)
That ghost sure looks . . . familiar
Only a handful of people know that Emma Lee Raines, proprietor of a small-town Kentucky funeral home, is a "Betweener." She helps ghosts stuck between here and the ever-after—murdered ghosts. Once Emma Lee gets them justice they can cross over to the great beyond.
But Emma Lee's own sister refuses to believe in her special ability. In fact, the Raines sisters have barely gotten along since Charlotte Rae left the family business for the competition. After a doozy of an argument, Emma Lee is relieved to see Charlotte Rae back home to make nice. Until she realizes her usually snorting, sarcastic, family-ditching sister is a . . . ghost.
Charlotte Rae has no earthly idea who murdered her or why. With her heart in tatters, Emma Lee relies more than ever on her sexy beau, Sheriff Jack Henry Ross…because this time, catching a killer means the Raines sisters will have to make peace with each other first. (Goodreads)
The O Sullivan clan of County Cork, Ireland, are thrilled to be catering the matrimonial affairs of a celebrity couple until a cunning killer turns an Irish wedding into an Irish wake . . .
"Any wedding is a big deal in the small village of Kilbane even more so when the bride is a famous fashion model. It s also good for business. Not only has customer traffic picked up at Naomi s Bistro, Siobhan O Sullivan and her five siblings have a full plate catering for the three-day affair. And Siobhan s own beau, local garda Macdara Flannery, gladly steps in as best man after the groom s first choice makes a drunken arse out of himself.
Even if he hadn t been disinvited to the wedding, the original best man wouldn t have been able to show. He s been found murdered in the woods, casting a pall over the nuptials. And when a second member of the wedding party is poisoned by a champagne flute engraved with Macdara s name, the garda goes from being best man to prime suspect.
With a killer at large and a string of robberies plaguing Kilbane, Siobhan feels more than a little protective of her village. She vows to clear Macdara s name, but the suspect list is as long as the guest list. Like the bride walking down the aisle, Siobhan needs to watch her step. For as she gets closer to unveiling the truth, the murderer is planning a very chilly reception for her . . . (Goodreads)
When Professor Lila Maclean is sent to interview celebrated author and notorious cad Damon Von Tussel, he disappears before her very eyes. The English department is thrown into chaos by the news, as Damon is supposed to headline Stonedale University's upcoming Arts Week.
The chancellor makes it clear that he expects Lila to locate the writer and set events back on track immediately. But someone appears to have a different plan: strange warnings are received, valuable items go missing, and a series of dangerous incidents threaten the lives of Stonedale's guests. After her beloved mother, who happens to be Damon's ex, rushes onto campus and into harm's way, Lila has even more reason to bring the culprit to light before anything—or anyone—else vanishes.
Related subjects include: women sleuths, cozy mysteries, amateur sleuth books, murder mysteries, whodunit mysteries (whodunnit), academic mysteries, book club recommendations. (Goodreads)
When Silver Hollow witch Adele Brundage curses the town with a plague of toads until her killer is found, Isolde Quinn and her cousins find themselves thrown into a dangerous world where someone will go to any lengths to keep a decades-old secret. Armed with their witchy powers and unconventional pet familiars, the Quinns set out on an investigation that puts them in the path of a dangerous killer who will stop at nothing to keep their secrets buried.
And when that path intersects with hunky FBI agent Dex Nolan, it's a blessing and a curse. Issy has feelings for Dex, but can a lawman sworn to prosecute paranormals ever truly fall for a witch?
With the body count piling up—not to mention the toads—Issy has to take drastic action to expose the identity of the killer before they claim another victim.  (Goodreads)
Mei Yamagawa's bad luck is almost at an end. Her tea shop is a week away from opening, she and Yasahiro have planned a trip away, and the future is looking bright and hopeful. But when Yasahiro's ex-fiancée, Amanda, shows up unexpectedly, demanding his time and presence, all of their plans dissolve. Amanda is tough and drives Mei up the wall, so it's no surprise when Mei tells her to get lost, only for Amanda to be murdered a few hours later. Yasahiro becomes the prime suspect, and Mei must put everything on hold to help free him.
Following Amanda's past through her digital footprint, Mei uncovers secret lovers, shady business deals, and the biggest secret of all, why Amanda and Yasahiro broke up in the first place. With everyone turning against her and the case under media scrutiny, tracking down the killer becomes an obsession Mei can't give up. There's no turning back, though, because solving the murder means getting her life back. Not solving it means losing everything forever. (Goodreads)