Here is a list of some of the new releases for the week of February 26th, 2017.  Since there were so many this week, this is day three of my list.  Hope you find some selections for your weekly reading.  Enjoy and happy reading.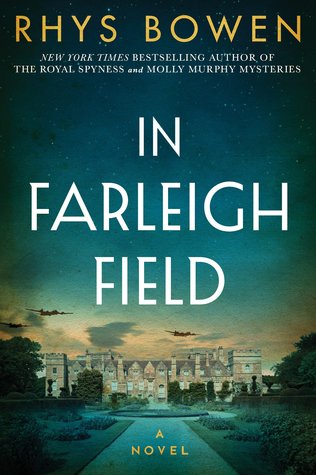 World War II comes to Farleigh Place, the ancestral home of Lord Westerham and his five daughters, when a soldier with a failed parachute falls to his death on the estate. After his uniform and possessions raise suspicions, MI5 operative and family friend Ben Cresswell is covertly tasked with determining if the man is a German spy. The assignment also offers Ben the chance to be near Lord Westerham's middle daughter, Pamela, whom he furtively loves. But Pamela has her own secret: she has taken a job at Bletchley Park, the British code-breaking facility.
As Ben follows a trail of spies and traitors, which may include another member of Pamela's family, he discovers that some within the realm have an appalling, history-altering agenda. Can he, with Pamela's help, stop them before England falls?
Inspired by the events and people of World War II, writer Rhys Bowen crafts a sweeping and riveting saga of class, family, love, and betrayal.  (Goodreads)
Cat Latimer's Colorado bed-and-breakfast plays host to writers from all over. But murder is distinctly unwelcome . . .
To kick off a winter writing retreat, Cat and her handyman boyfriend, Seth, escort the aspiring authors to a nearby ski resort, hoping some fresh cold air will wake up their creative muses. But instead of hitting the slopes, they hit the bar—and before long, a tipsy romance novelist named Christina is keeping herself warm with a local ski bum who might have neglected to tell her about his upcoming wedding.
Next thing Cat knows, her uncle, the town sheriff, informs her that the young man's been found dead in a hot tub—and Christina shows up crying and covered in blood. Now, between a murder mystery, the theft of a rare Hemingway edition, and the arrival of a black-clad stranger in snowy Aspen Hills, Cat's afraid everything's going downhill . . . (Goodreads)
A new case for the ladies of the WISE enquiries agency . . .
Henry Devereaux Twyst, eighteenth Duke of Chellingworth, is terribly worried about some water damage to the priceless books in his lower library, so retains the services of a local book restorer to tackle much-needed repairs. The antiquarian also runs the Crooks and Cooks bookshop with his daughter – local TV celebrity chef, The Curious Cook. When the book restorer mentions some strange shenanigans going on at the book shop, Dowager Duchess Althea brings the case to her colleagues at the WISE Enquiries Agency.
As the WISE women try to unravel one puzzle from their base at stately Chellingworth Hall, they then get embroiled in another when they come across a valuable book of miniatures which seems to be the work of a local famous artist, murdered by her own brother. Are the cases linked and why do both mysteries lead to a nearby old folks' home? The WISE women are on the case – and nothing will get in their way . . . Or will it?
 (Goodreads)
Who Killed Ethan?
Ethan Baldwin hangs from a tree in Woods just outside the quiet Norfolk village of Stanton Parva. The police think the respected church warden committed suicide. Ant and Lyn are certain someone murdered Ethan and set out to bring his ruthless killer to justice. Suspects include a greedy land developer, a vicar in turmoil and a businessman about to lose everything.
Stanton Parva short reads offer a modern take on the traditional crime serial novel and feature two lead characters from opposite ends of the social spectrum.
Anthony Stanton is an army intelligence officer with PTSD on extended sick leave. He's also a viscount and sole heir to the Stanton Hall estate. Lyn Blackthorn is head teacher of the local primary school and a product of divorced parents who still live in the village. One brought up in 'the big house', the other in a small thatched cottage, Ant and Lyn formed an unlikely childhood friendship. Recently reunited, they investigate a series of baffling mysteries and in the process help each other with their demons.
Published bi-monthly, the books pay homage to Father Brown, Midsomer Murders, Death in Paradise and Poirot.
Each complete cosy mystery takes place in and around the quintessential Norfolk village of Stanton Parva. Embraced on one side by the beautiful Broads and held captive by the North Sea to the east, everyone knows each other. With an ancient green, pond and butter cross dating back to medieval times, Stanton Parva's higgledy-piggledy layout of narrow lanes lined with thatched cottages seems idyllic. But things aren't always what they seem, are they?  (Amazon)
Ralph Gilly, the owner of a fishing resort in Montana where Chris and Matt vacationed together years ago has a neighbor in trouble, and he's reached out to Matt and Chris for help. Clint Davidson's prize bull has been slaughtered and his foreman, Shorty McMann, has been kidnapped and is being held for ransom. The cattleman has been warned that any involvement by the FBI or other law enforcement agencies will result in the death of his ranch hand. Desperate, the ranch owner offers to pay all expenses if Matt and Chris can fly out together to help. Reluctantly, Roscoe mayor Harold Swenson agrees to let Matt go, with dire consequences promised if he isn't back on time, and he and Chris head West.
Meanwhile, back home in Roscoe, Rick Dawley becomes acting chief, and he, Bobcat Walker, and Pete Richards have their hands full with an crazed arsonist who is setting local barns on fire.  (Amazon)
Welcome to the witchy town of Cat's Cradle, where curses are almost as troublesome as family.
When lifelong bachelorette Aunt Tilly returns to town with a fiancé she's only known for two weeks, the rest of the Norwood family sense foul play. Has their eccentric aunt fallen prey to a love spell and-if so- for what reason?
Meanwhile, Malady is still coming to grips with what she saw in her dream and what that might mean for her future with Daniel Price.
When the body of one of Daniel's old college buddies turns up at Cat's Cradle's annual Under the Stars Charity Ball, it's up to Daniel and Suzie Q herself to get to the bottom of it and figure out how this is all connected to Aunt Tilly's mysterious new beau.
So, pull up a seat, settle in, and get Cursed on the Second Date!  (Amazon)
After returning home from her father's funeral to find her boyfriend in bed with another woman, Mackenzie Clair is looking for a fresh start. She thinks she'll find it in her favorite childhood vacation spot, but returning to Donn's Hill awakens more than nostalgia. Mac regains a lost psychic ability to talk to the dead, and the poltergeist haunting her apartment is desperate to make her use that gift to find his killer.
Aided by her new roommate—a spirited Tortoiseshell cat named Striker—and the ghost-hunting crew of the nationally televised show Soul Searchers, Mac struggles to learn how to use her powers. But she'd better get a handle on them fast, because someone in town is hiding a deadly secret. If Mac can't somehow divine the truth, Donn's Hill will never be the same.  (Goodreads)
Town of Shearwater
-Established in 1835-
Population: 700 — give or take a dead body . . .Abigail Carrier is a witch with an itch for a normal life. Living on the Eastern Shore in the town of Shearwater, Maryland, all she wants is to run her bed-n-breakfast with her sister, Evalynn, while focusing on anything but her lackluster love life.
One night, treachery strikes at a Town Hall meeting, and its Abigail who discovers the dead body first. With a long list of suspects who aren't short on motive, and with the help of her "witchy-gifts" she discovers that there are more secrets than solutions in her sleepy, small town.
When a handsome new resident shows up intent on getting to know her better, Abigail is surprised to find that their connection may be just the thing she needs to put the sparkle back into her eyes and a killer behind bars.
First in a new series of cozy mysteries that includes a cast of characters, recipes, and bird tips/crafts, Chirp No More of The Shearwater Mysteries is filled with mayhem, murder, and magic!  (Goodreads)
Missing jewels…a haunted inn…a long-held secret…
Penelope Hamilton Wynch, one of the few female operatives employed at the Pinkerton Agency in 1886, is sent to the Adirondacks to investigate the mysterious happenings at Schroon Lake Inn, newly renovated to cater to New York City's upper crust on summer holiday. Rumors of ghosts are bad enough, but when expensive jewelry disappears, the owner's livelihood is at stake. A woman's touch is needed.
Pen's boss, William Pinkerton, thinks he has given her the perfect cover. She is to play the part of an eccentric spirit medium, eager to experience the purported ghostly manifestations.
Unfortunately, her cover will not remain intact for long, and there are those watching who do not want the inn's secrets disturbed.  (Amazon)