Here is a list of some of the new releases for the week of March 12th, 2017.  Since there were so many this week, I am going to divide them between three days.  This is day two of the three.  Hope you find some selections for your weekly reading.  Enjoy and happy reading.
From USA Today bestselling author Kerri Nelson, comes the latest mystery that proves working for a living may just be the death of one small town girl…
Autumn has settled over the small town of Millbrook, and Jill-of-all-trades and sometimes-sleuth Mandy Murrin's life is more disorganized than ever! Mandy finds herself juggling three jobs to pay for a new school for her special needs sister, including a temp job as a plumber's assistant for Godfather's Plumbing—a local company rumored to be "family" run.
Then things go from bad to worse as the town's prized pig dies mysteriously right before the big annual Cotton Festival, Mandy's mentor is hospitalized, and Mandy is swept into the middle of a real life mob family crisis. Add in being a reluctant bridesmaid in a friend's wedding, and Mandy has more on her schedule than one girl can handle. If all that's not enough, Mandy's boyfriend leaves town without a word, and two men from her past make major decisions of their own that may affect Mandy forever.
One weekend. Two days 'til the wedding. Three men in her life. Will Mandy survive until Monday or will this be the end of her?
**Includes the bonus short story "Curious Undertakings"!**
Working Stiff Mysteries:
Remote Consequences – book #1
Worked to Death – book #2
Ornamental Danger – holiday short story
Backyard Bar-be-Feud – Short story in the Killer Beach Reads collection
Disorganized Crime – book #3      (Goodreads)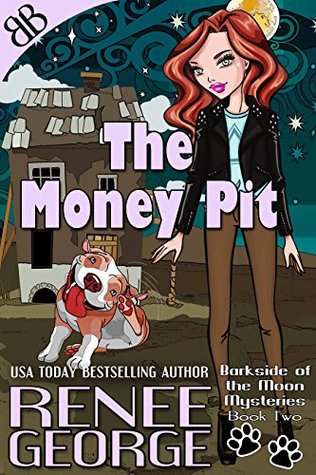 Pit Bulls are Sweet . . . and that's no mystery!
Shifter Lily Mason and her pit bull Smooshie are once again on the trail of a murderer and this time close to home!
The Money Pit, Book 2 of the Barkside of the Moon Mysteries from USA Today bestselling paranormal cozy mystery author Renee George, is a gripping murder mystery that keeps you guessing from beginning to end!
Cougar-shifter Lily Mason is trying hard to live as a human in Moonrise, Missouri. But renting a garage apartment from Parker Knowles, her boss at the Pit Bull Rescue Shelter, is making it difficult to keep her secret, especially with the upcoming full moon just weeks away. Desperate to get into her own place, Lily immediately makes an offer on a "fixer-upper" with a checkered past and begins work on getting the place ready for her and her dog Smooshie.
Smooshie proves primed for demolition when she scratches a hole in a wall and yanks out a human bone. The investigation brings Lily unwanted attention from the local police chief who has an ax to grind and a murderer desperate to keep the past in the past.
With the full moon just around the corner, the police breathing down her neck, and a murderer on her heels, Lily needs Smooshie and Parker more than ever if she wants to keep her secret and prevent another killing!
This paranormal cozy mystery contains cougar-shifters, shifters, lovable pit bulls, and supernatural beings.  (Goodreads)
Fig Harbor, Washington home to amateur sleuth Lemon Layne, the best Sherlock Holmes wannabe west of the Mississippi!
USA Today bestselling cozy mystery author Dakota Cassidy serves up conspiracy, suspects, bedlam, and murder in Prawn of the Dead, Book 1 in A Lemon Layne Mystery series.
Prawn of the Dead is sure to keep you guessing from start to finish as you and Lemon follow the trail of a murderer.
"My name is Lemon Layne, and if asked to describe myself, like maybe on a dating site (which is never gonna happen), I'd have to go with best convenience store/barbecue joint owner in the Pacific Northwest. I live in the tiny tourist town of Fig Harbor, Washington with my adorably neurotic best friend, Coco Bellinski, my a-little-left- of-center (read totally out there) mom, May, and my troublemaking pet monkey, Jessica Fletcher.
Oh, and last but certainly not least, I'm a dyed-in-the-wool amateur sleuth. Yep. I'm literally incapable of resisting a good mystery. No matter how great or small, I love to stick my nose into…er, help solve a crime. From the mysterious disappearance of Ho Hos in my store, to a lost piece of jewelry, I'm always ready to put on my Sherlock Holmes cap (I really do have one. Got it when I was eight).
When I find my mother's ex-boyfriend murdered in our convenience store bathroom with a piece of his skull missing, and my mom's a suspect in a murder investigation, my mystery solving goes from zero to a hundred. To really make matters worse, the town's local conspiracy theorist and official doomsday prepper, Cappie somehow finds out the victim isn't just missing a piece of his skull–he's missing a piece of his brain!
And that's when off the wall Cappie starts spreading word the zombie apocalypse has officially arrived in our tiny burg. Total chaos ensues and I have to pick my way through everything from weekend warrior zombie hunters to medical mysteries in order to catch a killer!"
This contemporary cozy mystery has it all, from the local doomsday prepper to an out of control pet monkey, a mother who would drive a saint to drink, and of course a dead body in the bathroom. Prawn of the Dead is a laugh-out-loud thrill ride that will keep you guessing from start to finish.  (Goodreads)
Emma Cassidy Mystery Book 6
It should have been the perfect wedding until the groom-to-be jilts his fiancée at the rehearsal dinner…and turns up dead the next morning.
A full-length, standalone cozy mystery
~~
Emma Cassidy is doing what she does best—organizing a wedding. But there's tension in the atmosphere, and Emma can't shake an uneasy feeling about this match.
Trent Chalmers leads a charmed life—handsome and wealthy, heir to the famous Maravilla winery, and about to tie the knot with Alice Bartolo, his high school sweetheart. Trent is a man who has it all. Until he jilts his fiancée in front of everyone at their rehearsal dinner…and turns up dead the next morning.
As Emma helps the bereaved families, she's drawn into the mystery surrounding Trent. Why did Trent alienate so many people? Was he just a jerk, or is there a deeper reason behind his death?
The Emma Cassidy Mystery series:
Book 1: Throw a Monkey Wrench http://www.amazon.com/dp/B01A60ZYWW
Book 2: Pushed to the Limit http://www.amazon.com/dp/B01BHESQA8
Book 3: Murder Most Likely http://www.amazon.com/dp/B01FF9BPO0
Book 4: Witch Way to Murder http://www.amazon.com/dp/B01M1GC7O8
Book 5: In the Dead of Winter http://www.amazon.com/dp/B01N3MBY2Q
Book 6: A Case of Cold Feet
Emma Cassidy Mysteries Boxset Books 1-3 http://www.amazon.com/dp/B01M7MYMZJ  (Goodreads)
Will they solve this ice cold crime in time?Each mystery is complete. Read in any order!Everyone's favorite mother and daughter catering/crime solving duo returns for another adventure.Mom's quest to win "Best Milkshake" in the Fletcher Canyon newspaper sparks a rivalry with the neighboring ice cream parlor. But when the judge dies after tasting Mom's milkshake, Mom and Christy's catering business flat lines.Mom's sure it was sabotage gone awry, but Christy thinks it was murder. Can she convince Mom to widen her list of suspects before their catering reputation is damaged for good?Find out in this clean, comedy cozy! No graphic violence. No language. Cute cat!

   (Goodreads)

From the author of The Crêpes of Wrath comes another decadent cozy mystery. This time, pancake house owner Marley McKinney is tangling with a salty troublemaker . . . and a ravenous killer.
Bonus content: includes original recipes inspired by the Flip Side Pancake House menu!
Tourist season's in full swing in the small seaside town of Wildwood Cove, and Marley McKinney couldn't be happier. Since taking over the Flip Side restaurant, she's made a few close friends, adopted a cat named Flapjack, and started dating her childhood crush. The only cloud on the horizon is local nuisance Ida Winkler, who blames Marley for landing her nephew in prison. Trying to get a rise out of Marley, Ida's been making crank calls and even vandalizing the pancake house.
The police can't do much about the pranks, so Marley sets out to bury the hatchet once and for all. But someone's beat her to it—in the most shocking way possible. After stumbling across Ida's dead body, Marley's suddenly the number-one suspect in her murder. Clearing her good name is going to be a tall order, but Marley's not about to let Ida keep ruining her life—especially from beyond the grave.   (Goodreads)
Someone is stalking Marnie.
It's Marnie's last week at the law firm of Cliburn & Reeves and she feels like she's riding an emotional roller coaster. Up when she wins the divorce and custody battle for Callie Jackson against her abusive husband, Jed. And plummeting down when one witness after another decides not to testify against Mark Hall, an attorney at another Charleston firm and an "alleged" serial rapist.
Marnie receives one threat after another and she constantly feels the need to look over her shoulder, convinced that someone is stalking her. With Sam out of town on business, she's alone in the big, old farmhouse and strange things are happening. Noises in the attic, creaking floorboards and someone watching her from the woods.
As she tries to determine the identity of the stalker, the list of men who have grudges against her grows longer each day. In her line of work she's made enemies. Is the stalker someone from the past or one of the men on her list? And, how far will he go?  (Amazon)