Here is a list of some of the new releases for the week of March 26th, 2017.  Since there were so many this week, I am going to divide them between the next three days.  Here is Part One.  Hope you find some selections for your weekly reading.  Enjoy and happy reading.
Lily Gayle and the gang set out to find a killer after local baker Luxen Natolovich is found dead hours before the grand opening weekend at the new Bed and Breakfast in town, Midnight Dragonfly.
As Lily Gayle deciphers the clues around Luxen's death she uncovers a conspiracy of lies and half truths that could very well be tied to a refugee camp in Mississippi during World War II.
The deeper Lily Gayle digs the deeper the consipiracy runs and the closer she comes to being the killers next victim. (Goodreads)
The truth doesn't always set you free…
Former lawyer Nicole Fitzhenry-Dawes thinks she'd be happy to spend her life making maple syrup and never take part in another murder investigation again. At least, she thinks so right up until the photographer she hired dies on the tour she's leading and the main suspect is her friend's niece, Holly.
When Holly disappears as well, Nicole faces what looks like a locked-room mystery. One of the people on the tour must have committed the crime, yet none of them could have done it.
To keep an innocent woman from going to prison, Nicole's thrown right back into the midst of another hunt for a killer.
A killer who knows exactly where she lives…
Murder on Tap is the fourth book in Emily James' Maple Syrup Mysteries. If you love small-town settings, quirky characters, and a dollop of romance, then you'll want to buy this new amateur sleuth mystery series today!  (Amazon)
Chocolate Cozy Mystery series can be read in one to two hours. It is perfect for those moments when you are waiting at an appointment or want to enjoy a quick read.
A new shop. A new neighborhood. And, a brand new mystery.
I n the quiet little town of Chester, Olivia Cloud, the proud proprietress of the Block-A-Choc Shoppe chocolaterie and bakery, delights in providing her customers with glorious, as well as delicious confections. Couple that with warm and fuzzy affections offered by the neighboring Cuddle Clinic, run and owned by Olivia's dear friend, Jana Jujube.
Then, the unthinkable happens….
Poor Jana is brutally attacked and left in a coma. Shocked and devastated, Chester goes into a fervor over the horrible crime, and Olivia sets out to find the perpetrator. But, that may not be as easy as it seems.
Coupled with an inexperienced investigative partner Alvira, her shoppe's assistant, Olivia initially coasts through the case, until the ladies stumble upon their first roadblock-Jessica Jujube, Jana's often difficult and yet, mysterious sister.
Only a determined baker, her plucky assistant, a love struck gentleman and a host of other loveable and affable citizens can get justice for sweet Jana-by hook, crook and with plenty of cuddles.  (Amazon)
From five USA TODAY bestselling authors comes the next set of internationally bestselling cozy mystery novels in the Danger Cove Mysteries series! This boxed set includes three, full-length novels, including:
Tree of Life and Death
A Danger Cove Quilting Mystery
The holidays can be a killer…
Quilt appraiser Keely Fairchild is thrilled that the Danger Cove Quilt Guild has teamed up with the Historical Museum to make miniature quilts to decorate the museum's Christmas tree. But when the owner of a Tree of Life quilt is fatally stabbed in the museum's parking lot, Keely finds herself in the middle of a murder investigation!
Killer Colada
a Danger Cove Cocktail Mystery
This is one drink that's to die for…
It's been a stressful couple of months for bartender, Hope Foster, so her best friend Ruby treats her to an afternoon of holistic pampering with therapist Pandora Williams. But what should be a relaxing getaway turns into a murder scene when Hope and Ruby stumble across Pandora's lifeless body in the kitchen next to a killer cocktail.
Passion, Poison & Puppy Dogs
a Danger Cove Pet Sitter Mystery
In this dog eat dog world, it's people you have to keep your eye on.
When Lizzie Jones, pet sitter extraordinaire, is asked to watch over her best friend's two spoiled dogs at the posh gated community of Craggy Hill Estates, the last thing she expects is to wind up in the middle of a homicide. But that's exactly what happens when she finds her best friend's cheating husband and Danger Cove's bodybuilder champ, Mr. Jupiter, floating facedown in his hot tub.
The Danger Cove books:
Secret of the Painted Lady (a Danger Cove Renovation Mystery)
Murder and Mai Tais (a Danger Cove Cocktail Mystery)
Death by Scones (a Danger Cove Bakery Mystery)
Four-Patch of Trouble (a Danger Cove Quilting Mystery)
Deadly Dye and a Soy Chai (a Danger Cove Hair Salon Mystery)
Killer Closet Case (a Danger Cove B&B Mystery)
Tree of Life and Death (a Danger Cove Quilting Mystery)
A Killing in the Market (a Danger Cove Farmers' Market short story in the "Killer Beach Reads" collection)
Killer Colada (a Danger Cove Cocktail Mystery)
A Novel Death (a Danger Cove Bookshop Mystery)
Robbing Peter to Kill Paul (a Danger Cove Quilting Mystery)
Sinister Snickerdoodles (a Danger Cove Bakery Mystery)
Hurricanes and Heroes (a Danger Cove Cocktail Mystery)
Divas, Diamonds & Death (a Danger Cove Pet Sitter Mystery)
About Danger Cove:
Danger Cove is a sleepy little town in the Pacific Northwest and home to renowned mystery novelist, Elizabeth Ashby. While Elizabeth swears the stories she writes are fiction, you can find the inspiration for her murderous tales all over Danger Cove…from the intriguing cast of local characters to the places to eat, play, and explore in Danger Cove. Don't let our name fool you—we're the friendliest (even if deadliest) town in the Pacific Northwest!   (Goodreads)
One awkward billionaire.
One failed psychic.
A tale as old as time…
Lola Pink
He schedules everything. And I mean everything.
I had no idea what I was getting myself into when I took this job. I thought it would be simple—pretend to be Mr. Dane Clark's personal assistant, find the missing blueprints, and get out of the Clark Castle for good. But, somehow this socially awkward, tech-genius billionaire has wormed his way into my heart.
And even if we survive this mess, I'm not sure I want to leave.
Dane Clark
How do I put this?
She's…pink.
So very pink. Bright and sunny and peppy. I mean, she has at least one hundred and four pairs of sunglasses. Why? I've never seen a woman wear so many sunglasses before: red, pink, blue, green, glitter-encrusted. I don't understand it.
As for her organizational skills? Abysmal. Her attention to detail? Non-existent. Her ability to frustrate me to no end? Spot on. I never should have hired her. Lola Pink does not fit into my schedule.
Nevertheless, she whirled into my life anyway; and she changed everything. Now I'm stuck trying to keep my company afloat and the two of us alive, while Lola turns my life all shades of pink.  (Amazon)
Toni Donovan is teaching a summer class at a community college in Springfield, Missouri. During a family reunion at Sequiota Park, her youngest son discovers a body in the lagoon, and then her colleague, John, recognizes the victim as a member of the summer graduate class he is taking. When the police question her child, who has a history of dreaming and finding things, Toni enlists the help of her youngest brother, who is a member of the local police force.
Further shock strikes when John is mugged and his flash drive taken. To protect her son, Toni must find out what, and who, is responsible for the death of the murdered coach. When her sleuthing uncovers the illegal operation behind the scenes, she is furious, and the question becomes whether she can control her anger and stop the coach's killer before she becomes the one stopped—permanently.  (Amazon)
During an educational field day scavenger hunt, a trio of Toni Donovan's high school science students discover some bones and a skull. When the boys' curiosity, and a desire to assist their favorite teacher, inspires in them a dream of becoming detectives, they insert themselves into the investigation and set out to determine who killed the missing preacher.
Did the man run off with the town's money? Or was a man of prayer preyed upon? Through the twists and turns of the case, fear becomes Toni's companion—for her students, for her husband and sons, and for herself. Can she rescue her over eager students when they devise a plan of their own, go snooping, and end up in the clutches of the killer? Or will fear overcome her and make her—and possibly her students—the next victims?  (Amazon)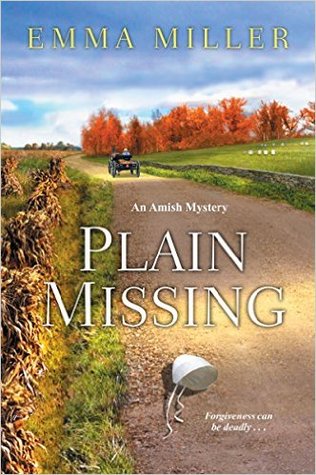 Inn owner Rachel Mast is no longer a devout member of the Amish community of Stone Mill, Pennsylvania, but she still cares deeply for them. So she's staying at her family's farm to help her mother through an illness—and at the same time, trying to track down two missing people . . .
When the young gather to sing, it's usually an evening of wholesome fun—but this time, the event has stirred whispers of scandal. Elsie Hostetler and her sweetheart, Dathan Bender, never came home afterward. There's not even a trace of their horse and wagon, leading some to suspect that they've run off to marry and join the Englisch world.
But Rachel fears there's more to the story than a rebellious elopement. Her fiancé, a state trooper, is out of town, so she starts investigating herself, using her Amish background to pry information from the tight-lipped community. It turns out things were not so peaceful between Elsie and Dathan—and there was also a confrontation at the singing with a short-tempered ex-Marine. Among the simple houses and quiet country roads of Stone Mill, Rachel must find out just what kind of sins have been committed—and who is need of forgiveness . . . (Goodreads)