Here is a list of some of the new releases for the week of April 2nd, 2017.  Since there were so very many books this week, I am going to divide them between four days.  Here is the third day of the list.  Hope you find some selections for your weekly reading.  Enjoy and happy reading.
A murder mystery weekend becomes a little too real in the latest Bay Island Psychic Mystery from the author of Occult and Battery—
Cass Donovan uses her skills as a former psychiatrist to get away with pretending to be psychic, but she's not about to let anyone get away with murder…
The outlook is not so good for Cass's psychic shop, Mystical Musings. With winter winds discouraging tourists from riding the ferry from Long Island to Bay Island, Cass hopes to draw in more customers by hosting a murder mystery weekend, complete with a séance, in a supposedly haunted mansion.
But Cass begins to lose her spirit when her ex-husband shows up, along with his fiancée—Cass's ex-best friend. Then after one of the guests is found dead, a blizzard blows in, trapping everyone inside with a murderer. Now Cass must divine who did the deed before her reputation and her livelihood fade away.  (Goodreads)
In the latest captivating installment of M. L. Longworth's acclaimed Verlaque & Bonnet Provencal Mystery series, the newlywed investigators contend with their most sinister challenge yet: a centuries-old curse
Chef Sigisbert -Bear- Valets has just opened his own restaurant, La Fontaine, in Aix-en-Provence. It's an immediate success–glowing reviews and a loyal clientele, including our favorite investigative duo, Verlaque and Bonnet. But when he decides to extend his restaurant's seating into a historic courtyard, some very powerful neighbors are against him. The local historical society wants the courtyard, which witnessed a seventeenth-century hanging and two World War II-era murders, to remain untouched.
Valets charges on, even after a skeleton is found buried next to the courtyard's ancient fountain. But when Valets begins receiving threatening letters, he becomes convinced that his life is in danger. And then the fountain inexplicably stops running. By disturbing the garden, has Bear triggered an age-old curse? And can newlyweds Verlaque and Bonnet solve the mystery before someone else ends up dead? Set against the blossoming backdrop of the south of France, M. L. Longworth's latest is sure to thrill fans of Donna Leon and Andrea Camilleri.
-Beguiling . . . Longworth evokes the pleasures of France in delicious detail–great wine, delicious meals, and fine company.- —Publishers Weekly
 (Goodreads)
FOR NEW ORLEANS STYLE MURDER—TAKE LAUGHS, TWISTS, MIX WELL, AND ADD A BELLE
Colleen Mooney keeps the twists coming as fast as the laughs in her third THIRD funny cozy starring Brandy Alexander, everybody's idea of the perfect chick lit heroine. Brandy's blonde, adorable, has a good job, two guys to choose from, and very possibly the poor judgment to pick the wrong one. (Half the fun's watching to see if she's ever going to wind up with the right guy for her.)The other half's watching her life complicate itself in ways that would send the average female sleuth screaming into the night.
First, she witnesses a murder at a drive-through joint with the unlikely name of CLUCK IT—CHICKEN BY THE BUCKET. And then it turns out nothing at the scene's what it seems—or at any rate, nobody's what they seem. Seems CLUCK IT's not just a place to clog your arteries, but also a transgender hangout. And with that discovery, you know you're in New Orleans. The local color never stops as Brandy's complex Irish Channel family develops the kind of problem that's a lot more fun on the page than in real life. What to do when your sister gets pregnant with one of the next-door twins who are also the brothers of your lifelong flame—but she doesn't know which twin? (Be glad it's Brandy's problem, not yours.) She also finds a mysterious box of valuable jewelry under her closet floor, becomes the unofficial caretaker of the Tarot reader across the street who knows the future but can never predict when she's going to get so drunk she's going to fall into her own bushes, and develops a strong suspicion about one of her other neighbors, all the while juggling the two Romeos.
Good thing she's better at solving mysteries than she is at wrangling her boyfriends.The reader can rest assured she's eventually, and in fine style, going to weave together the myriad mysterious strands that confound the police (who happen to count Boy Friend # 1 among their ranks) and present them the solution with all the panache of an old-style detective like Hercule Poirot—yet none of the pretension. You can almost hear her wondering, "Did I do that?"
Fans of cozy mysteries and chick lit heroines will delight in Brandy's flat-out lovability and Mooney's almost offhand yet spot-on (and often hilarious) observations of everyday New Orleans life. If you like contemporary stylish heroines like those popularized by Janet Evanovich, Elaine Viets, Stephanie Bond, and Gemma Holliday, and humorous mysteries like those by Donna Andrews, Dorothy Cannell, and Lisa Lutz, you're going to get a girl-crush on Brandy Alexander.
  (Goodreads)
Fry another day.
The town of Wrensdale is abuzz with excitement when Steeltop Foods sponsors a cooking contest to promote its new product, the Flavor Dial. With a $25,000 prize at stake, all the contestants are on edge, including Talia Marby, owner of Fry Me A Sliver. She hopes her mini deep-fried apple pies will win her the money to pay off the renovations on her restaurant. But when Norma Ferguson wins with her flaky-top chicken stew, the tensions dial up even more.
After Norma is found dead at her cooking station, the police suspect a losing contestant got a little too hot under the collar. Now it's crunch time as Talia works to catch the killer and clear her name before another cook gets burned.  (Goodreads)
The Feather Festival has arrived in Shearwater, Maryland. It's supposed to be a jam-packed weekend, filled with tourists, crafts, food, and fun. At least, that's what Abigail Carrier and her sister Evalynn think – the witchy-sisters – who run the town's only B&B; The Bird's Nest.
When a nasty thunderstorm floods Shearwater Park, and knocks out the town's power, the Carrier sisters discover that there is more amiss, than a few days without internet or the inability to plug in the coffee-pot.
Much to their horror, one of their guests turns up dead, and it's up to the sisters, with the help of their witchy-gifts, to track down the killer, who very well might still be in the house. It's the classic game of "who-done-it" only this time the stakes are real and the consequences could prove to be dire, for everyone involved.Ruffled Feathers is the second book in The Shearwater Mysteries that includes a cast of characters, recipes, and bird tips/crafts, for the discerning reader who can't get enough of this historical town.  (Goodreads)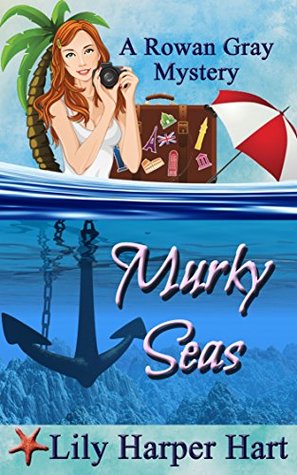 Rowan Gray has a new job, home and potential boyfriend. Things should be going swimmingly, especially given the fact that she now calls a cruise ship home. All of that changes when a group of feisty women from a cosmetics company take over the Bounding Storm for a week of sun, fun and murder.
For Quinn Davenport, things aren't at all what he expected. He didn't want a relationship and yet he can't seem to stay away from the Bounding Storm's new photographer. He knows she has a secret – and it's a doozy – but he's willing to keep it because he's convinced he finds himself desperate to keep her.
When Rowan spots a death omen in a photograph, she calls Quinn into action and they set about to keep the woman in question safe. Unfortunately for Rowan, the death omen switches to another person … and so does the attention of half the ship. That means when death finally comes calling, it hits someone she wasn't expecting.
It's up to Quinn and Rowan to pick through a tangled web of lies, deception and corporate power struggles to figure out exactly who wanted who dead … and why. When the answers finally become clear, Rowan finds herself in an ocean of trouble and Quinn has no choice but to dive in headfirst in an effort to save her.
When the storm settles, who will sink to the bottom and who will be left standing?
 (Goodreads)
Andy Broussard, the plump and proud medical examiner for the City of New Orleans, is sitting almost in the kill zone of a too-close-for comfort and 'in living color' murder of his Uncle Joe Broussard at a family picnic in Bayou Sauvage – the largest urban wetlands park in the USA. Surprisingly, the murderer then immediately commits suicide. After easily determining the killer's identity from the driver's license in his pocket, the only remaining task for Broussard and the police is to uncover the motive for such a heinous act. But suddenly, everything about the case takes a bizarre turn. Caught short handed because of an NOPD work slow-down, and needing someone to find out what happened to a young woman who has just been reported missing, Homicide Detective Phil Gatlin deputizes Broussard's beautiful death investigator, Dr. Kit Franklyn, and assigns her to that case. Shockingly, Kit's efforts soon lead back to the murder of Uncle Joe. Sensing a plot of horrendous magnitude, Broussard directs his colleagues and friends in a race to uncover the truth behind the most audacious Andy and Kit mystery of the entire series.
  (Goodreads)
I
n the South, it's better when the food is fried and the secrets kept buried…
After the dead body of a beloved Cottonwood resident is found tangled up in an electric fence, Sheriff Kenni Lowry has a hunch that somethin' ain't right. Her investigation heats up with a fierce cook-off competition, a euchre game where the intel is sweeter than the brownies, and a decades old family recipe that may just be the proof in the pudding.
The icing on the cake: Kenni is fighting an attraction to her recently sworn-in deputy sheriff, and election season is hot on her tail. When the killer comes after who she holds most dear, even her poppa's ghostly guidance might not be enough to keep her and her own out of the frying pan. (Goodreads)