Here is a list of some of the new releases for the week of April 9th, 2017.  Since there were so many books this week, I am going to divide them between three days.  Here is the final day of the list.  Hope you find some selections for your weekly reading.  Enjoy and happy reading.
Movies. Muffins. Murder.
Maggie Doyle moved to Ireland to escape her cheating ex and crumbling career in the San Francisco PD. When the most hated woman on Whisper Island is poisoned at her aunt's Movie Theater Café, Maggie and her rock-hard muffins are hurled into the investigation.
With the help of her UFO-enthusiast friend, a nun, and a feral puppy, Maggie is determined to clear her aunt's name. Can she catch the murderer before they strike again? Or will her terrible baking skills burn down the café first? (Goodreads)
Aunt Bessie meets a former acquaintance on Laxey Beach.
It's the first anniversary of Danny Pierce's death and Bessie is surprised when she sees Danny's widow, Vikky, walking along the beach where her husband's body was found. Vikky is back on the island with a large group that includes her new husband, his children, their wives and several business associates.
Aunt Bessie meets Vikky's new husband, Alastair Farthington, a very wealthy businessman.
When one member of the Farthington group ends up dead, Alastair wants Bessie to help investigate the murder. And he isn't used to taking no for an answer.
Aunt Bessie meets a great many new people, none of whom seem to have had a motive for murder.
Can Bessie help Alastair work out what happened before the killer strikes again?  (Goodreads)
It's time to pay the piper.
Or, Typhon, in Abby's case.
To settle her debt to Zeus' son, Abby agrees to participate in the Olympian games of old and allow suitors the opportunity to win her hand in marriage. Specifically Typhon, because he's adamant he will be the champion.
Except…Abby doesn't want to get married anytime soon unless it's to the man who has challenged her heart and soul every step of the way.
But Hades no longer seems terribly interested in participating in the games even though he has repeatedly told her not to worry about the outcome.
Easy for him to say. He's not the wishbone in the paranormal turkey.
Enemies, old lovers, and friends will come together in the latest installment of Abby's hijinks, but when the dust settles and the victor is declared, will she be the winner?
Or will her heart be bound to another? (Goodreads)
A strange thing happens at David Wilson's fifteenth high school reunion: the homecoming queen dies. That was as unexpected as was David's arrest for her murder a week later.
A popular high school biology teacher, David and his wife Lisa are caught up in a fast-paced life in Phoenix with two jobs and two kids. Drugs, bullying, adultery and abortion are underlying tensions that fester and drive wedges between family members. With the Wilsons falling apart, his reunion seemed an oasis of calm. At least, that's what David had hoped for. Instead he faces interrogations and accusations from friend and foe alike. Lisa wants to believe in her husband's innocence but too many fingers are pointing his way. She questions everything she thought she knew about David and his past. But her past is as traumatic as his and the danger she faces is real as she slogs through a myriad of lies.
Was the baby his? Was the friendly neighborhood priest a little too friendly?
The homecoming queen's father and best friend are not helpful as Lisa endeavors to find out what really happened that night. The answers she discovers are not the ones she sought and they wobble her existence more than she could have ever imagined. (Goodreads)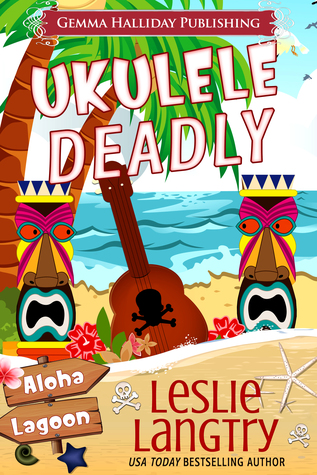 From USA Today bestselling author Leslie Langtry comes the next Nani Johnson adventure in paradise…
Ukulele player Nani Johnson is just starting to put the past behind her and settle in on Kauai with her loveable but crazy Mom, her hot new boyfriend, and regular gigs at both the Blue Hawaii Wedding Chapel and the Aloha Lagoon Resort. But unfortunately her island life proves anything but relaxing when a man carrying ID that says he's from Nani's hometown dies in front of her. Now it looks like Nani and her mother are the main suspects.
Things go from bad to bleak in paradise as Nani's mom starts acting even odder than usual, there's a mutiny involving snakes at the Blue Hawaii Wedding Chapel, and more bodies inconveniently pop up near Nani. Can Nani stay out of jail long enough to unmask the real killer…or will the police pin it all on her?
The Aloha Lagoon Mysteries:
Ukulele Murder (book #1)
Murder on the Aloha Express (book #2)
Deadly Wipeout (book #3)
Deadly Bubbles in the Wine (book #4)
Mele Kalikimaka Murder (book #5)
Death of the Big Kahuna (book #6)
Photo Finished (book #7)
Ukulele Deadly (book #8)
One Hawaiian Wedding and a Funeral (book #9) – coming soon!
About Aloha Lagoon:
There's trouble in paradise…
Welcome to Aloha Lagoon, one of Hawaii's hidden treasures. A little bit of tropical paradise nestled along the coast of Kauai, this resort town boasts luxurious accommodation, friendly island atmosphere…and only a slightly higher than normal murder rate. While mysterious circumstances may be the norm on our corner of the island, we're certain that our staff and Lagoon natives will make your stay in Aloha Lagoon one you will never forget! (Goodreads)
Lacy Marie Crocker's whimsical pet couture has gained a following in New Orleans's cozy Garden District, and word of mouth has traveled all the way to her favorite fashion designer, Annie Lane. Lacy's thrilled when Annie schedules a private session at her home to discuss a companion line for her evening wear, but when Lacy arrives for the appointment, she enters the kitchen to two mewling Siamese cats–and one very dead Annie.
Lacy takes the kittens home to care for them until they can be properly claimed by Annie's family or friends, but after a busy day of work, she returns home to find them missing. And when Lacy learns the cats are set to inherit Annie's fortune, she begins to wonder if the killer was after the kittens all along. Now Lacy will stop at nothing to save the Siamese and find justice for Annie–if the killer doesn't sink his claws into her first.
Luckily, Lacy has the help of handsome NOLA PD homicide detective Jack Oliver to help her catch the cat-napper before its too late in Cat Got Your Cash, the endearing second Kitty Couture mystery from Julie Chase. (Goodreads)