For the next few day I am going to post a list of Easter books in the hopes that you find some for your reading pleasure.  Enjoy and Happy Reading!
The fourth work in the widely acclaimed, laugh-out-loud Trash n' Treasures series by the husband-and-wife writing team, "New York Times"-bestselling author Max Allan Collins and mystery-writer Barbara Collins.
Spring has sprung a major leak in far-from-serene Serenity, as the Mississippi River drops in for an extended stay. With homes and businesses flooded, how better to help the town recover than by staging a church bazaar?
Brandy Borne knows her mother Vivian's plan, however, is more likely to lean towards Bizarre, especially when she hears Mother wheedle a reclusive Russian heiress into donating the last Faberge egg ever created! When the winning bidder turns up mortally scrambled, Brandy and Mother cook up a plan to crack the case of this killer…who is one seriously bad egg!  (Goodreads)
In New York Times bestselling author Denise Swanson's "slightly zany"* new mystery series, Devereaux Sinclair loves running her old-fashioned store in her small Missouri hometown. If only murder didn't keep landing on her doorstep…
Dev's five-and-dime may be doing well, but her love life is in turmoil. She's torn between Deputy U.S. Marshal Jake Del Vecchio, who is on an undercover assignment, and her ex-beau Noah Underwood, the local doctor from a high-society family. So she welcomes the distraction when Elise Whitmore offers her a great deal on antique chocolate molds that would be perfect for her Easter gift baskets. But do the molds actually belong to Elise's soon-to-be ex-husband? In buying them, has Dev committed a felony?
When Elise is found shot to death, the mystery deepens—and Dev's good friend Boone, who discovered the body, is taken into custody. With the help of her best buds, Dev must clear Boone's name and find the real killer. Good thing that when it comes to amateur sleuths, they broke the mold with Dev Sinclair.
*Library Journal  (Goodreads)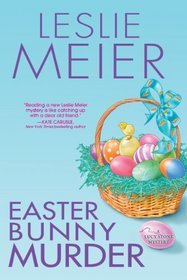 Spring has sprung in Tinker's Cove, and Lucy Stone has a mile-long to-do list. From painting eggs with her grandson, to preparing the perfect Easter feast, to reviving her garden after a long, cold winter, she hardly has time to hunt for a killer with a deadly case of spring fever… Lucy has always loved covering the annual Easter egg hunt for the Pennysaver. Hosted by elderly socialite Vivian Van Vorst at Pine Point, her luxurious oceanfront estate, it's a swanky event where the grown-ups sip cocktails while their children search for eggs that are as likely to contain savings bonds as they are jelly beans. But when Lucy arrives with her three-year-old grandson, VV's normally welcoming gates are locked, and a man dressed as the Easter Bunny emerges only to drop dead moments later… Lucy discovers that the victim is Van Vorst Duff, VV's grandson, and soon learns that not all is as it seems at idyllic Pine Point, where the champagne and caviar seem to be running dry. Always a social butterfly, VV has been skipping lunch dates with friends, and her much-needed donations to local charities have stopped with no explanation. Maybe she's going senile, or maybe her heirs are getting a little too anxious to take over her estate… As Lucy gathers a basketful of suspects, she's convinced someone's been hunting for a lot more than eggs, and she'll have to chase the truth down a rabbit hole before the killer claims another victim… (Goodreads)
TV producer Farrell Slater just stumbled on a story that might save her career…or get her killed. A prestigious New York auction house just sold a Fabergé Egg for six million dollars. But Farrell knows it is a fake. So does a college student who promised never to tell the location of the real one. And so does a cunning murderer who has already dismembered one victim…set fire to another…and strangled still another in order to carry off the greatest scam of the century. And now he or she has a special fate in mind for a TV newswoman who just can't keep a secret. . . (Goodreads)
Irish immigrant Molly Murphy and her New York City P.I. business are in the midst of a sweeping influenza epidemic and a fight for women's suffrage that lands her in jail. Her betrothed, Police Captain Daniel Sullivan, finds her, but he hardly has time to bail her out, what with Chinese gangs battling for control of a thriving opium trade. The only consolation Molly can take from her vexing afternoon in the clink is that it made her some new friends among the Vassar suffragists—and brought her a pair of new cases.
For the first, Emily Boswell is convinced her miserly uncle stole her inheritance and wants Molly to uncover the truth behind her parents' lives and deaths. Second, Emily's college roommate Fanny Poindexter wants Molly to find proof of her husband's philandering so that she can leave him without one red cent. But when Fanny dies and her husband claims she's a victim of the epidemic, it's more than Molly's conscience can take.
Rhys Bowen's Agatha and Anthony Award–winning historical series continues to breathe life into the past with its wit and charm and its complete sense of early-twentieth-century New York, which makes In a Gilded Cage her most accomplished mystery yet. (Goodreads)
Trudy Roundtree, the newest–and only–female police officer for the Ogeechee, Georgia, police department is embroiled in a murder-by-arson mystery in a town where most everyone knows everybody else's secrets. But she soon learns that some can keep secrets very well. (Goodreads)
In the first ever crossover episode, Zak and Zoe join forces with Hawaiian visitors Luke and Lani, to find out who killed a historian visiting Ashton Falls in order to find a treasure map left by his grandfather a hundred years earlier. Meanwhile, Ellie and Levi move in with Zak and Zoe while the boathouse is being renovated and Alex helps Ellie prepare the nursery for baby Eli who is due to be born any day. Throw in some humor and Easter fun and you have a Zak and Zoe crossover mystery.  (Amazon)